Speculation has been rife since Tony Mowbray's departure from Rovers was announced, about who would be his successor. The five-year spell that Mowbray had at the helm of Rovers is rather unprecedented in modern Championship football, but it's time to move on.
Although many names had been brandished around about who would slot into the managerial hotseat, Rovers finally tied up their loose ends by naming former Champions League winning forward and back-to-back Allsvenskan winning manager, Jon Dahl Tomasson, as the club's new head coach following a search that lasted over a month.
After recent success of teaming the current Rovers squad up with potential incoming gaffers to see how they would fair under the rigorous and demanding pressure of managing former Premier League Champions, it's now time to give the incoming confirmed boss his chance on the Ewood Park stage.
"But how are you going to do that?", I can hear you ask?
Well, Football Manager will be our tool for making fantasy, a reality, as we take 'the world's most accurate simulator' out for a spin to see who which gaffer will get closest to bringing the Premier League back to Ewood Park.
What is Football Manager?
For those of you unfamiliar with Football Manager – or 'FM' as it is commonly known as – is seen by many as the 'crème de la crème' of football simulators. In fact, it's probably taken up half of my life!
Described by the game's production studio, Sports Interactive, as 'a living, breathing game world of unparalleled realism', the simulator has certainly received worthy plaudits as it has expanded to all corners of the globe and has developed pinpoint accuracy in scouting and tactical breakdowns, including the fact it is backed by over 1,300 real scouts who help determine the game's accuracy and 'football authenticity that other football games can only aspire to replicate.'
In fact, it's revered around the footballing world and has influenced both supporters and football clubs alike in how they think about the 'beautiful game'. In 2008, whilst still in the Everton dugout, David Moyes agreed a deal to use the Football Manager database for scouting players and opponents. It has also helped many young aspiring managers achieve their dreams, such as Lancastrian, Shadab Iftikhar whose exploits on Football Manager inspired him to work towards his UEFA Coaching Badges, eventually leading him to becoming a Scout for Belgium during UEFA Euro 2020, before becoming the first-team manager at Fort William in the fifth tier of Scottish Football.
Furthermore, it has become a cult outlet of technology among current active players and managers, with former Manchester United manager, Ole Gunnar Solskjaer, back in 2014, stating that he 'learnt a lot' from playing FM, whilst former Rangers and Scotland manager, Alex McLeish stated that: 'I'd imagine that any manager worth his salt would be using it (Football Manager) to scout players and opponents.'
French World Cup Winner, Antoine Griezmann has also been engrossed in the game, with the on-loan Atlético Madrid man detailing many of his successes online, including his spell as Newcastle United boss on the 2021 iteration of the game, where he became – in his words – 'an English football legend'.
Just like the sport we all know and love, it really is 'more than just a game'.
How are we going to break this down?
It's important to note that this series began following Sunday 29th May's Championship Playoff final, which saw Nottingham Forest beat Huddersfield Town, 1-0 at Wembley. Although we are midway into June, we will be implementing the 2022-23 campaign, from the date of the final, meaning that any future transfers or managerial appointments that might happen in June, will not be accounted for. This is mainly due to the everchanging landscape that the Summer Transfer Window brings.
Furthermore, the game will determine everything that occurs during a campaign; it will fill current vacancies within the Championship and ones that may occur over the course of the simulation. The squads that we shall be using will be accurate as of 29th May 2022 and transfers that happen from 30th May onwards, will not be included, unless they had already been confirmed.
Although we have highlighted 30th May as the cut-off point, we shall be transferring Darragh Lenihan to Middlesbrough, after it was reported the Republic of Ireland defender had penned a deal with Chris Wilder's side. Ryan Nyambe, however, will remain at the club with his deal expiring at the end of the experiment's season, given his future is still unknown, as we did in the previous run-throughs. This will allow us to be as close to current reality as possible; whilst also allowing us to remain consistent with the previous simulations, to offer a balanced point of comparison.
Sadly, I can't predict the future – if I could, I'd tell you when we'd get promoted(!) – so giving Nyambe a standard one-year extension seems the most sensible option.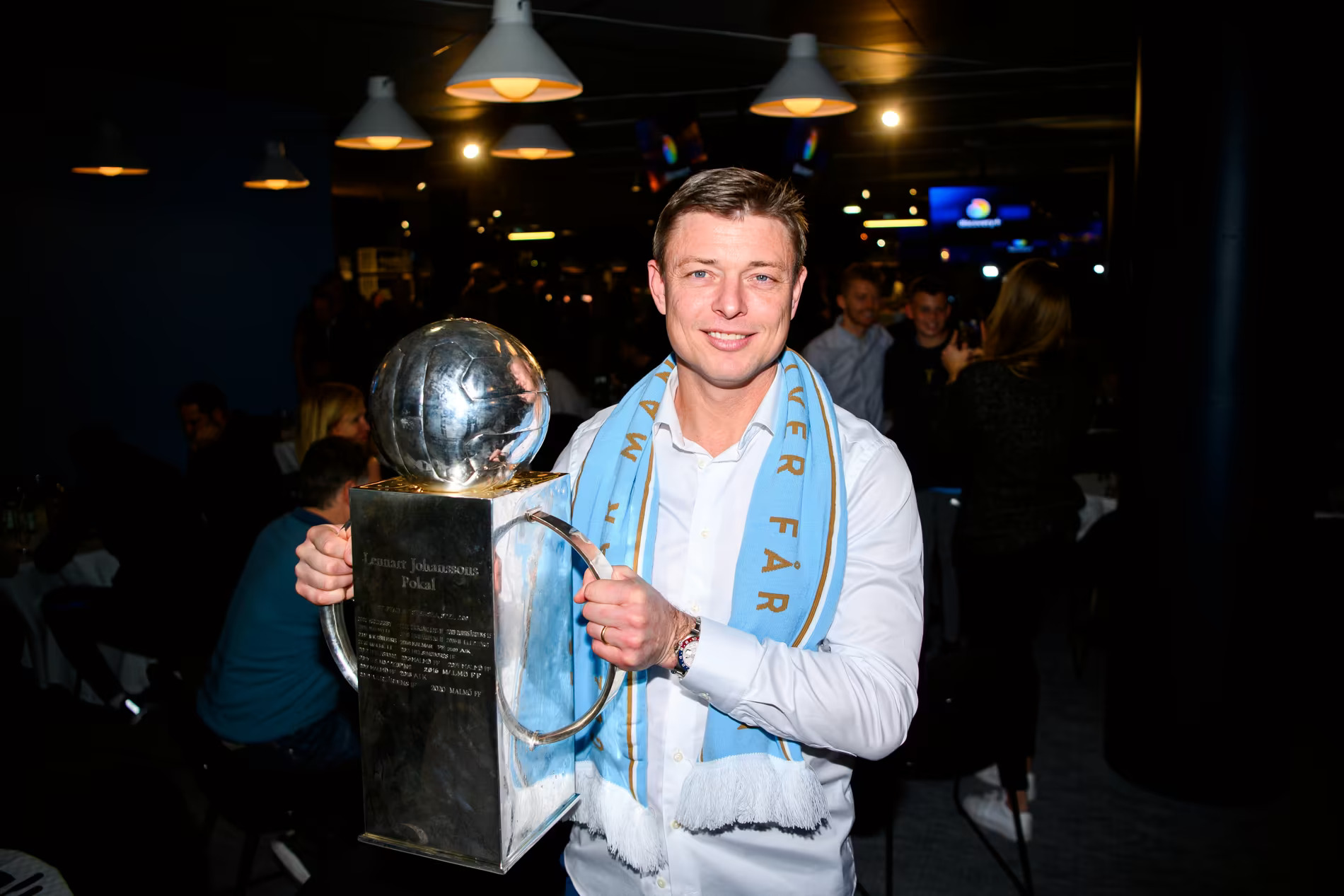 Jon Dahl Tomasson
After all the stress we've been under as a fanbase, Rovers have finally come through and announced Jon Dahl Tomasson as our new manager! As we did during the circus of speculation, we will be putting the Champions League winner through the rigours of Football Manager and see how he, and his assistant at Malmö FF, Remy Reynierse, would get on at Ewood Park, alongside newly appointed Director of Football, Gregg Broughton.

Brief Career So Far
After the Dane was confirmed as Rovers manager on Tuesday morning, we put up a short article, following his announcement, detailing his career history which can be found here; Tomasson takes over at Rovers.
How does Football Manager think he'll do?
Following Tomasson's appointment, we brought him and assistant Remy Reynierse in to see how they might fare when the 2022-23 season kicks-off, in just over a month's time!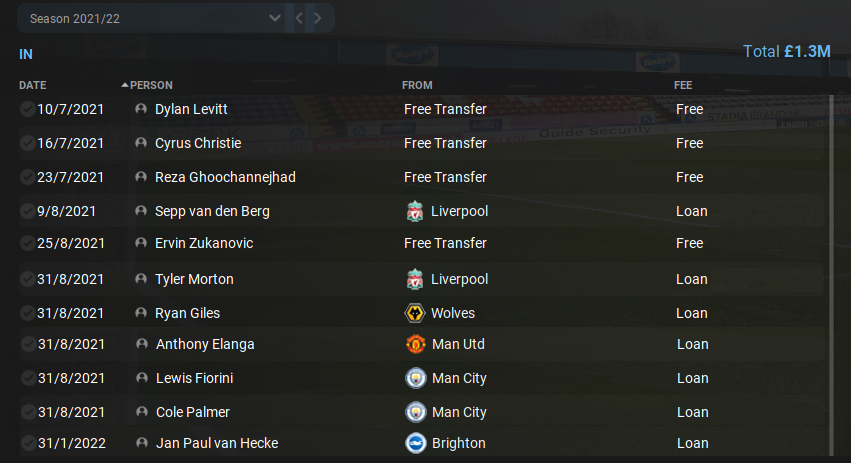 The additions that the new boss made were very intriguing and of high-calibre, which would be expected of a former player whose stock is as high as the former Newcastle United forward. The Great Dane added a mix of youth and experience to his squad, including dipping into the Tony Mowbray archives to bring back 2021-22 Player of the Season, Jan Paul van Hecke and fellow loanee from the season just gone, Ryan Giles. The pair were joined by a quartet from the Premier League's top two, in Sepp van den Berg, who came across Lancashire after leaving Preston North End, and Tyler Morton, with the pair coming from Liverpool. Midfield duo of Lewis Fiorini and highly-rated Cole Palmer also arrived from Manchester City, as Tomasson looked to focus on a possession-based game. That wasn't all the Dane brought in from Manchester, as fellow Scandinavian, Swede, Anthony Elanga joined from the red-half of Manchester. Additionally, Dylan Levitt joined following his release from the Red Devils, whilst Cyrus Christie came in on a free, following his release from Fulham. Veteran duo Reza Ghoochannejhad and Ervin Zukanovic also came in, with the forward and defender, respectively, filling in spaces that had seen departures.

As we mentioned earlier, we let Darragh Lenihan go to Middlesbrough, as is expected to occur in reality, which explains a lot of the defensive options that Tomasson moved to bring. Alongside the former skipper, Tyler Magloire departed on a permanent deal, joining Bristol Rovers for £9.25k. Sam Burns, James Brown and Jack Vale all also departed temporarily, however Reza Ghoochannejhad didn't hang around for long, as he was gone after six months, but did help bring in a healthy fee of up to £105k.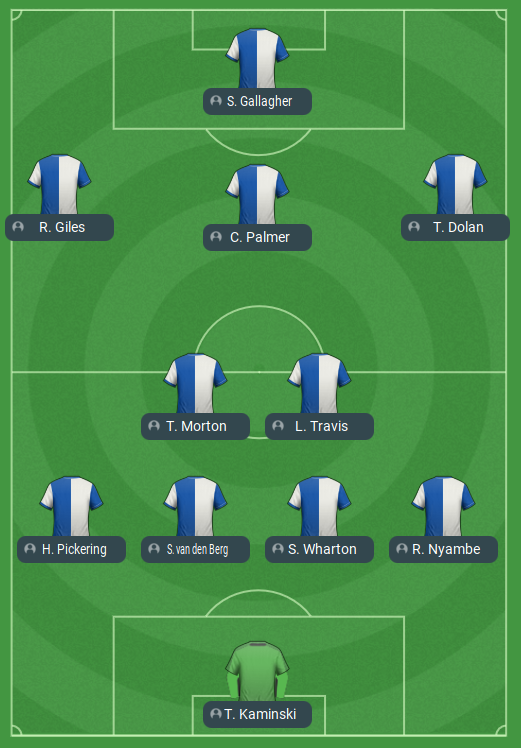 Although Tomasson did favour a 4-3-3 system, during his first title-winning season managing Malmö FF, his second season saw a variety of formations used and his reluctance to stick to a 4-3-3 was shown in this simulation. He opted for a 4-2-3-1 formation in an attempt to utilise all the midfielders he had at his disposal, however made it work tremendously. Alongside that, he did manage to convince Ryan Nyambe and Ben Brereton Díaz to put pen-to-paper on new deals that saw them both remain at the club until the summer of 2024, which would have undoubtedly helped the Dane. One negative in this simulation, was the fact that Bradley Dack suffered a third Anterior Cruciate ligament injury in October, that only limited him to 15 appearances throughout the whole campaign; let's hope that doesn't happen in reality!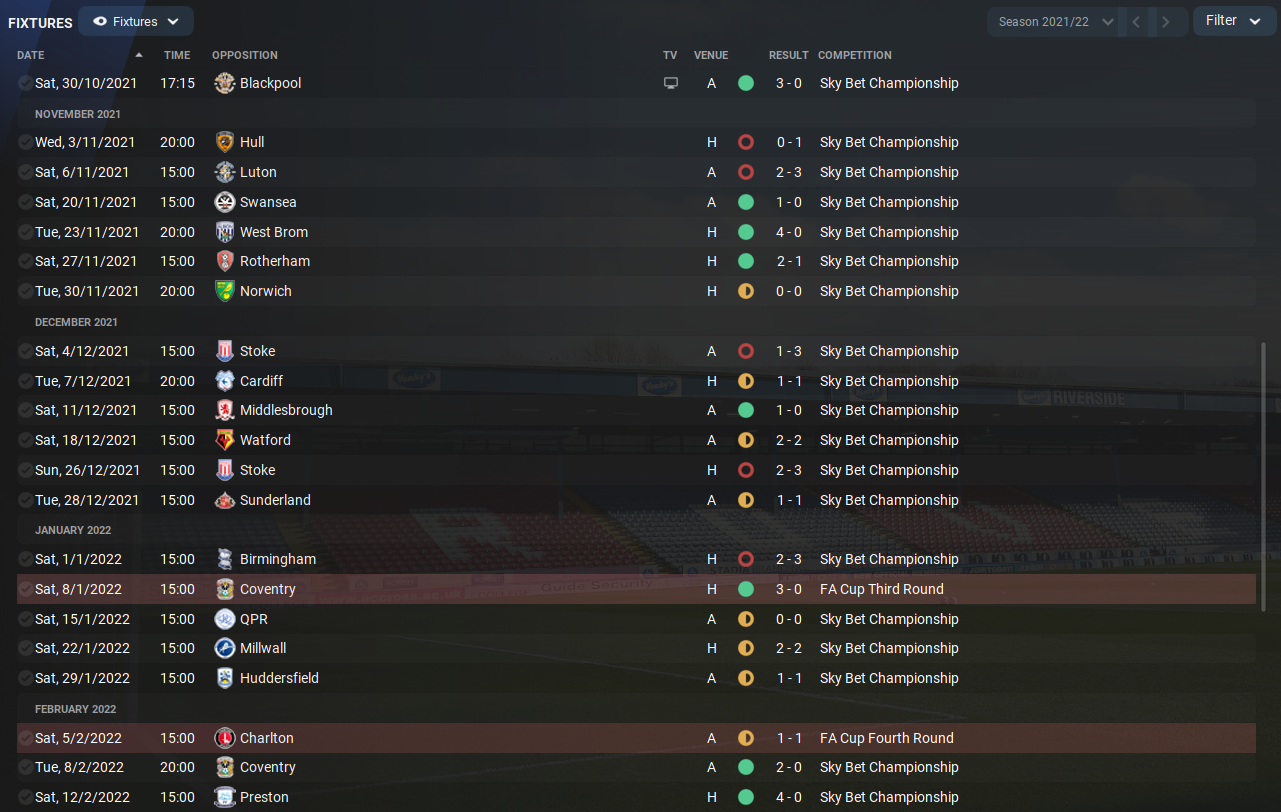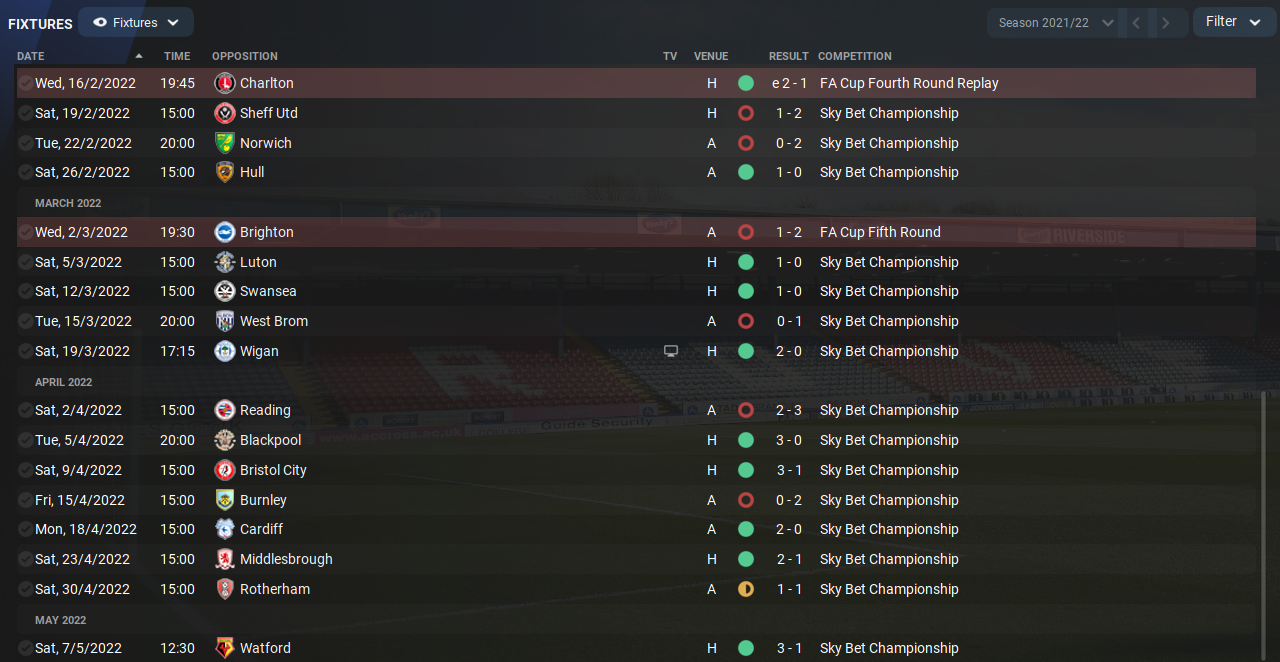 The fixtures were incredibly encouraging, as alongside beating Burnley in the season's first East Lancashire Derby, Tomasson went unbeaten for the first two months of the campaign, before taking his first loss in a 2-1 home defeat to Queens Park Rangers. Rather surprisingly, the head coach's only relatively poor run of form came in January, as it became the only month where he failed to win a league game. Despite that rather patchy run of form, he did manage to steer Rovers back on track and despite losing the second East Lancashire Derby of the season, he did manage to finish the campaign with five wins and one draw from eight games, which put Rovers right amongst the challengers for the top spots. Rather surprisingly, Tomasson did manage to curtail the supposed 'New Year curse' as despite an expected sticky patch, he pushed through it to quell any fears of a 'New Year's hangover'.
The domestic cups weren't exactly Tomasson's forte, as despite getting the better of cash-strapped Derby County in the Carabao Cup First Round, on penalties, and scraping past Peterborough United in the Second Round, Tomasson fell to Chelsea following a 4-2 away defeat at Stamford Bridge, in Round Three. The FA Cup was arguably more underwhelming, as after getting through Coventry City and Charlton Athletic, via a replay, Graham Potter's Brighton and Hove Albion proved too much for Rovers in the Fifth Round of the FA Cup.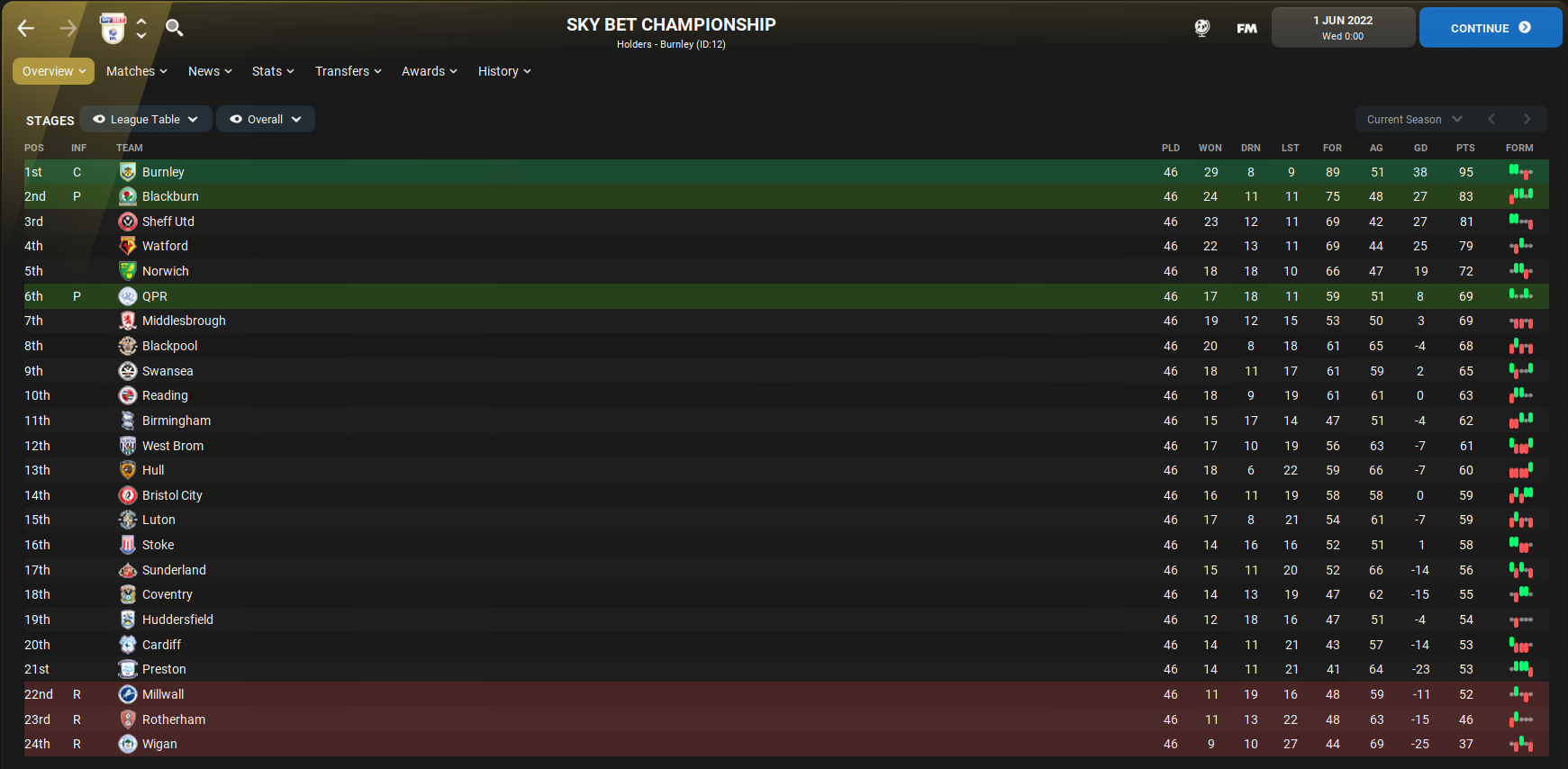 Now, I'm not saying we should start popping the corks now, but that's a nice sight to see, isn't it? Jon Dahl Tomasson has guided Rovers back to the Premier League after a stormer of a campaign and did so with the fourth-best defensive record and the second-best attacking record, as he carried on his attacking philosophy that brought him so much success in Sweden. This is the first-time in the simulation series that a manager has managed to get Rovers up to the Premier League via the automatic spaces, as all the other gaffers who have tasted promotion did it via the hardest and nervier route – the playoffs.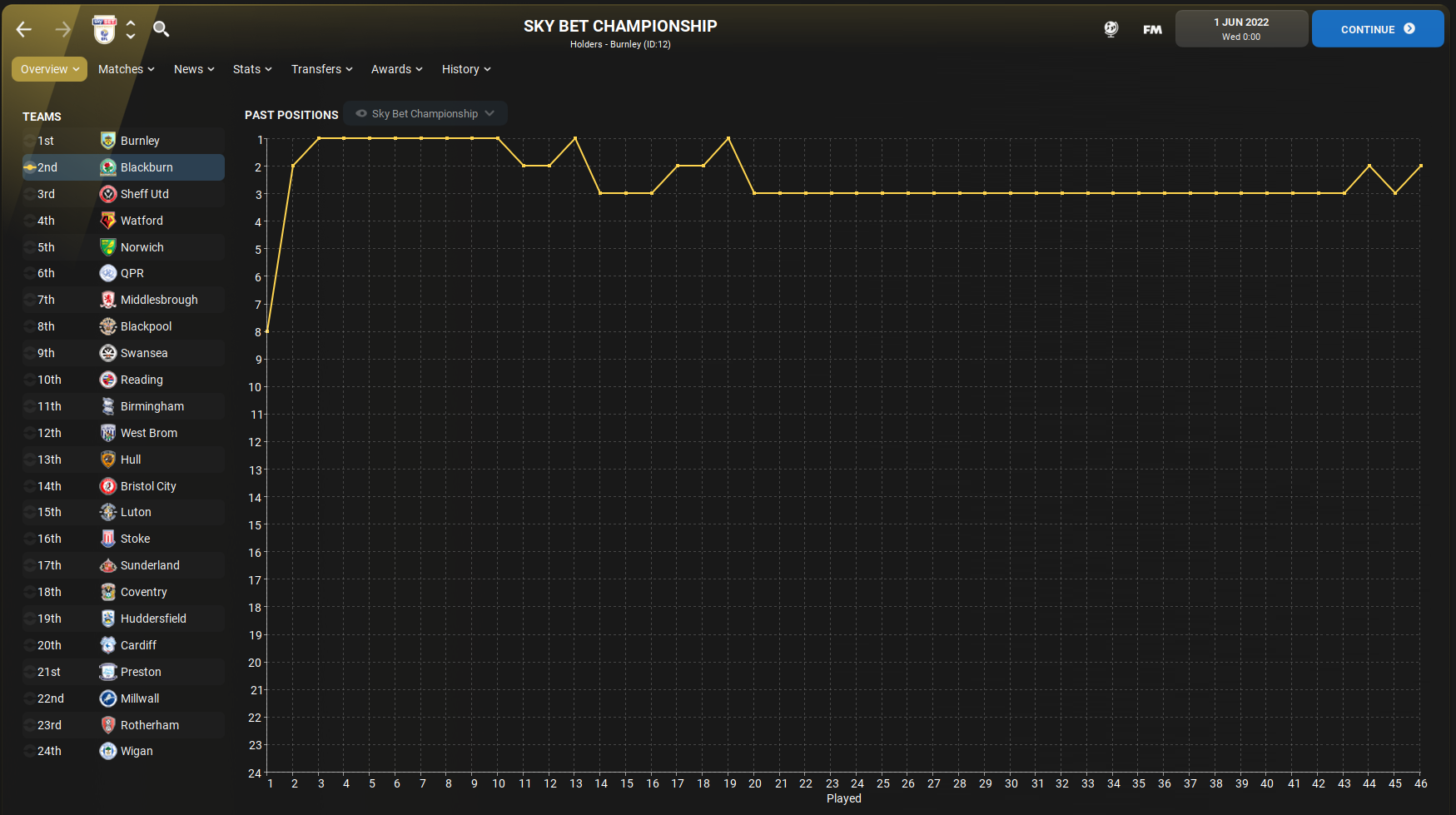 What we can say, judging by the 'Past Positions' graph, is that Rovers thoroughly deserved their automatic promotion, as despite their odd blip throughout the campaign, they managed to maintain a top-three place for most of the campaign and pipped Sheffield United to second-place by two points! Although the parachute payments from down the road helped the Clarets to win the league, I think all of us would probably be partying in the streets if this league table was replicated, come the end of the real 2022-23 Sky Bet Championship campaign.
Are you as excited for Jon Dahl Tomasson's reign as I am? Do you think Football Manager has got JDT's first year as Rovers manager accurate? Or do you think the new boss' first stint as a boss in English football will differ to what the game believes?
Let me know below, or on Twitter: @readrovers
Unfortunately, with the speculation now ending, this will be the final Football Manager simulation we'll have. I again want to thank you all for reading and engaging in this mini-series which was quite a gamble, however I'm delighted that you have all enjoyed and been receptive to all the articles.
Hope you have an amazing rest of your week; and we have an outstanding season!
COYB 🔵⚪🇩🇰
Zeid