Speculation has been rife since Tony Mowbray's departure from Rovers was announced, about who would be his successor. The five-year spell that Mowbray had at the helm of Rovers is rather unprecedented in modern Championship football, but it's time to move on.
Names have been thrown around about who would slot into the managerial hotseat, from 'inexperienced first-time' managers looking to break through into the merry-go-round, to 'high-profile' journeymen looking to 'pursue new challenges'.
Over the next six days, we shall be teaming the current Rovers squad up with potential incoming gaffers to see how they would fair under the rigorous and demanding pressure of managing former Premier League Champions.
"But how are you going to do that?", I can hear you ask?
Well, Football Manager will be our tool for making fantasy, a reality, as we take 'the world's most accurate simulator' out for a spin to see who which gaffer will get closest to bringing the Premier League back to Ewood Park.
What is Football Manager?
For those of you unfamiliar with Football Manager – 'FM' as it is commonly known as – is seen by many as the 'crème de la crème' of football simulators. In fact, it's probably taken up half of my life!
Described by the game's production studio, Sports Interactive, as 'a living, breathing game world of unparalleled realism', the simulator has certainly received worthy plaudits as it has expanded to all corners of the globe and has developed pinpoint accuracy in scouting and tactical breakdowns, including the fact it is backed by over 1,300 real scouts who help determine the game's accuracy and 'football authenticity that other football games can only aspire to replicate.'
In fact, it's revered around the footballing world and has influenced both supporters and football clubs alike in how they think about the 'beautiful game'. In 2008, whilst still in the Everton dugout, David Moyes agreed a deal to use the Football Manager database for scouting players and opponents. It has also helped many young aspiring managers achieve their dreams, such as Lancastrian, Shadab Iftikhar whose exploits on Football Manager inspired him to work towards his UEFA Coaching Badges, eventually leading him to becoming a Scout for Belgium during UEFA Euro 2020, before becoming the first-team manager at Fort William in the fifth tier of Scottish Football.
Furthermore, it has become a cult outlet of technology among current active players and managers, with former Manchester United manager, Ole Gunnar Solskjaer, back in 2014, stating that he 'learnt a lot' from playing FM, whilst former Rangers and Scotland manager, Alex McLeish stated that: 'I'd imagine that any manager worth his salt would be using it (Football Manager) to scout players and opponents.'
French World Cup Winner, Antoine Griezmann has also been engrossed in the game, with the on-loan Atlético Madrid man detailing many of his successes online, including his spell as Newcastle United boss on the 2021 iteration of the game, where he became – in his words – 'an English football legend'.
Just like the sport we all know and love, it really is 'more than just a game'.
How are we going to break this down?
It's important to note that this series will be written following Sunday 29th May's Championship Playoff final, which saw Nottingham Forest beat Huddersfield Town, 1-0 at Wembley. From this point on, we will be implementing the 2022-23 campaign, from this date, meaning that any future transfers or managerial appointments that might happen in June or beyond will not be accounted for.
Furthermore, the game will determine everything that occurs during a campaign; it will fill current vacancies within the Championship and ones that may occur over the course of the simulation. The squads that we shall be using will be accurate as of 29th May 2022 and transfers that happen from 30th May onwards, will not be included, unless they have already been confirmed. This means that we are as close to current reality as possible.
Of course, you'll notice in the screenshots that the dates are from 2021-22 and exclude the upcoming World Cup in December 2022; that unfortunately can't be changed, but it's irrelevant to the conclusion we're making. Just imagine the dates are 2022-23 instead! For the sake of Darragh Lenihan and Ryan Nyambe; they will remain at the club with their deal expiring at the end of the experiment's season, given their future is unknown.
Sadly, I can't predict the future – if I could, I'd tell you when we'd get promoted(!) – so giving them a standard one-year extension seems the most sensible option.
Throughout this series, we shall place a candidate (and members of his backroom staff from his last club where applicable) in the Rovers role, and see how his season unfolds, detailing the manager's transfers, results, whether they lasted the entire campaign and most importantly, where they finished in the league. The personnel that we select will loosely be based off SkyBet's odds, which will undoubtedly fluctuate over the course of creating and publishing this series; we'll also be including a couple of our own picks, including one that might cause uproar.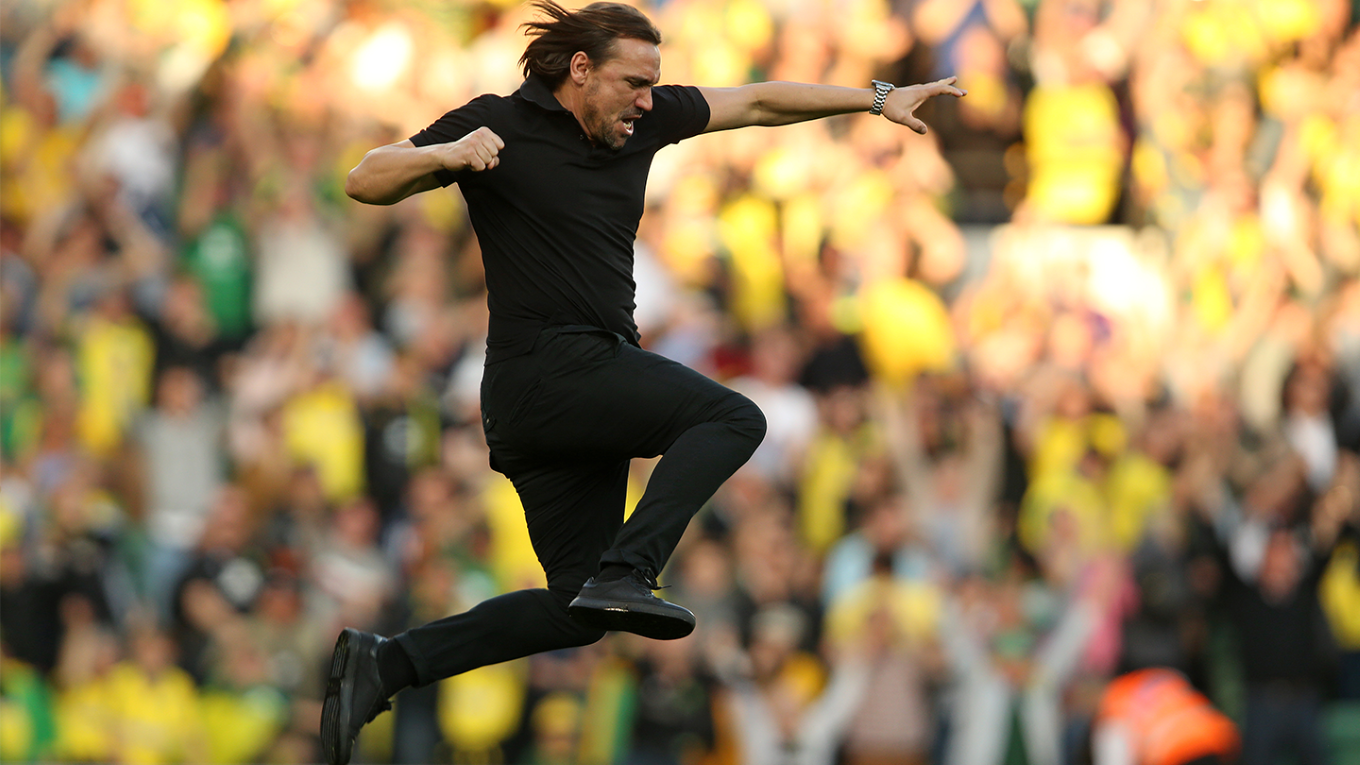 Daniel Farke
The first candidate we will be placing in the Rovers hotseat, is former Norwich City boss, Daniel Farke.
The German has spent most of May as touted as one of the main candidates to take over from Tony Mowbray at Ewood Park and has fuelled speculation of a potential return to English football, with many outlets and well-respected journalists highlighting that two-time Championship promotion winner has been handing out his CV across the top two divisions in England, as well as the German Bundesliga. Although reports today, (Tuesday), have seen Farke move closer towards a return to Germany, we can't rule anything out until the 'i's' are dotted and the 't's' are crossed.

Career So Far
Daniel Farke has grown in stature by showcasing his tactical astuteness and his 'wheeler-dealer' mentality in the transfer market. After spending his playing career languishing in the lower reaches of German football, Farke took an initiative after his playing days ended, and took over at then-sixth-tier side SV Lippstadt; the club he retired at and which he had three separate spells with over the course of his career.
His Lippstadt spell has been considered the most successful term in the club's history, as he achieved back-to-back promotions between 2011-2013, to get the club into the fourth tier of German football. Although Farke was unable to keep them in them up, he is still revered in the western German town. After departing Lippstadt, after six years at the helm, with the intention of taking time out of the game, Farke found himself back in a job in no time at all, with his talents recognised by now-Liverpool manager, Jürgen Klopp, who offered Farke the chance to lead Borussia Dortmund II, the club's reserve team. Following two seasons within Die Borussen's ranks, Farke was scooped up by struggling Norwich City in May 2017, who hired the German after narrowly missing out on the playoffs in 8th, a year after suffering Premier League relegation.
Farke's biggest asset at the Canaries was time and he was certainly afforded it, as he transformed Norwich from a bottom-half 14th placed finish in his first-season, to Champions in his second season. By working alongside Director of Football, Stuart Webber, the duo were able to cleverly manipulate the transfer market, reinvest on the assets they cashed in on and build on the resources – such as parachute payments – in order to transform an aging Norwich team into a young and energetic side, influenced by both foreign and domestic talents. Despite bouncing between the top two divisions of English football, the multi-EFL Manager of the Month winner was able to manipulate a shoe-string budget to achieve the dream that all clubs in the EFL crave for…not once, but twice.
Sadly, for Farke, he was dismissed only months after signing a new four-year-deal at the Canaries, as Norwich's desperation for Premier League survival saw them pull the trigger. After departing Norfolk, Farke spent just under two months at the helm at Russian club, Krasnodar, but departed after the Russian invasion of Ukraine, despite not managing a competitive fixture.

How does Football Manager think he'll do?
We have added Daniel Farke, along with his two members of his backroom staff, Christopher John and Chris Domogalla and monitored their progress at Rovers over the course of a full campaign, here's what happened!
The manager and his staff started their shift at Ewood Park on 1st July, meant they had all of pre-season to delve into the transfer market and work out a plan of action through pre-season to try and get Rovers back into the top-flight, before the season kicked off on 7th August.
His transfers were rather intriguing, but quite realistic in-terms of what we saw from him during his time at Norwich City. His dealings focussed on bringing in talent discarded by other clubs – as well as loans – and adapting them to suit his style. Although he didn't bring in many new faces as some might expect his reliance on the loan system proved vitally important.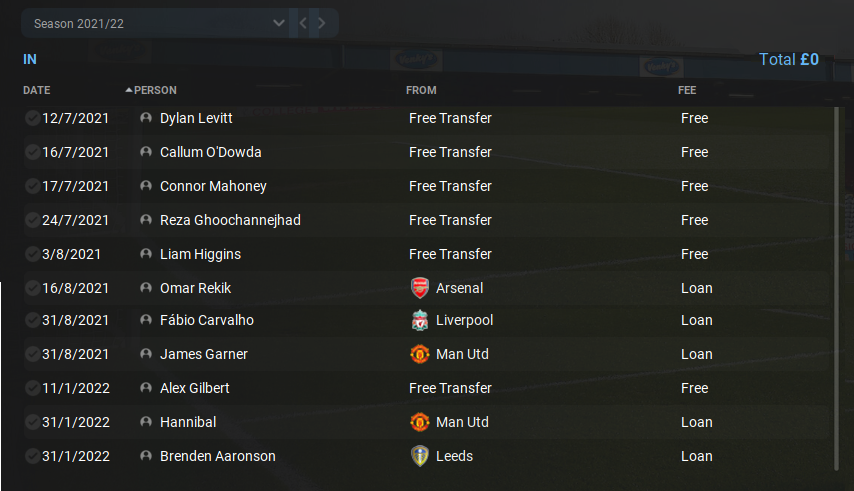 The loan signings that Farke made were incredibly intriguing as they matched the ambition that he would set, if he joined the club in reality. The coups of Manchester United duo, James Garner – who achieved promotion with Nottingham Forest on Sunday – and highly-rated Hannibal Mejiri continued the recent theme we've seen over the past few years that Rovers do have pulling power in the eyes of the top clubs. That was also backed up by the addition of soon-to-be Liverpool winger, Fabio Carvalho. Overall, however, Farke relied on the talent already at the club, which shows the strength of the squad assembled by his predecessor. It must be noted that Farke did dip into the market come the conclusion of the season as he picked up former Watford wide-man, Marvin Zeeglaar, who was set to join for the next season from Udinese once his contract in Italy expired.
The departures from Ewood under the German were mainly kept to a minimum, as loans – (and the released players from Tony Mowbray's final season) – took up the majority of the outgoings. The most eye-catching leaver was Ryan Nyambe, who crossed the Pennines and joined Jesse Marsch's Leeds United who coughed up £2.8m for the Namibian, as Farke cashed in on the out-of-contract full-back in January; doing the same with Dan Butterworth.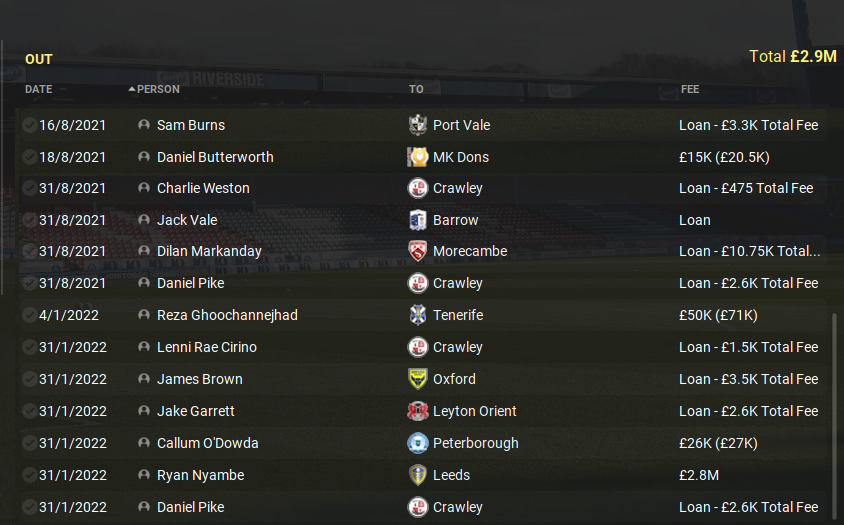 Two headscratchers were the signings and then swift departures of former Bristol City winger, Callum O'Dowda to Peterborough United and 34-year-old forward, Reza Ghoochannejhad who headed to Tenerife – presumably to buy a retirement home! Although the money that Rovers received probably covered the wages of the loanees for a month, Farke did make a profit on their initial acquisitions which again highlights his savviness in the market.
As one can imagine, with the couple of additions that Farke made, the make-up of the squad didn't change that much – (Joe Rankin-Costello remained at the club, but is in the reserve team) – but the German did strengthen and target positions that Rovers need to find replacements for, namely in the centre of midfield and at the back.
The German favoured a 4-2-3-1 system throughout most of his time at Norwich City, both during his time in the Championship and Premier League, before hastily switching to a five-back system as his days became numbered on Norfolk. He seemingly tried to build on the solid foundations left by Tony Mowbray by sticking with a five-back system, but adapting it so that Rovers would have two forward up-front and rely on the wing-backs for their width. Farke did have success in extending the contract of beloved Chilean, Ben Brereton Díaz, which tied the attacker to the club for at least two-years.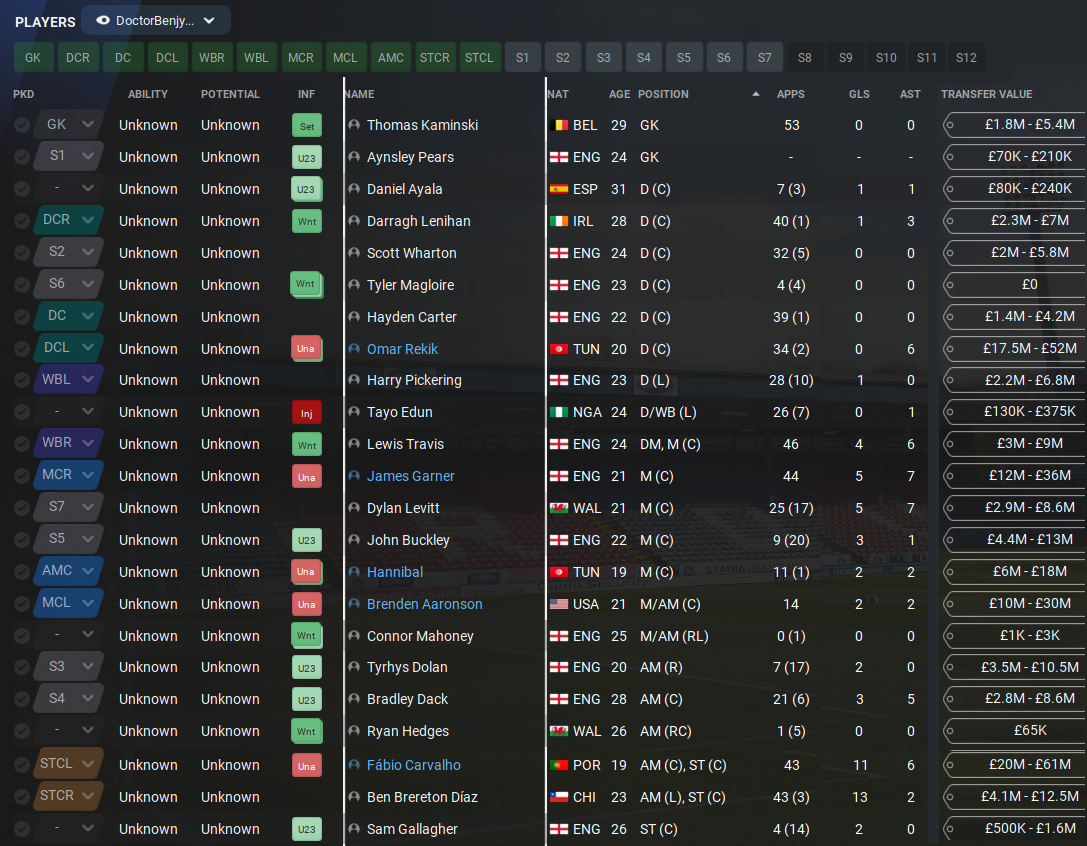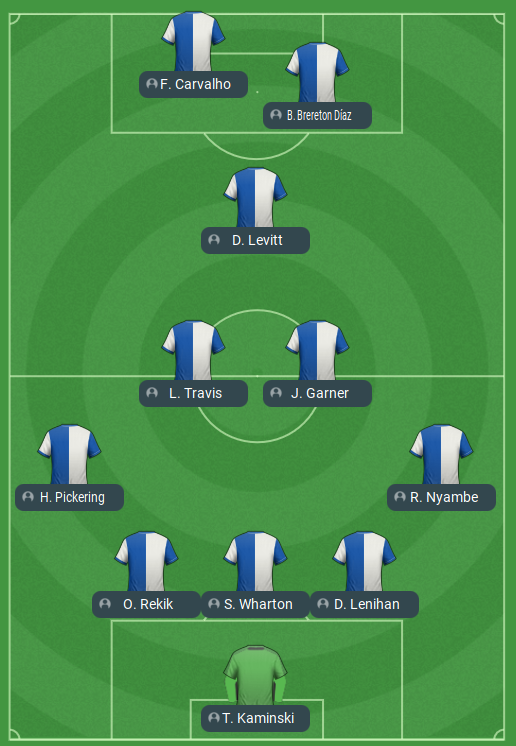 'How did Farke get on over the course of 46 games', I presume your wondering? Well, quite well when you look at the overall picture. Despite failing to beat bitter rivals Burnley over both fixtures against the Clarets, Farke did bring a halt to the 'February Curse' that haunted his predecessor, losing only three league games from the start of December, until the start of March, which really boosted Rovers' campaign. April, however, wasn't Rovers' best friend as Farke's side nose-dived and stumbled over the line, although he was able to cap off the campaign with a victory.
The cup runs were better than what we've witnessed in recent years, as local side Fleetwood Town were brushed aside in the Carabao Cup First Round, before Farke got one over on his former employers on penalties, in the Second Round. However, their League Cup progress was halted by the 'riches of Saudi Arabia', as Newcastle United got the better of Rovers via the spot-kicks to curtail their run. The Blues did managed to get beyond the Third Round of the FA Cup for the first-time since 2017 where they reached the Fifth Round; but it was the same opposition who dumped them out of the competition, as a Cristiano Ronaldo brace, was sandwiched between goals from Amad Diallo and Donny Van de Beek, saw Erik Ten Haag's side win 4-0 at Old Trafford.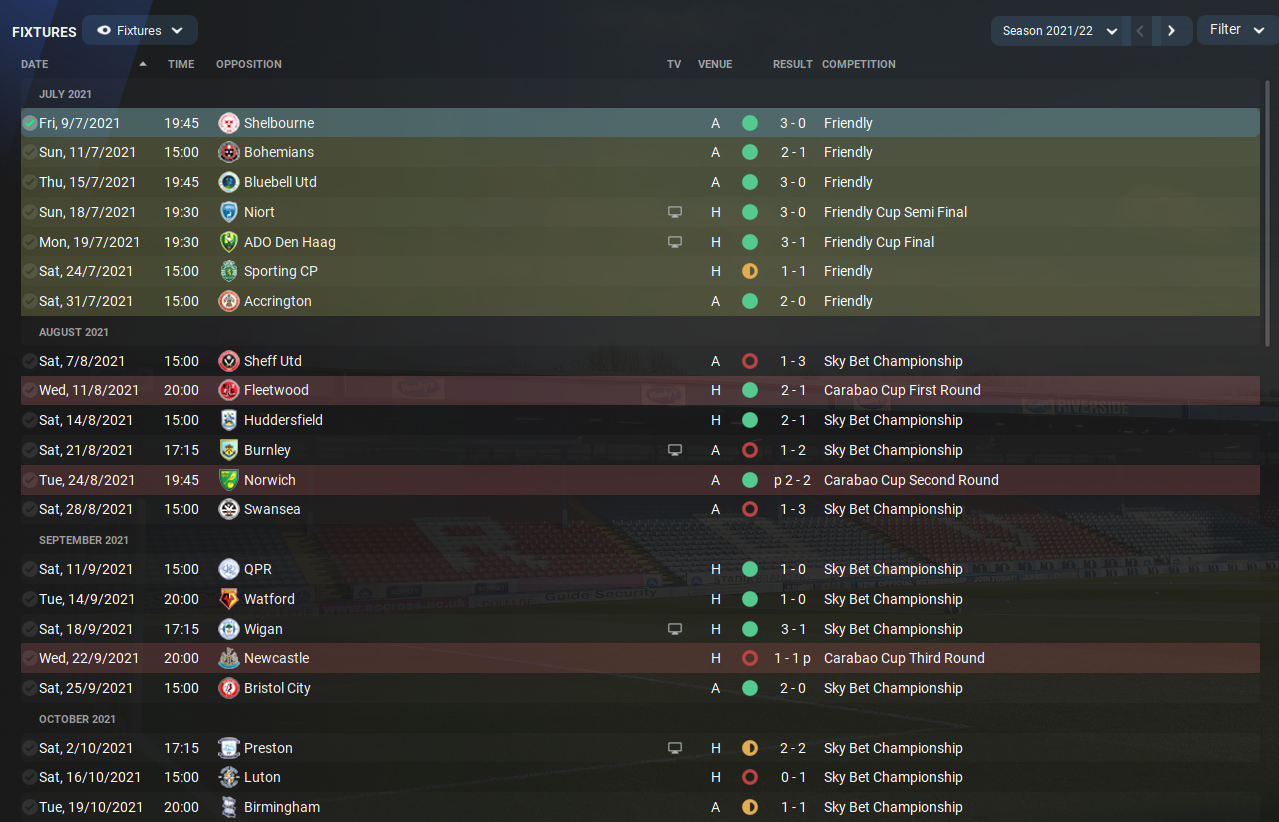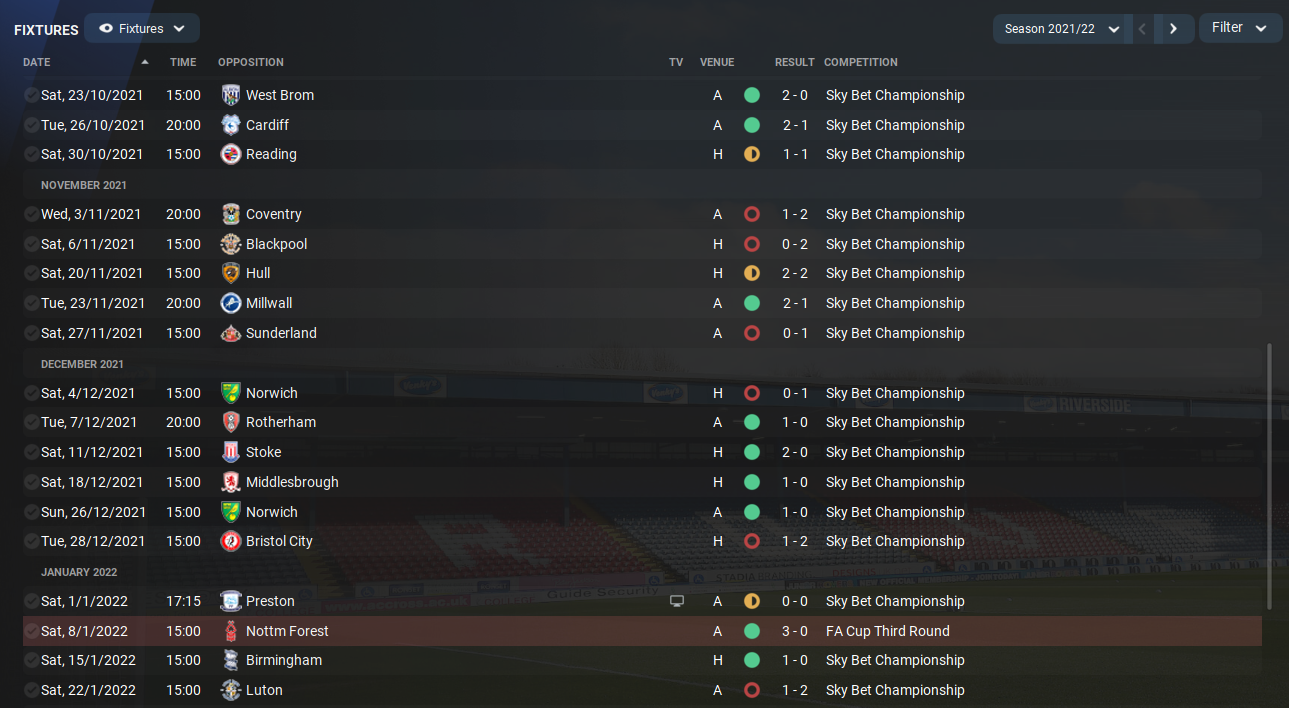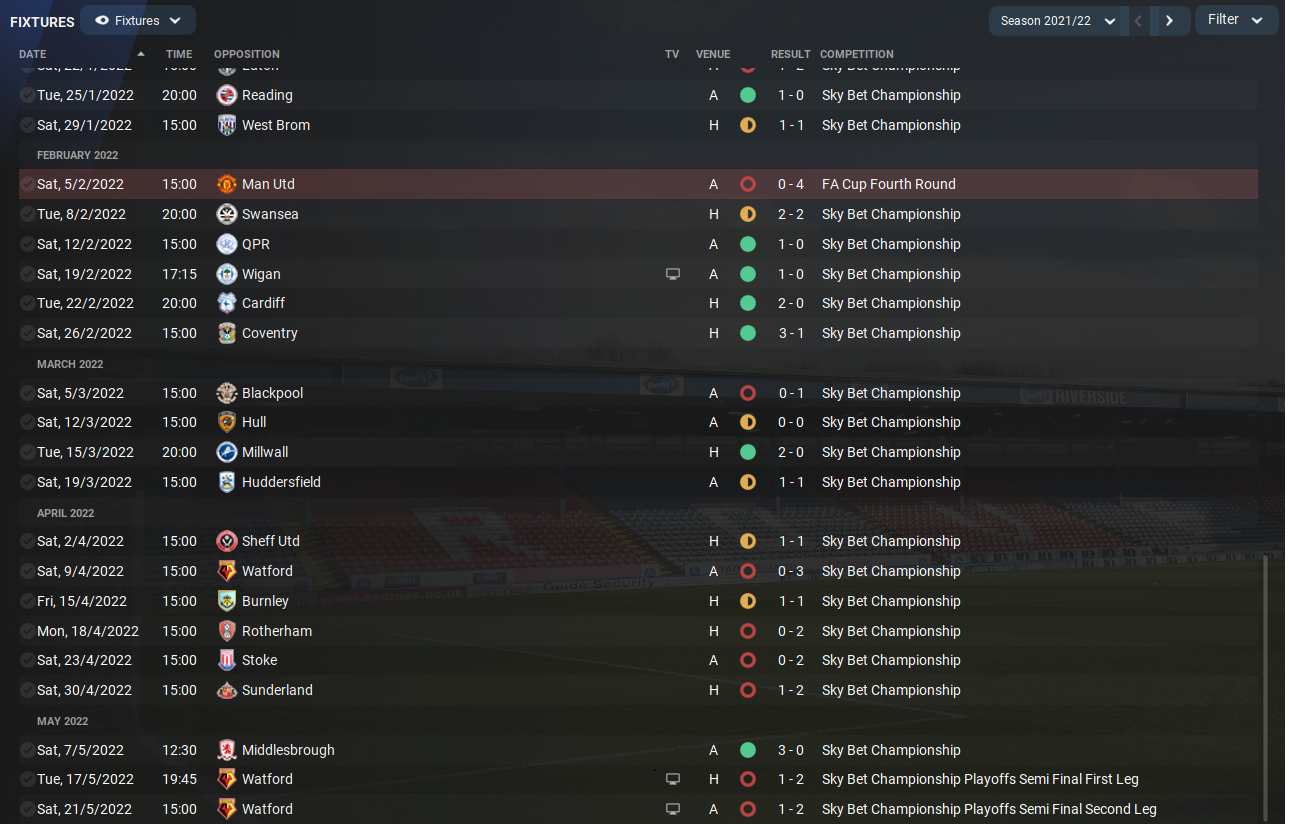 Those eagle-eyed amongst you will notice that Rovers faltered against recently-relegated Watford in the playoff semi-finals, losing 4-2 over both legs. After finishing 5th in the division, the Blues qualified for the playoffs alongside the Hornets, Farke's former side, Norwich City and the surprise package, fellow Lancastrians, Blackpool. After Rovers were humbled by the Hornets, Neil Critchley's Tangerines somehow bettered Norwich City, 3-2 over both legs, before failing to get over the finish line, as Rob Edwards guided Watford back to the Premier League, following a 3-1 Wembley win.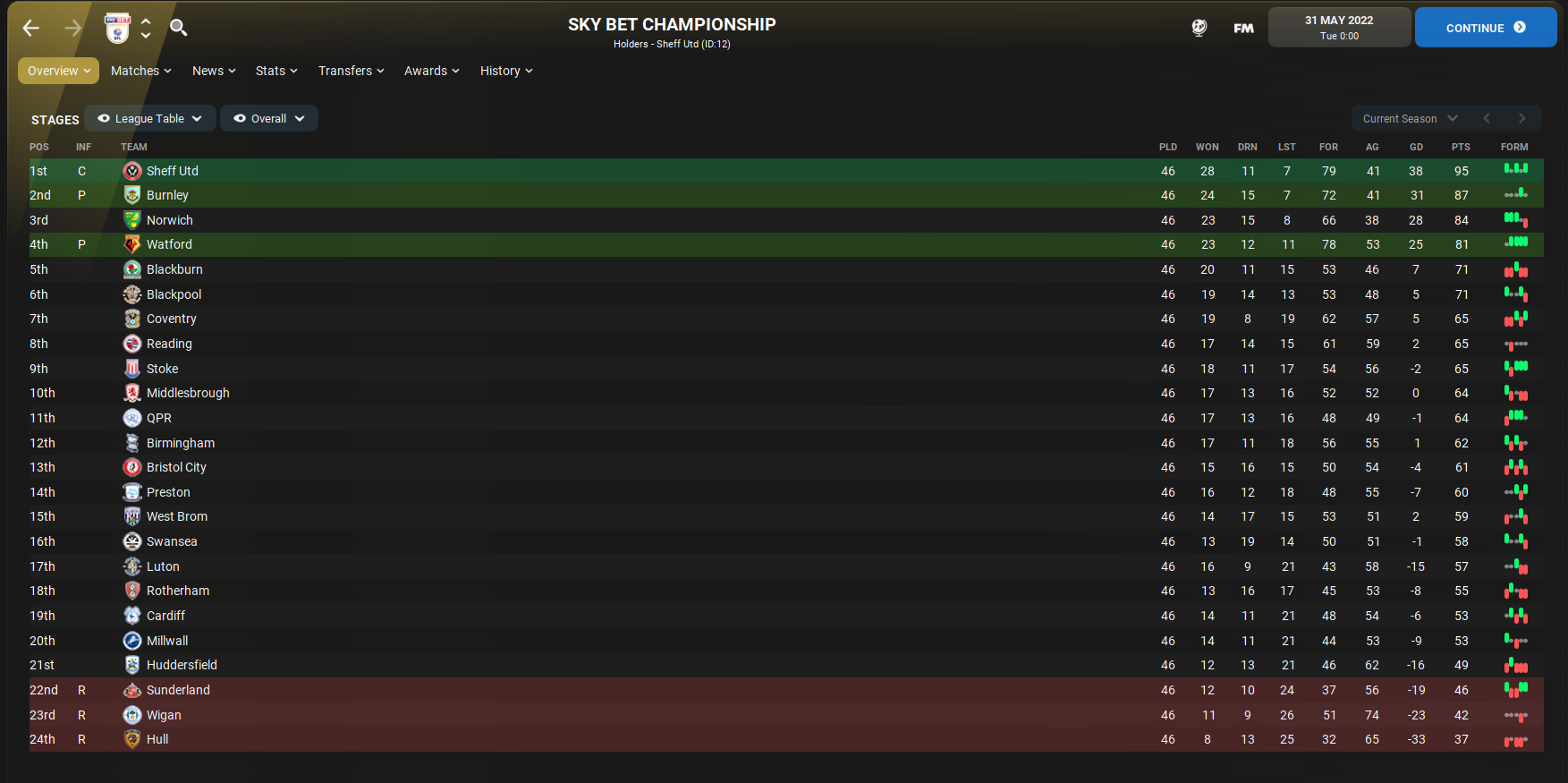 Rovers' form fluctuated, as the fixtures showed, but their position in the table largely remained similar to how it ended, once the season really got into full swing. Although Rovers stuttered in the early season, hovering just on the cusp of the playoffs, their aforementioned good form around the turn of the year ultimately proved vital towards helping secure a playoff berth. Although they seemingly collapsed in April, they managed to cement themselves inside the top six, despite not winning any of their last six games, during the fourth month of the year.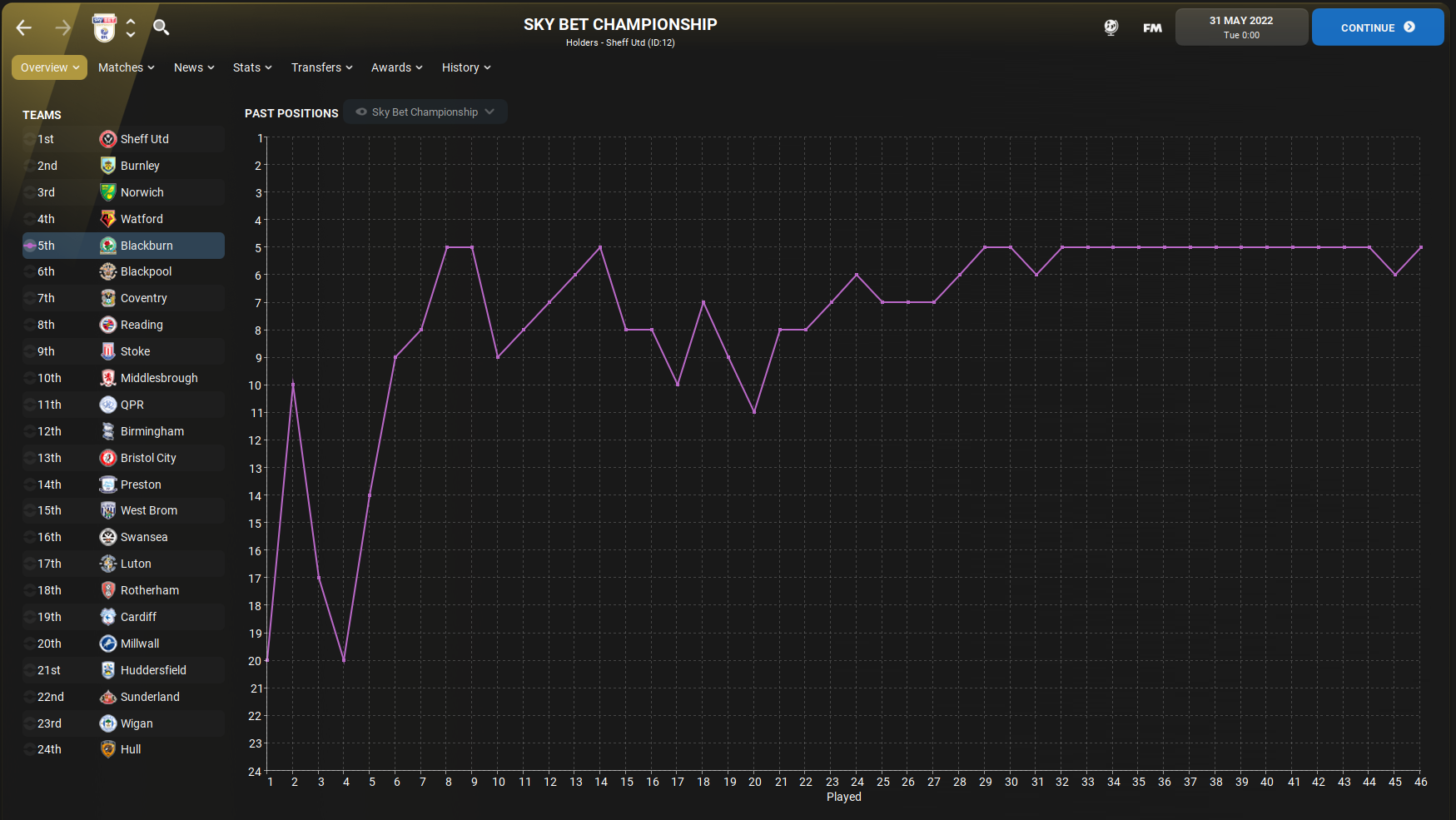 Whilst Farke's odds have fluctuated over the course of May, in real life, he still remains as part of Rovers' supposed 'eight-man shortlist', with varying sources claiming that the 45-year-old has had at least one interview, including one with the Owners in India. This simulation offers a realistic insight into how Farke would operate if appointed as Rovers manager and the outcome proves rather exciting, if not intriguing. We saw how quickly he turned Norwich City around after an initial 'bedding in' season, so it would be very interesting to see how far the German could take a young and vibrant side, such as Rovers.
Would Daniel Farke be your number one at Rovers?
Let me know below, or on Twitter: @readrovers
Thanks for stopping by! Don't forget to come back tomorrow for the next manager who will be taking the Rovers reigns!
COYB!  🔵⚪
Zeid