Speculation has been rife since Tony Mowbray's departure from Rovers was announced, about who would be his successor. The five-year spell that Mowbray had at the helm of Rovers is rather unprecedented in modern Championship football, but it's time to move on.
Names have been thrown around about who would slot into the managerial hotseat, from 'inexperienced first-time' managers looking to break through into the merry-go-round, to 'high-profile' journeymen looking to 'pursue new challenges'.
Over the past week, we have been teaming the current Rovers squad up with potential incoming gaffers to see how they would fair under the rigorous and demanding pressure of managing former Premier League Champions. But due to popular demand, we're putting two final managers through the Rovers ringer.
"But how are you going to do that?", I can hear you ask?
Well, Football Manager will be our tool for making fantasy, a reality, as we take 'the world's most accurate simulator' out for a spin to see who which gaffer will get closest to bringing the Premier League back to Ewood Park.
What is Football Manager?
For those of you unfamiliar with Football Manager – or 'FM' as it is commonly known as – is seen by many as the 'crème de la crème' of football simulators. In fact, it's probably taken up half of my life!
Described by the game's production studio, Sports Interactive, as 'a living, breathing game world of unparalleled realism', the simulator has certainly received worthy plaudits as it has expanded to all corners of the globe and has developed pinpoint accuracy in scouting and tactical breakdowns, including the fact it is backed by over 1,300 real scouts who help determine the game's accuracy and 'football authenticity that other football games can only aspire to replicate.'
In fact, it's revered around the footballing world and has influenced both supporters and football clubs alike in how they think about the 'beautiful game'. In 2008, whilst still in the Everton dugout, David Moyes agreed a deal to use the Football Manager database for scouting players and opponents. It has also helped many young aspiring managers achieve their dreams, such as Lancastrian, Shadab Iftikhar whose exploits on Football Manager inspired him to work towards his UEFA Coaching Badges, eventually leading him to becoming a Scout for Belgium during UEFA Euro 2020, before becoming the first-team manager at Fort William in the fifth tier of Scottish Football.
Furthermore, it has become a cult outlet of technology among current active players and managers, with former Manchester United manager, Ole Gunnar Solskjaer, back in 2014, stating that he 'learnt a lot' from playing FM, whilst former Rangers and Scotland manager, Alex McLeish stated that: 'I'd imagine that any manager worth his salt would be using it (Football Manager) to scout players and opponents.'
French World Cup Winner, Antoine Griezmann has also been engrossed in the game, with the on-loan Atlético Madrid man detailing many of his successes online, including his spell as Newcastle United boss on the 2021 iteration of the game, where he became – in his words – 'an English football legend'.
Just like the sport we all know and love, it really is 'more than just a game'.

How are we going to break this down?
It's important to note that this series will be written following Sunday 29th May's Championship Playoff final, which saw Nottingham Forest beat Huddersfield Town, 1-0 at Wembley. From this point on, we will be implementing the 2022-23 campaign, from this date, meaning that any future transfers or managerial appointments that might happen in June or beyond will not be accounted for.
Furthermore, the game will determine everything that occurs during a campaign; it will fill current vacancies within the Championship and ones that may occur over the course of the simulation. The squads that we shall be using will be accurate as of 29th May 2022 and transfers that happen from 30th May onwards, will not be included, unless they have already been confirmed. This means that we are as close to current reality as possible.
Of course, you'll notice in the screenshots that the dates are from 2021-22 and exclude the upcoming World Cup in December 2022; that unfortunately can't be changed, but it's irrelevant to the conclusion we're making. Just imagine the dates are 2022-23 instead! For the sake of Darragh Lenihan and Ryan Nyambe; they will remain at the club with their deal expiring at the end of the experiment's season, given their future is unknown.
Sadly, I can't predict the future – if I could, I'd tell you when we'd get promoted(!) – so giving them a standard one-year extension seems the most sensible option.
Throughout this series, we have placed candidates (and members of their backroom staff from their last club where applicable) in the Rovers role, and seen how their season has unfolded, detailing the manager's transfers, results, whether they lasted the entire campaign and most importantly, where they finished in the league. The personnel that we have selected has been loosely based off SkyBet's odds, which have fluctuated heavily over the course of this series and past week, but we have tried to offer a realistic range of bosses, including our most controversial sixth entry who was showcased, this past Sunday.

Ronny Deila
Following the success of the initial six candidates, we added a seventh on Monday, and now an eighth on Wednesday in former Celtic and current New York City FC manager, Ronny Deila, who was linked and reportedly interviewed for the vacancy at Ewood Park, at the start of this week.
Oh, and don't be too confused by the picture; Deila promised to strip down to his boxers and do push-ups if NYCFC were to win the MLS Cup, come the end of the 2021 MLS Season!
Brief Career So Far
Following a respectful playing career that saw him remain in his native Norway for his whole 19-year career as a defender, Deila spent the last five years of his footballing career, as a player-coach for both, Eliteserien side Strømsgodset, before combining his duties with the top division side, with a brief playing career in the lower league, with Sparta Bragerøen from 2009-2011.
After getting a taste of what coaching and managing would be like, Deila had a brief spell coaching at fourth-tier side, Brodd in 2005, before eventually being promoted up the Strømsgodset hierarchy following his playing days and being appointed manager in 2008. Deila stayed at the Eliteserien side for six seasons, taking them from relegation candidates to Norwegian Cup winners in 2010 and Tippeligaen winners in 2013; the side's first league title in 43 years.
In his final season in his native Norway, despite taking Strømsgodset on a 44-game unbeaten run, they would finish 4th in the league, as Deila's stock would rise, with enquiries being made about his services from Mainland Europe and the United Kingdom; and he resultantly made the move to Celtic in the summer of 2014.
During his two-year spell at The Bhoys, Deila would go onto win two successive league titles, including a domestic double in his first year, in 2014-15, as he guided Celtic to the Scottish Premiership title and the Scottish Cup, however underperformance in Europe saw Deila under-pressure, despite his domestic success which was brought on by 'attacking free-flowing football'. Come April 2016, Celtic were dumped out of the Scottish Cup in the semi-finals by their eternal rivals, Rangers, on penalties, which brought great criticism the way of the Norwegian, both due to the result and the performance, which led to Deila eventually announcing his departure from Scotland, three weeks before he'd clinch his second SPL title.
Following his spell in the UK, Deila returned home, as he took the reigns at Vålerenga, however his return to Norway didn't end as well as he would have liked. Despite Deila's target of a top-three spot, Vålerenga spent most of the season battling against relegation, before finishing mid-table in 8th from 16 teams. Deila would end his second in 6th, before his time would end with a 10th placed finish, as he soon stepped down to takeover at MLS and City Football Group side, New York City FC.
As 2020 ticked over, Deila was appointed at the Bronx-based club, but were knocked out of the playoffs in his first campaign in the U.S., however his second full season ended in great success, as despite finishing the regular 2021 season, 4th in the Eastern Conference, and 8th on the overall table, Deila guided the Sky Blues to MLS Cup glory, as they were crowned champions for the first time in their history, in just their seventh season in the top-flight.
How does Football Manager think he'll do?
Due to popular demand, we have added a managerial DLC – as gaming companies now call it – by giving the Norwegian boss the final spot on the list – alongside the current setup – as we put him through the Ewood Park job. Can the current MLS championing manager replicate the success he's had thus far in his career, in East Lancashire?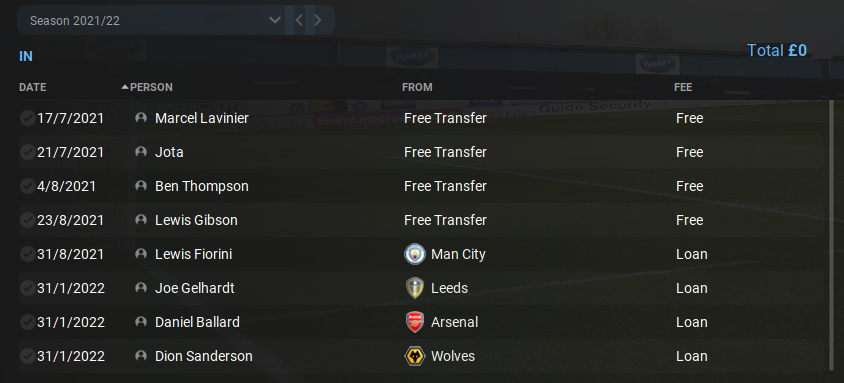 Deila's additions were quite varied in comparison to the other managers we have seen during this series. Whilst Ben Thompson was brought from Millwall, as Duncan Ferguson did and Lewis Gibson was added from Chelsea, as Sean Dyche, and Slaven Bilić did, Deila did bring some new faces to Ewood Park, both on loans and frees. The free additions of former Birmingham City, Aston Villa and Brentford winger, Jota was quite intriguing, whilst Marcel Lavinier's addition from Tottenham Hotspur saw a breath of youth come in at right-back. Lewis Fiorini came in on loan from Manchester City to play a big part in Deila's squad, whilst Joe Gelhardt came in to notch six goals for Rovers. Daniel Ballard and Dion Sanderson from Arsenal and Wolverhampton Wanderers respectively also came to Ewood to provide adequate cover for the defensive roles.
Deila also made a future transfer by acquiring Florent Hoti from Dundee United, as the Kosovan midfielder was set to link up with Rovers in July, as seen below.


The outgoings were a bit more scare, as Deila managed to recoup £7.5k from the loans of Sam Burns and Dilan Markanday, respectively, but he did sanction two future outgoings, as he let Daniel Ayala go for £6.5k and was unable to agree a new deal for Chilean forward, Ben Brereton Díaz, who decided to move halfway across the world, to ply his trade at Mexican top-flight side, Club América.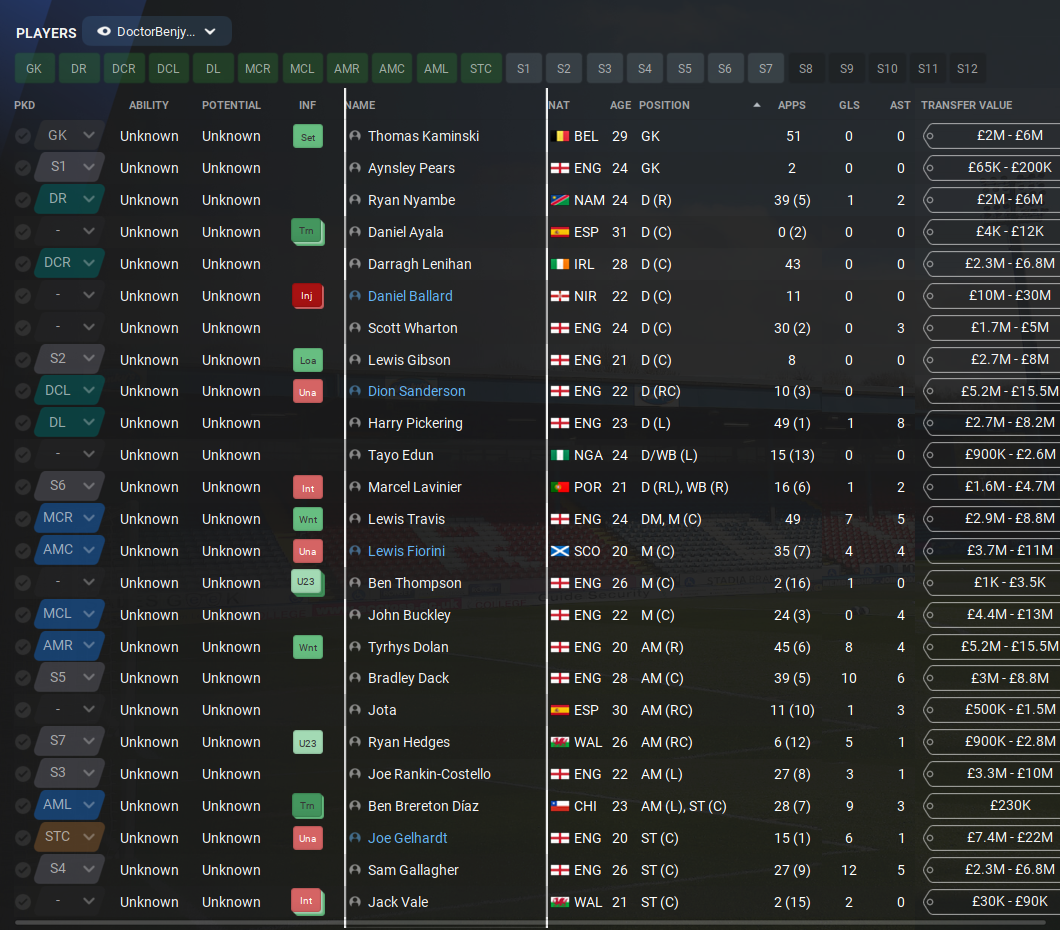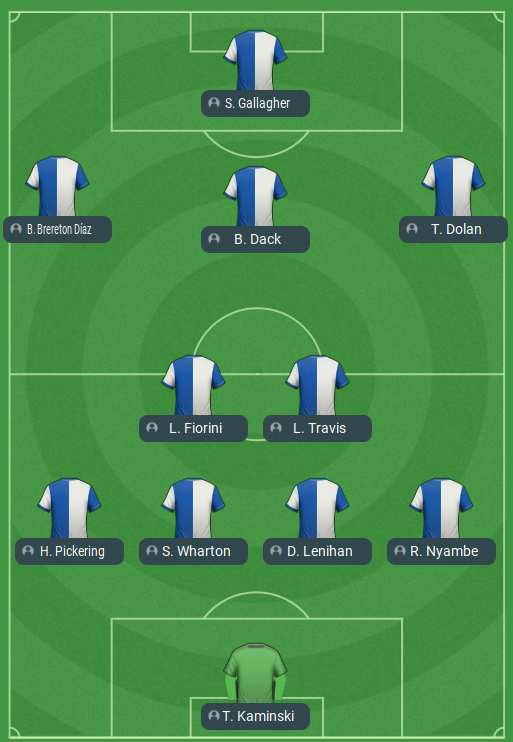 Deila managed to cultivate a fairly deep squad for the division's standards, however could be accused of underusing some of the players he had within his ranks, particularly the loanees, some of which barely got more than 10 games all season. In terms of the system he played, he didn't veer far away from how he played for the majority of his Celtic spell, as he stuck with a 4-2-3-1 system that aimed to get the best out of Bradley Dack. As mentioned before, Ben Brereton Díaz failed to agree terms on a new deal, but Darragh Lenihan and Ryan Nyambe signed new contracts. Lenihan only signed a one-year extension, until the year after the simulation ends, whilst Nyambe signed a mult-year deal on £11k per week; which increased his wages by a substantial amount.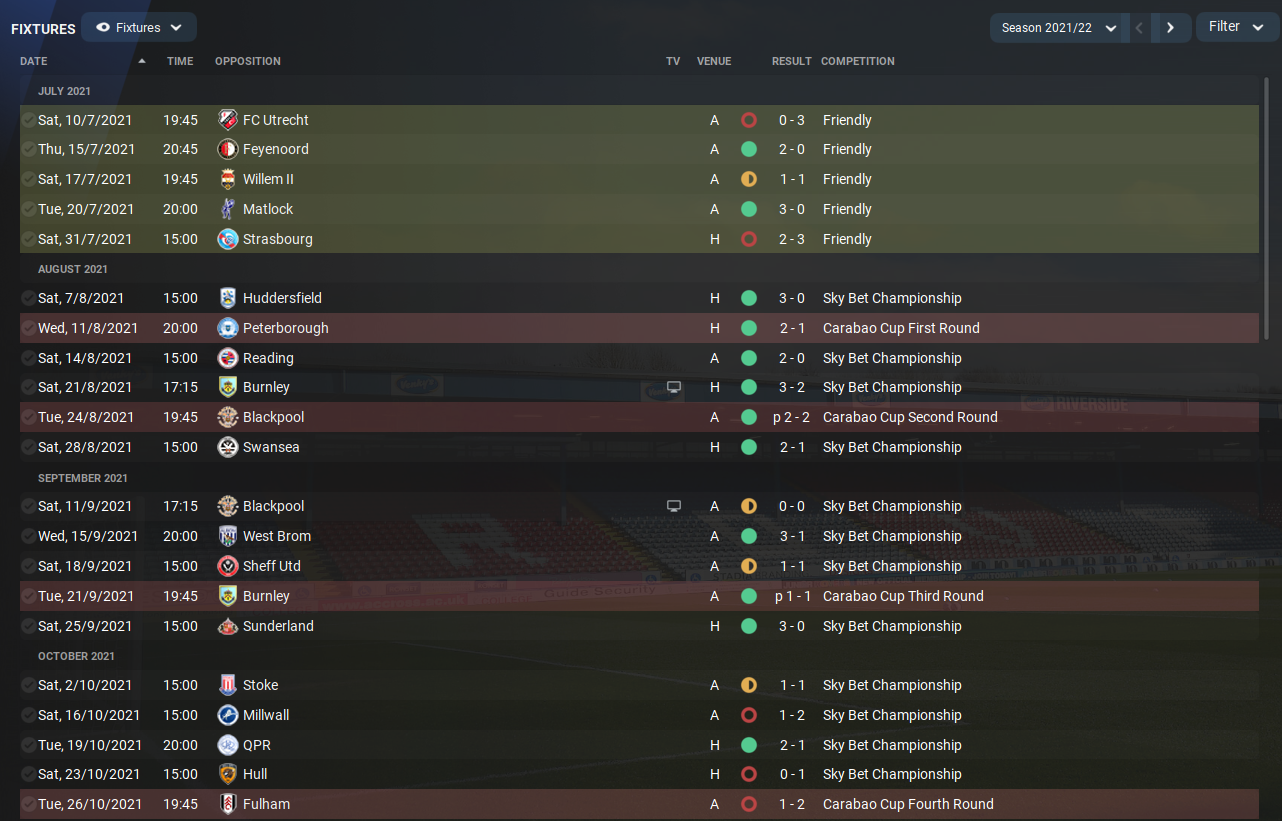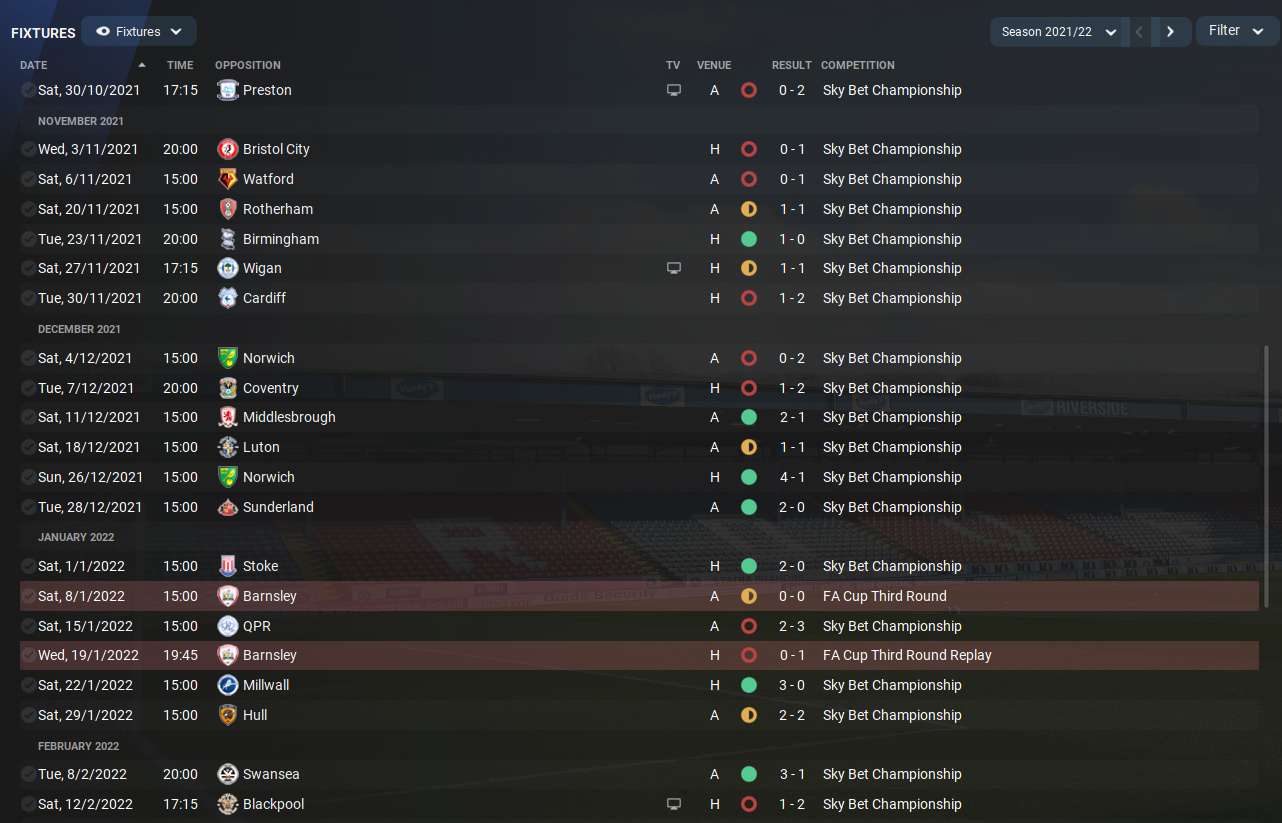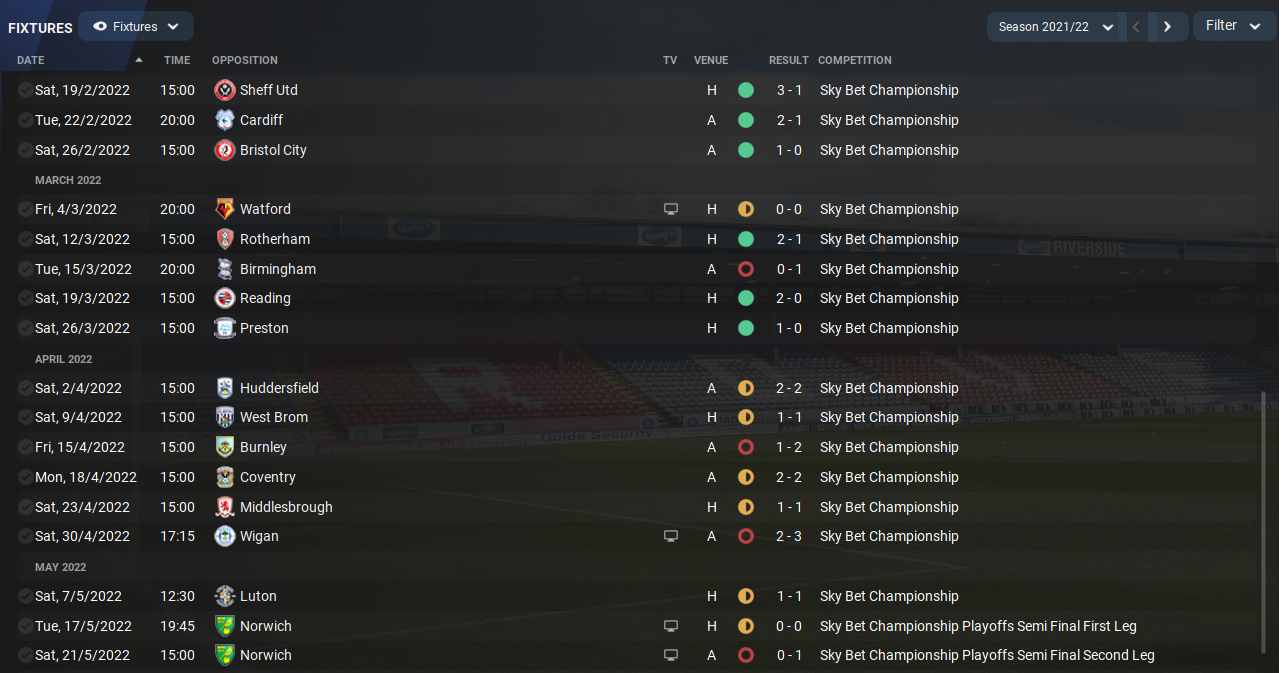 Unlike most of the simulations that we have seen, Deila actually started outstandingly, going unbeaten for the first two months of the season, in all competitions, with his first defeat coming away at Millwall, at The Den, in his 13th game in-charge. Whilst his unbeaten start included two wins against local rivals Burnley, including one in the Carabao Cup, he failed to do the league double over the Clarets as he lost the second fixture, at Turf Moor. Following the fine start, Deila failed to really replicate that run of form, as the season turned into a mixed bag for Rovers, with inconsistency rife throughout the whole campaign, with the Norwegian stumbling towards the end of the campaign with no wins in April.
As hinted, Rovers managed to get through the first two rounds of the Carabao Cup, beating Peterborough United and Lancashire neighbours, Blackpool and Burnley, but fell in the Fourth Round when up against Premier League Fulham. The FA Cup, however, was incredibly disappointing, as after a goalless draw away at League One Barnsley, Rovers lost the home replay to the League One side, 1-0.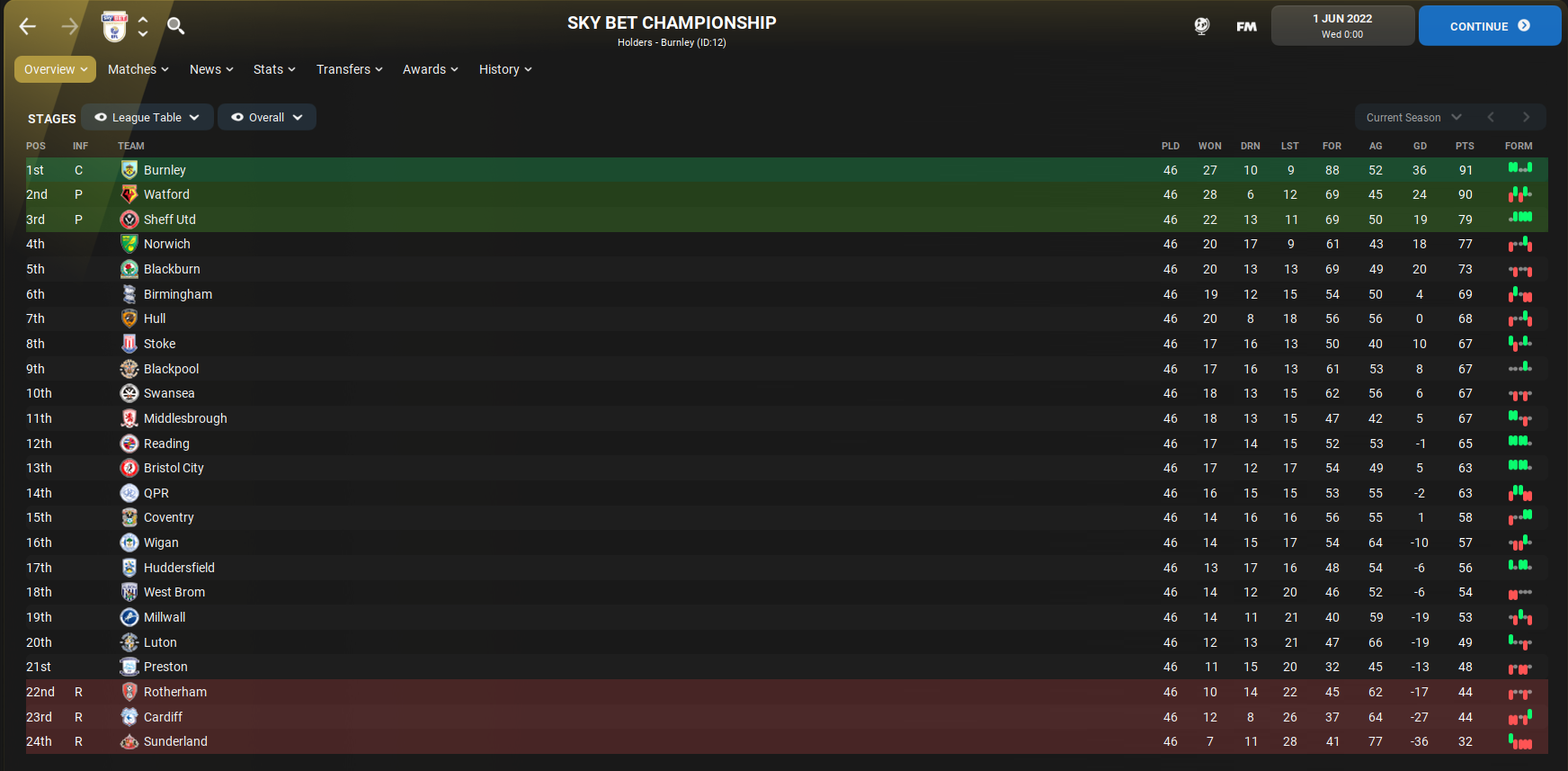 Rovers stuttered into the playoffs, as despite a terrible run of form to end the campaign, they somehow finished 5th, five points clear of Hull City, who were in 7th position. Truth be told, the poor results showed on the league table, as Rovers got into the playoff with the second-lowest number of points by a manager in this series, with 73 points – only Duncan Ferguson got less with 70 and he failed to get into the playoffs. The extension to the season didn't go as well as Deila would have hoped, as he was knocked out by Norwich City, who beat Rovers 1-0, over both legs.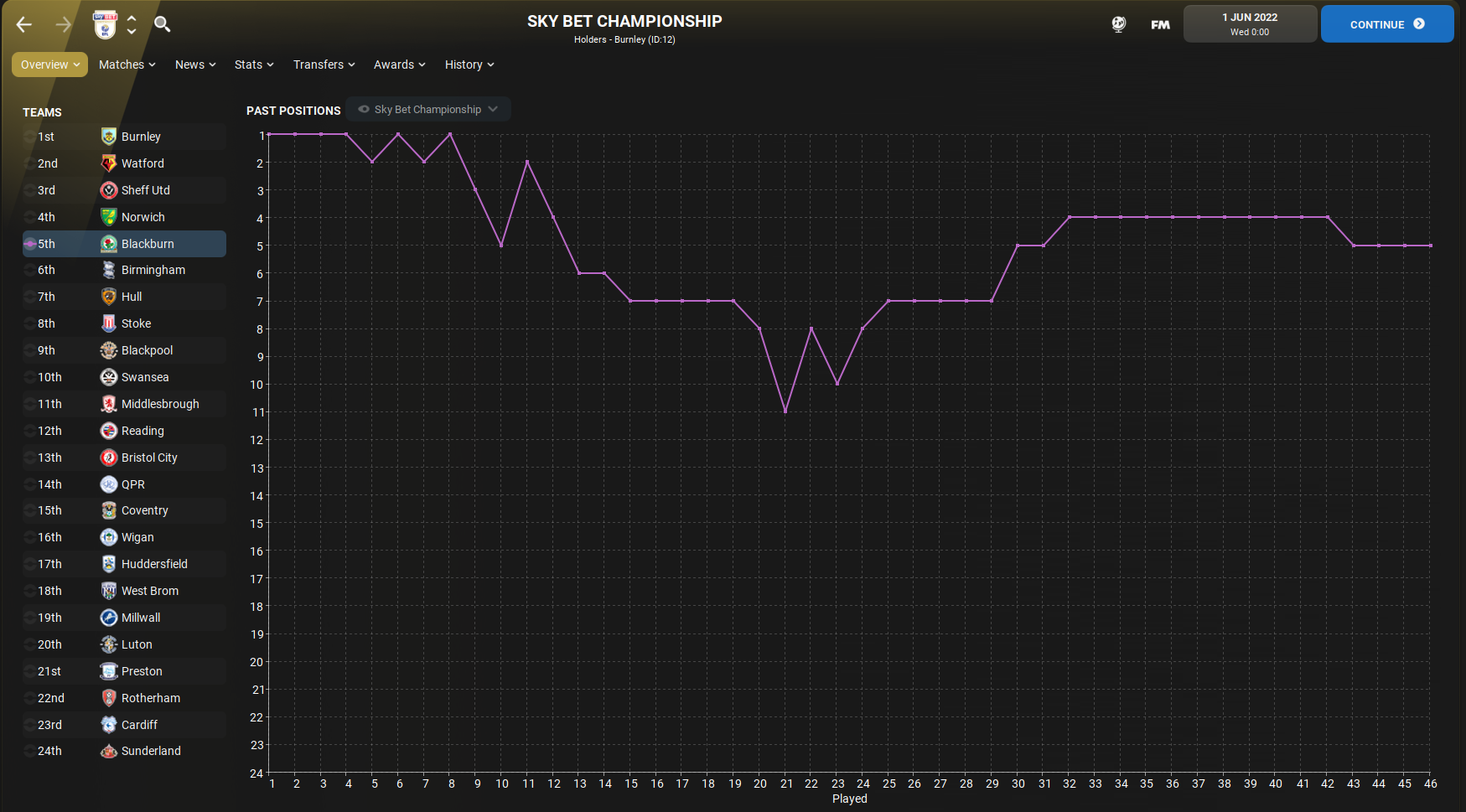 The inconsistency that Rovers suffered is viewable by their past positions per week graph, with the Blues bobbing up and down the league table, before settling in the playoffs, following a poor end-of-campaign run. Despite spending 31 weeks of the season inside the top-six, Rovers could have easily tumbled down the table given their under-par form, which would have been a problem for Deila in reality, given the impact of the home crowd.
Although the Norwegian has apparently been interviewed for the vacancy, it brings a thought to whether he would leave a cushy job in the USA, where he has been successful for a challenging, almost 'rebuild' job in England?
Would you 'do a Deila' and swap the bustling streets of New York City for a quaint life in the East Lancashire moors?
Let me know below, or on Twitter: @readrovers
Thanks for reading, and make sure to pop back on Thursday for our definitive final simulation!
I said it in Monday's piece, but I've taken a real enjoyment in seeing the discussions around how you all react to each manager's concepts and transfers, so much so, we decided to come back for two final hurrahs, with the final simulation coming on Thursday, before we go again once the new manager is appointed as we give him the run through – most likely after the summer window closes! So once again, I thank you all for making this mini-series a great success and feel free to share them amongst your friends!
COYB 🔵⚪
Zeid