Speculation has been rife since Tony Mowbray's departure from Rovers was announced, about who would be his successor. The five-year spell that Mowbray had at the helm of Rovers is rather unprecedented in modern Championship football, but it's time to move on.
Names have been thrown around about who would slot into the managerial hotseat, from 'inexperienced first-time' managers looking to break through into the merry-go-round, to 'high-profile' journeymen looking to 'pursue new challenges'.
Over the next six days, we shall be teaming the current Rovers squad up with potential incoming gaffers to see how they would fair under the rigorous and demanding pressure of managing former Premier League Champions.
"But how are you going to do that?", I can hear you ask?
Well, Football Manager will be our tool for making fantasy, a reality, as we take 'the world's most accurate simulator' out for a spin to see who which gaffer will get closest to bringing the Premier League back to Ewood Park.

What is Football Manager?
For those of you unfamiliar with Football Manager – 'FM' as it is commonly known as – is seen by many as the 'crème de la crème' of football simulators. In fact, it's probably taken up half of my life!
Described by the game's production studio, Sports Interactive, as 'a living, breathing game world of unparalleled realism', the simulator has certainly received worthy plaudits as it has expanded to all corners of the globe and has developed pinpoint accuracy in scouting and tactical breakdowns, including the fact it is backed by over 1,300 real scouts who help determine the game's accuracy and 'football authenticity that other football games can only aspire to replicate.'
In fact, it's revered around the footballing world and has influenced both supporters and football clubs alike in how they think about the 'beautiful game'. In 2008, whilst still in the Everton dugout, David Moyes agreed a deal to use the Football Manager database for scouting players and opponents. It has also helped many young aspiring managers achieve their dreams, such as Lancastrian, Shadab Iftikhar whose exploits on Football Manager inspired him to work towards his UEFA Coaching Badges, eventually leading him to becoming a Scout for Belgium during UEFA Euro 2020, before becoming the first-team manager at Fort William in the fifth tier of Scottish Football.
Furthermore, it has become a cult outlet of technology among current active players and managers, with former Manchester United manager, Ole Gunnar Solskjaer, back in 2014, stating that he 'learnt a lot' from playing FM, whilst former Rangers and Scotland manager, Alex McLeish stated that: 'I'd imagine that any manager worth his salt would be using it (Football Manager) to scout players and opponents.'
French World Cup Winner, Antoine Griezmann has also been engrossed in the game, with the on-loan Atlético Madrid man detailing many of his successes online, including his spell as Newcastle United boss on the 2021 iteration of the game, where he became – in his words – 'an English football legend'.
Just like the sport we all know and love, it really is 'more than just a game'.
How are we going to break this down?
It's important to note that this series will be written following Sunday 29th May's Championship Playoff final, which saw Nottingham Forest beat Huddersfield Town, 1-0 at Wembley. From this point on, we will be implementing the 2022-23 campaign, from this date, meaning that any future transfers or managerial appointments that might happen in June or beyond will not be accounted for.
Furthermore, the game will determine everything that occurs during a campaign; it will fill current vacancies within the Championship and ones that may occur over the course of the simulation. The squads that we shall be using will be accurate as of 29th May 2022 and transfers that happen from 30th May onwards, will not be included, unless they have already been confirmed. This means that we are as close to current reality as possible.
Of course, you'll notice in the screenshots that the dates are from 2021-22 and exclude the upcoming World Cup in December 2022; that unfortunately can't be changed, but it's irrelevant to the conclusion we're making. Just imagine the dates are 2022-23 instead! For the sake of Darragh Lenihan and Ryan Nyambe; they will remain at the club with their deal expiring at the end of the experiment's season, given their future is unknown.
Sadly, I can't predict the future – if I could, I'd tell you when we'd get promoted(!) – so giving them a standard one-year extension seems the most sensible option.
Throughout this series, we shall place a candidate (and members of his backroom staff from his last club where applicable) in the Rovers role, and see how his season unfolds, detailing the manager's transfers, results, whether they lasted the entire campaign and most importantly, where they finished in the league. The personnel that we select will loosely be based off SkyBet's odds, which will undoubtedly fluctuate over the course of creating and publishing this series; we'll also be including a couple of our own picks, including one that might cause uproar.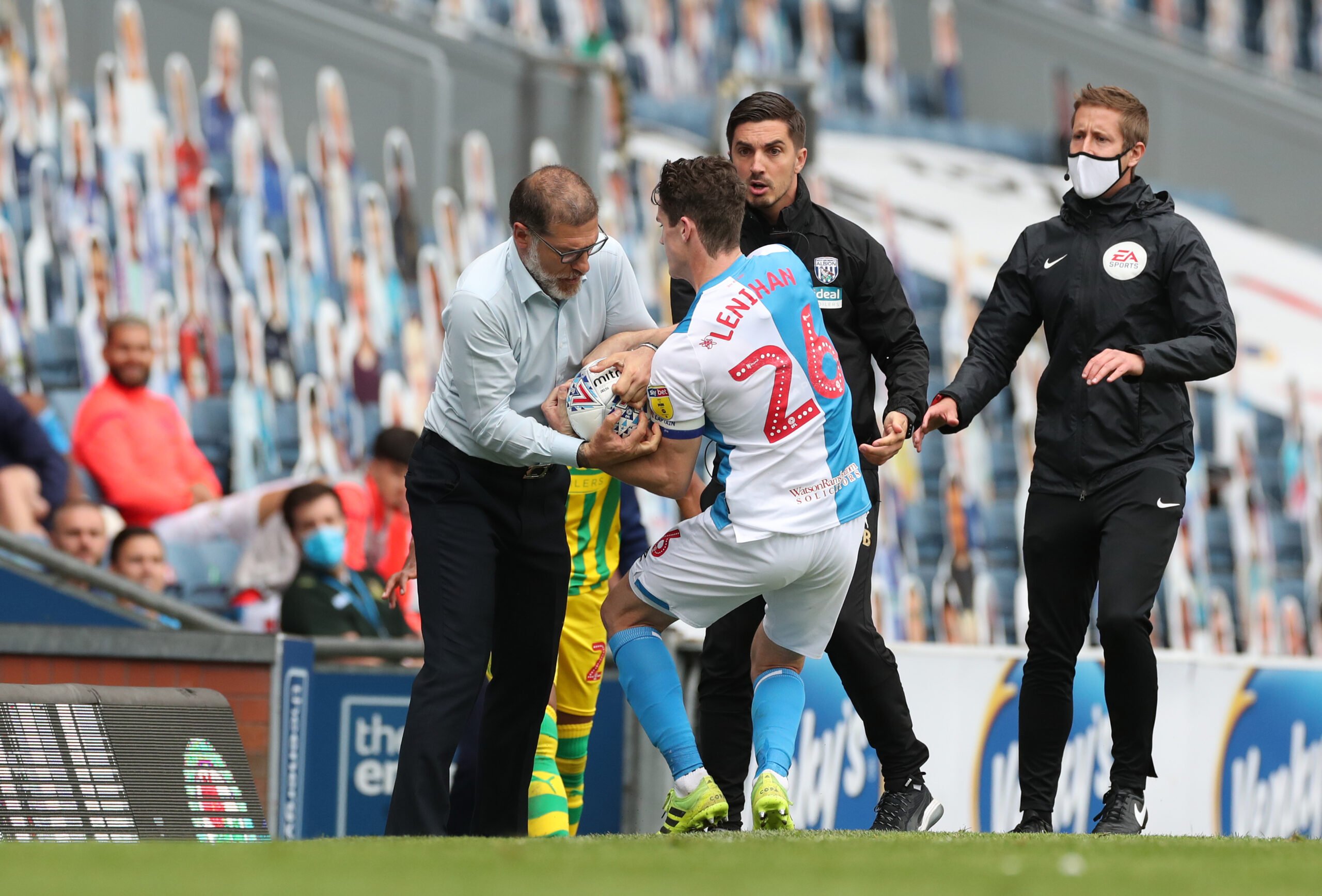 Slaven Bilić
Saturday's man at the helm is ex-West Ham United and West Bromwich Albion boss, Slaven Bilić, who will arrive at Ewood Park with a collection of staff, who have partnered the former centre-back throughout his managerial career. Assisting Bilić will be Nikola Jurčević, who had been Bilić's assistant from 2006, during their time leading their nation Croatia, until the gaffer was dismissed from West Ham United in 2017. Alongside Jurčević will be Danilo Butorovic who was part of Bilić's coaching staff at the Hawthorns and during their spell in China managing Beijing Guoan and former West Ham United teammate and defender, Julian Dicks, who also assisted the Croat at West Ham and West Brom.
Bilić, who won promotion with the Baggies during the pandemic-interrupted 2019-20 season, is currently out of work having been dismissed from his job in the Chinese Super League in January 2022.

Brief Career So Far
Following a successful career as a central defender, Bilić was a Croatian double winner with Hajduk Split in 1992 and finished third in the 1998 World Cup with his nation. In addition to his Croatian exploits, the fiery defender also plied his trade in the Bundesliga with Karlsruher SC and West Ham United and Everton in the Premier League. Bilić's first foray into management was with his hometown club Hajduk Split, where he remained for only six months in an interim role, whilst they searched for a new boss.
After departing Split in 2002, Bilić's next job would be with Croatia's under-21 side, who he'd manage for two years, between 2004-06, before moving into the main job in Croatia in 2006. Bilić would remain as his nation's manager for six years, leading them to impressive results in qualifying and in major tournaments as his side famously knocked England out of Euro 2008 qualifying, after beating the Three Lions, home and away. At the tournament, Bilić made Croatian football history by taking nine points from their group for the first time in their history – which included a win over eventual beaten finalists, Germany – as Bilić led them to the quarter-finals, before losing to Turkey. After failing to qualify for the 2010 World Cup in South Africa, Bilić made Euro 2012, but his nation were eliminated at the group stages.
After leaving Croatia in 2012, Bilić would spent the next three years managing in Russia and Turkey, with Lokomotiv Moscow and Beşiktaş, before 2015 would bring a fairy-tale return to Upton Park as Bilić was appointed as Irons boss during their final game at their historic Boleyn Ground. During the farewell, Bilić acquired the revolutionary signing of Dimitri Payet who lit up the Premier League – and Ewood Park in the Hammers' 5-1 win over Rovers in the FA Cup Fifth Round. With West Ham already in Europe for the first-time since 2006-07, courtesy of finishing top of the Fair Play table during Sam Allardyce's final season, Bilić failed to get them beyond the Third Qualifying Round as they were knocked out by Romanian minnows, Astra Giurgiu. Despite that incredibly underwhelming campaign in Europe the Croat led West Ham United to a 7th-placed finish which again qualified them for European football.
Following the move to the London Stadium at the start of 2016-17, West Ham failed to live up to their previous season's expectations, as following the departure of Payet and their elimination from Europe by Romanian minnows, Astra Giurgiu, for the second consecutive season the Irons finished 11th in their second Premier League season under the Croatian. Bilić's third campaign in East London didn't last past Christmas, as he was dismissed in November 2017, with his side in the relegation zone.
After a five-month stint managing in Saudi Arabia between September 2018 and February 2019, with Al-Ittihad, Bilić returned to England in June 2019 with West Bromwich Albion. Despite the season was interrupted due to COVID-19, the Croatian league and cup double winner managed to achieve his remit of promotion, finishing 2nd in the Sky Bet Championship to take Albion back into the Premier League after a two-year absence. His stint in the Premier League also was curtailed just before Christmas, as his predecessor at West Ham United came into succeed him, as Sam Allardyce came in with the club in 19th place with only seven points to their name, but failed to keep them up.
The Croatian's latest spell as a boss came in early 2021 with Beijing Guoan in the Chinese Super League, but only lasted a year at the helm, as he was dismissed in January 2022.
How does Football Manager think he'll do?
We invited the Croatian gaffer and his extended staff to Rovers and followed them around to see whether Bilić could replicate his previous Championship achievements and end the campaign positively. – Maybe he'll start caring(!)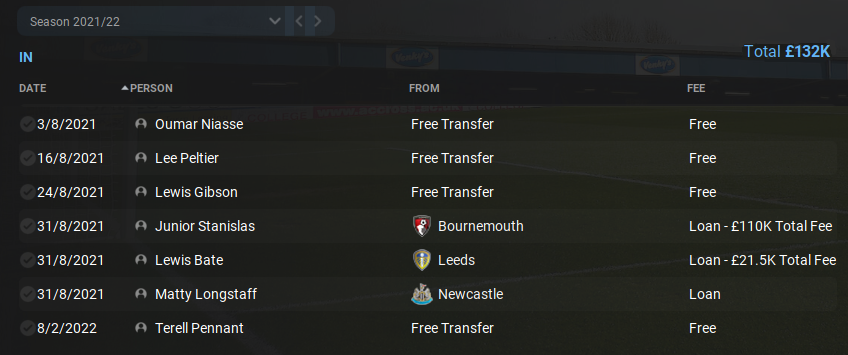 Bilić arguably made the most intriguing signings which had the most variety, if not the most controversy. The Croat came into Ewood and put his own stamp on the youthful team by flooding it with experience, in addition to ready-made young talent in order to supplement what was already at Ewood Park. The addition of former Burnley winger, Junior Stanislas on a loan deal from Bournemouth looked to be a shrewd signing on the surface, whereas the additions of Lee Peltier and Oumar Niasse offered that much needed experience within the youthful team. Terell Pennant came in to aid the under-23s side, however Lewis Gibson proved a decent freebie, as despite the centre-half being 21 come the season's conclusion he got his chance and impressed throughout mid-October and early November, returning with four clean-sheets from the six league games he started. Lewis Bate and Matty Longstaff also were able to show their talents in the centre of Rovers' midfield as the former played 34 league games, whilst the latter played 42, respectively as Bilić somehow married consistency with rotation.

The outgoings have remained fairly consistent across all the candidates we have studied thus far, as a heavy focus remained on unearthing potential, whilst the former West Ham United manager also cashed in on Tyler Magloire's ending deal for £1,700. – You can barely afford a second-hand car with that price, nowadays!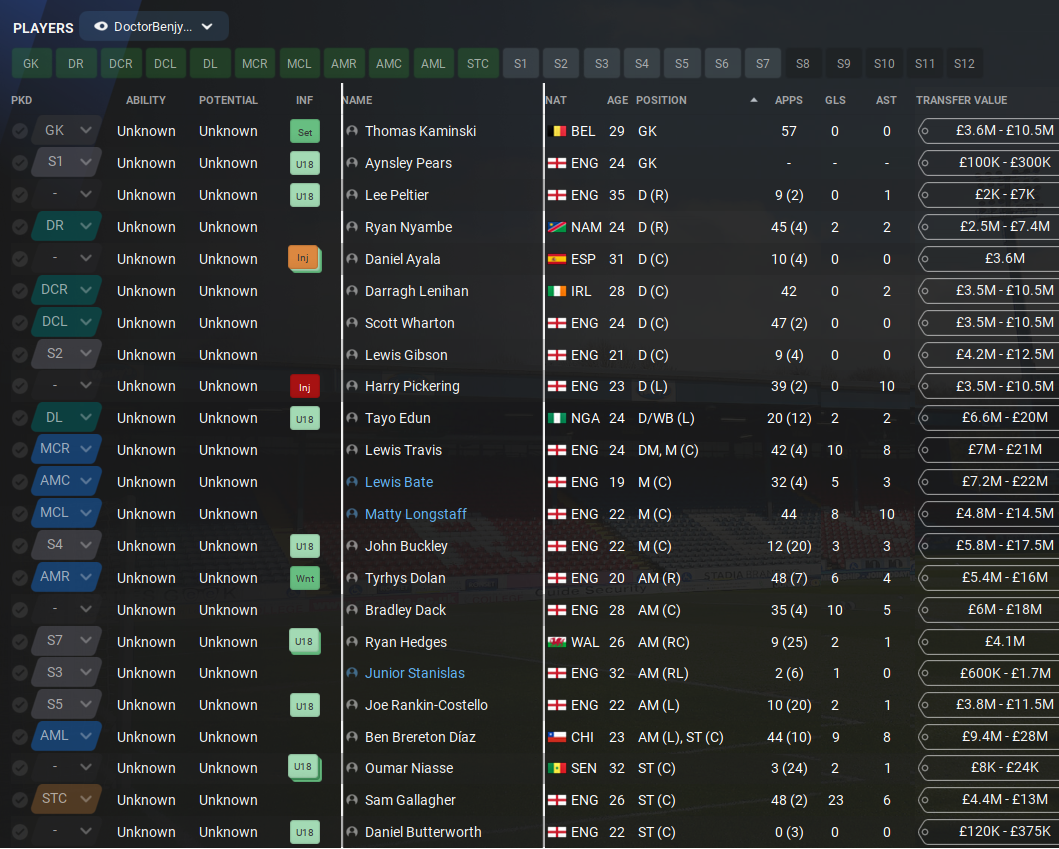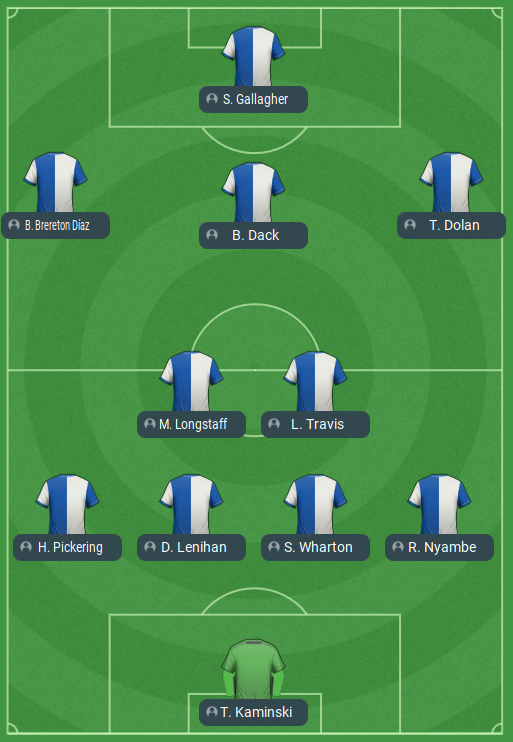 We've seen five-back systems, 4-3-3s and even a 4-4-2 on Friday, but Bilić's decision to operate in a 4-2-3-1, perhaps proved the smartest decision of all the gaffers, with it being the system that was most used by Tony Mowbray during his five-year reign and thus, the formation that the players at the club are most used to. Looking at the three main out of contract players, the trio of Ryan Nyambe, Darragh Lenihan and xx all put pen to paper on new deals that kept them at Ewood Park beyond the simulation's end date, which shows the strength and pulling power that Bilić had over his rather tight-knit squad. One point that may catch your eyes is the top goalscorers, with Sam Gallagher leading the way with 23, whilst Bradley Dack and Lewis Travis came in behind with ten each. Furthermore, the addition of Matty Longstaff proved to be a masterstroke, as the on-loan Newcastle United midfielder nearly hit double figures for goals and assists, whilst Harry Pickering had the season of his life as he became a vital supply line for Gallagher, who – say it with me – played down the middle!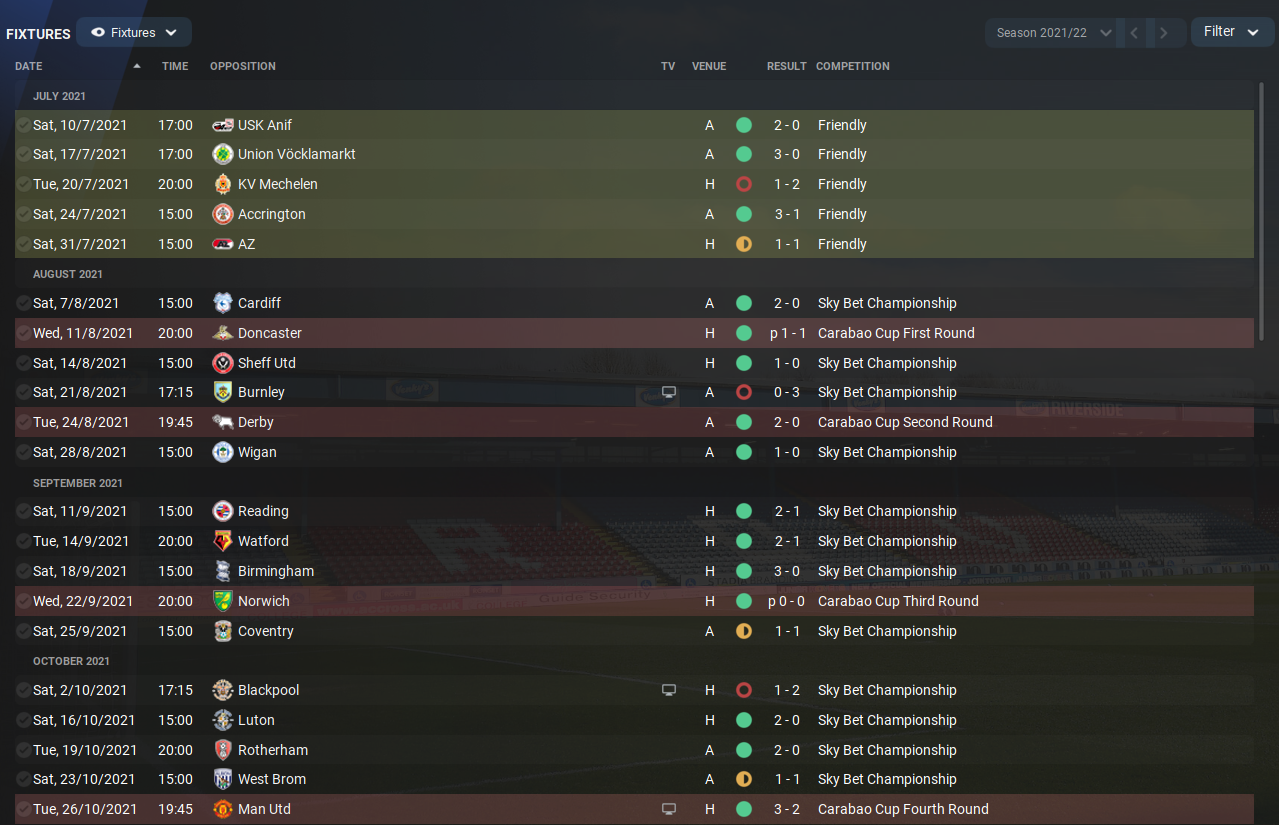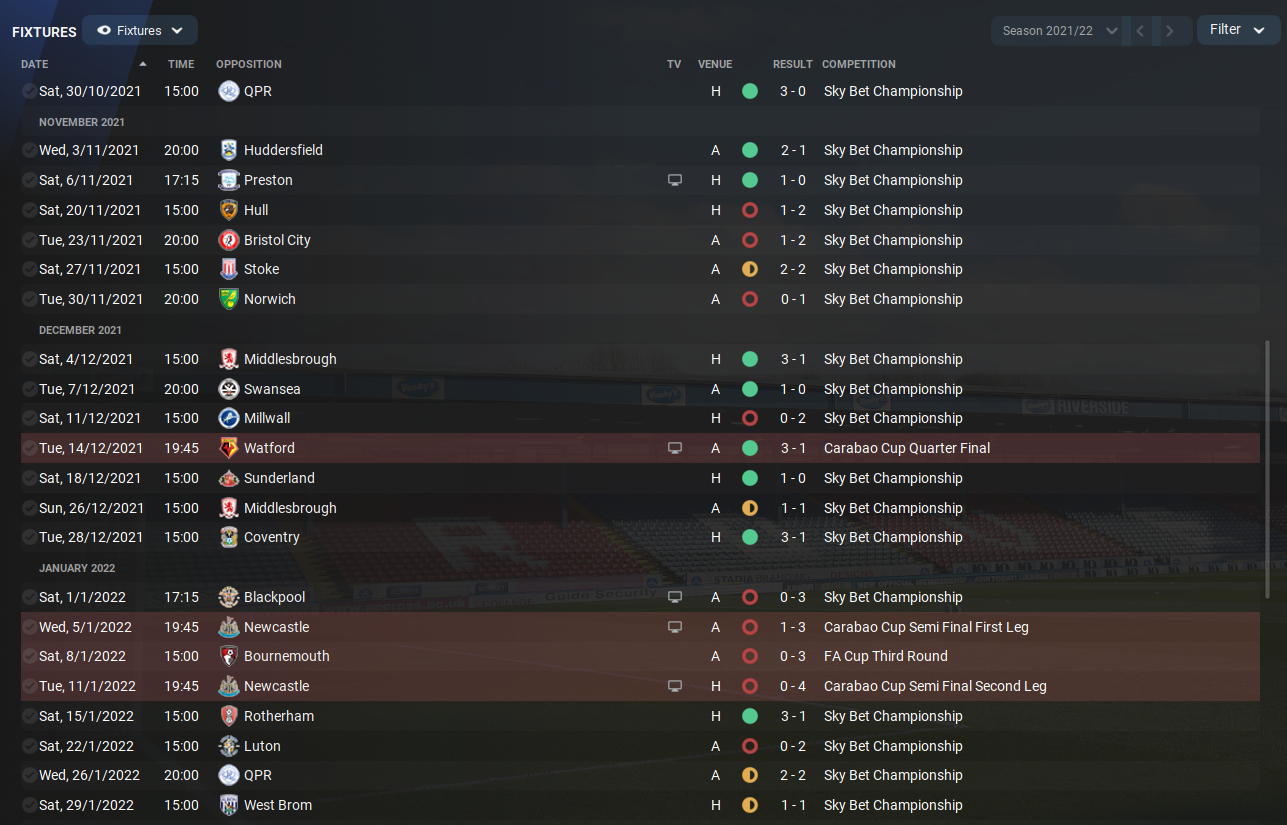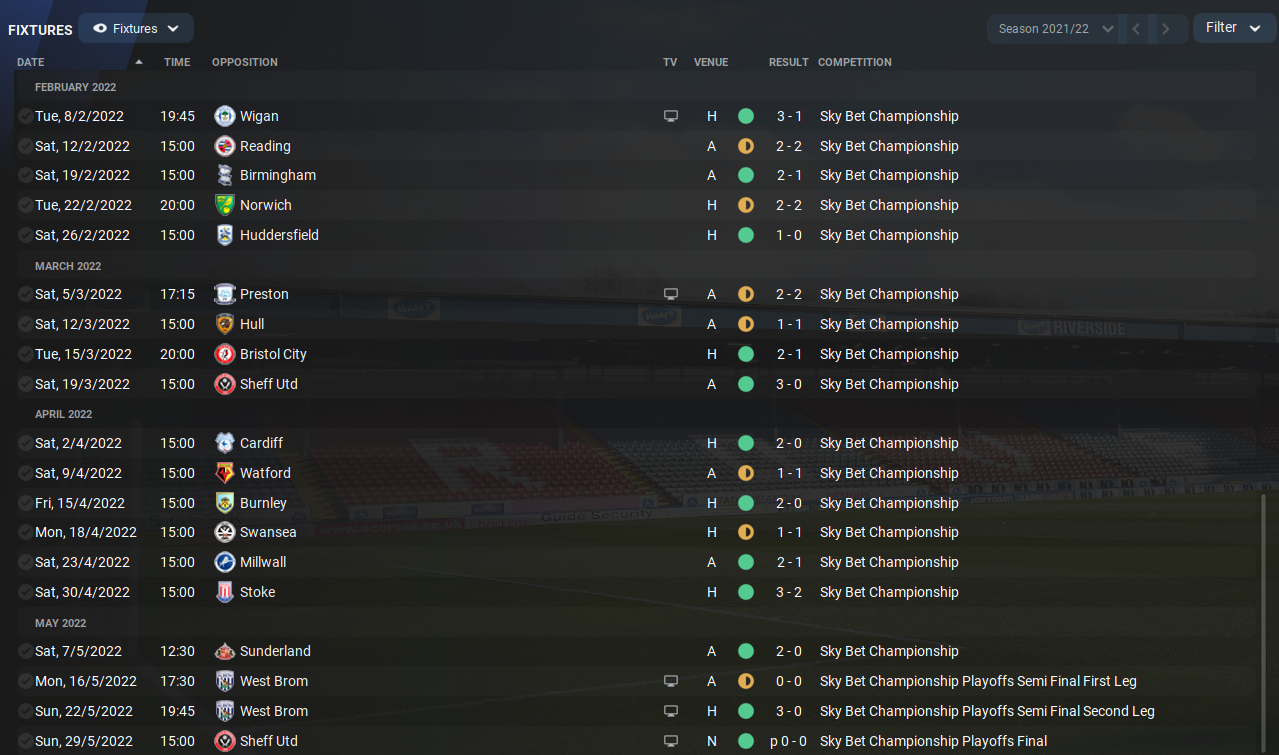 Bilić arguably had the best start of the four managers we have seen thus far, with only one loss from the first six games of the season, in all competitions. Although the defeat came at the hands of eternal rivals Burnley, the Croat redeemed himself by going unbeaten through September and even getting the better of Burnley in the return fixture, in April. After only six defeats from 25 league games until the end of the year, January brought a nasty patch of form that wasn't helped by Rovers' exploits in the domestic cups.
Although Rovers and Bilić ended January with just one win from the eight games they played in all competitions, the Croat certainly managed to repair the damage that month of fixtures had done and quell the supposed 'new year curse' that Rovers fans have been living with for the past five years, as Bilić's Blues failed to lose a game from February until the end of the campaign, in a magnificent effort that saw them net a staggering 31 goals from 16 league games as the season drew to a close in emphatic fashion.
In the domestic cups, Bilić managed to guide Rovers all the way to the Semi-Finals of the Carabao Cup but failed to make their opportunity count as the 53-year-old's attacking mentality came back to haunt him in extraordinary fashion. After Rovers scraped through the Carabao Cup First Round, beating League Two's Doncaster Rovers on penalties, Derby County and Norwich City – the latter on the spot-kicks – were both dismissed before Manchester United came knocking on the Ewood gates for the Fourth Round. Despite playing a second-string eleven that contained an average age of 22.3 years, that contained the likes of Jack Vale and Jay Haddow. Rovers managed to battle against the adversary of going down to ten men in the 56th minute, in order to overturn a 2-1 deficit, and win 3-2, with United also playing the last 12 minutes with ten. After the might of United came the sting of Watford, as the Rose defied nature by getting the better of the Hornet, as Rovers won 3-1 at Vicarage Road, to get to their first Carabao Cup Semi Final since 2009-10.
It seems Rovers and Newcastle United always cross paths in these simulations and that was again the case, but the mega-rich Toon dismantled Bilić's young team, 7-1 on aggregate in a complete whitewashing.
The FA Cup also didn't bring much fortune, as Rovers tumbled out in their first game, courtesy of a Third Round, 3-0 away defeat to Bournemouth.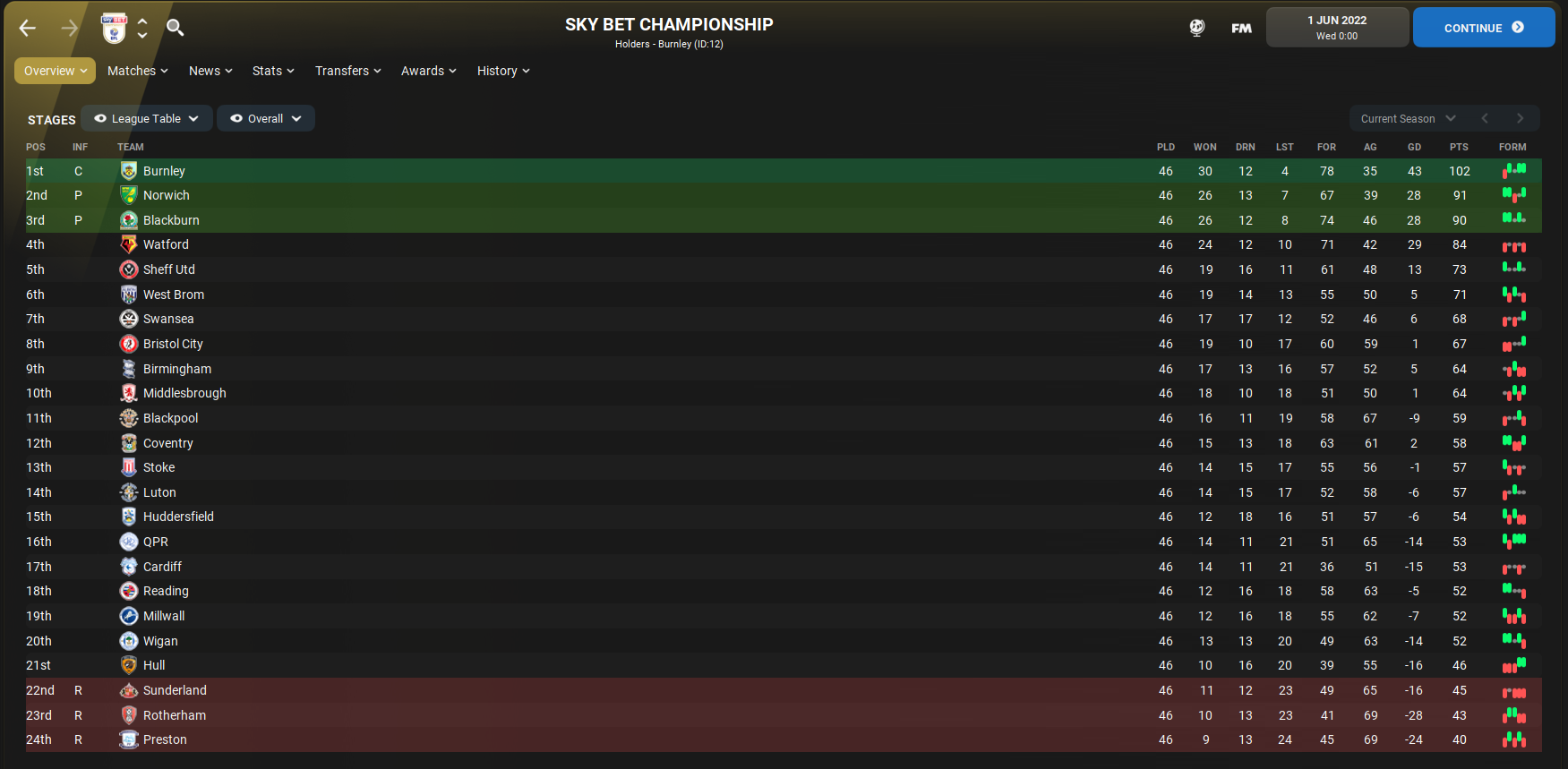 You've seen it, I've seen it, so we might as well discuss it. Rovers under Bilić became a representation of the manager's personality; fiery, determined and – to steal a Kloppian phrase – 'mentality monsters who play heavy metal football'. After a dismal start to the new calendar year, Bilić galvanised his side and instilled a mental toughness into his players that proved its worth over the course of the second-half of the campaign as their fantastic February, mad March and awesome April culminated in a magnificent May, as Bilić was holding the Sky Bet Championship playoff trophy aloft courtesy of a penalty victory against a Sheffield United side who only managed to muster one shot on target throughout the whole 120 minutes, although Rovers should have arguably put the game to bed inside the 90.
In interesting fashion, Bilić became the closest manager thus far to get Rovers up automatically, with us seeing two playoff wins, one final defeat and a 7th placed finish, over the course of the week. The Croatian only missed out on automatic promotion by a point, as Rovers finished level on goal-difference with the Canaries – how different could the table have looked had Rovers not faltered in January.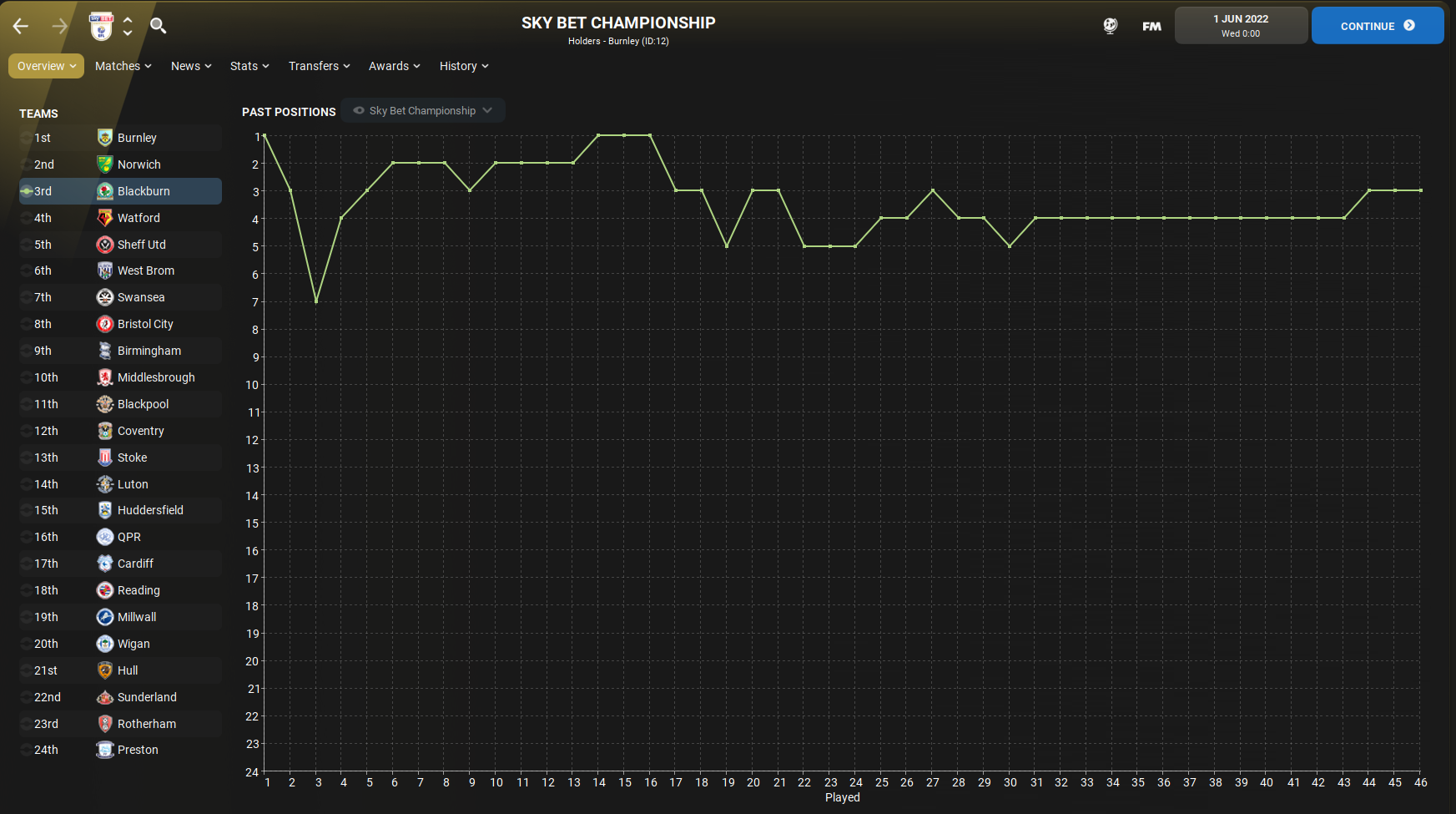 Under Bilić, Rovers spent eleven weeks of the season inside the top two, only dropping out of the top six in the third week of the season, as the table settled. An outstanding job by the Croat was capped off by a dramatically won playoff final that ended Rovers' Premier League drought in emphatic fashion. A truly outstanding display by a candidate that I believe Rovers should fight tooth and nail to acquire – not just because of these results, but I wouldn't have picked him otherwise!
Although there have been no mentions of Bilić being interested in the Rovers job, it is possible that he was one of the 60-odd candidates that initially put their names forward for the job in May, and he could be part of the supposed 'eight-man shortlist', that has undoubtedly been reduced after the likes of Carlos Carvalhal moved to Abu Dhabi, Michael Beale went to QPR and Neil Critchley moved to Aston Villa.
Would you take Slaven Bilić in the Ewood Park dugout?
Let me know below, or on Twitter: @readrovers
Thank you for reading! Come round tomorrow at 6pm to see if the controversial sixth candidate can win the hearts of the Rovers faithful.
COYB 🔵⚪
Zeid