Speculation has been rife since Tony Mowbray's departure from Rovers was announced, about who would be his successor. The five-year spell that Mowbray had at the helm of Rovers is rather unprecedented in modern Championship football, but it's time to move on.
Names have been thrown around about who would slot into the managerial hotseat, from 'inexperienced first-time' managers looking to break through into the merry-go-round, to 'high-profile' journeymen looking to 'pursue new challenges'.
Over the past week, we have been teaming the current Rovers squad up with potential incoming gaffers to see how they would fair under the rigorous and demanding pressure of managing former Premier League Champions. But due to popular demand, we're putting two final managers through the Rovers ringer.
"But how are you going to do that?", I can hear you ask?
Well, Football Manager will be our tool for making fantasy, a reality, as we take 'the world's most accurate simulator' out for a spin to see who which gaffer will get closest to bringing the Premier League back to Ewood Park.
What is Football Manager?
For those of you unfamiliar with Football Manager – or 'FM' as it is commonly known as – is seen by many as the 'crème de la crème' of football simulators. In fact, it's probably taken up half of my life!
Described by the game's production studio, Sports Interactive, as 'a living, breathing game world of unparalleled realism', the simulator has certainly received worthy plaudits as it has expanded to all corners of the globe and has developed pinpoint accuracy in scouting and tactical breakdowns, including the fact it is backed by over 1,300 real scouts who help determine the game's accuracy and 'football authenticity that other football games can only aspire to replicate.'
In fact, it's revered around the footballing world and has influenced both supporters and football clubs alike in how they think about the 'beautiful game'. In 2008, whilst still in the Everton dugout, David Moyes agreed a deal to use the Football Manager database for scouting players and opponents. It has also helped many young aspiring managers achieve their dreams, such as Lancastrian, Shadab Iftikhar whose exploits on Football Manager inspired him to work towards his UEFA Coaching Badges, eventually leading him to becoming a Scout for Belgium during UEFA Euro 2020, before becoming the first-team manager at Fort William in the fifth tier of Scottish Football.
Furthermore, it has become a cult outlet of technology among current active players and managers, with former Manchester United manager, Ole Gunnar Solskjaer, back in 2014, stating that he 'learnt a lot' from playing FM, whilst former Rangers and Scotland manager, Alex McLeish stated that: 'I'd imagine that any manager worth his salt would be using it (Football Manager) to scout players and opponents.'
French World Cup Winner, Antoine Griezmann has also been engrossed in the game, with the on-loan Atlético Madrid man detailing many of his successes online, including his spell as Newcastle United boss on the 2021 iteration of the game, where he became – in his words – 'an English football legend'.
Just like the sport we all know and love, it really is 'more than just a game'.

How are we going to break this down?
It's important to note that this series will be written following Sunday 29th May's Championship Playoff final, which saw Nottingham Forest beat Huddersfield Town, 1-0 at Wembley. From this point on, we will be implementing the 2022-23 campaign, from this date, meaning that any future transfers or managerial appointments that might happen in June or beyond will not be accounted for.
Furthermore, the game will determine everything that occurs during a campaign; it will fill current vacancies within the Championship and ones that may occur over the course of the simulation. The squads that we shall be using will be accurate as of 29th May 2022 and transfers that happen from 30th May onwards, will not be included, unless they have already been confirmed. This means that we are as close to current reality as possible.
Of course, you'll notice in the screenshots that the dates are from 2021-22 and exclude the upcoming World Cup in December 2022; that unfortunately can't be changed, but it's irrelevant to the conclusion we're making. Just imagine the dates are 2022-23 instead! For the sake of Darragh Lenihan and Ryan Nyambe; they will remain at the club with their deal expiring at the end of the experiment's season, given their future is unknown.
Sadly, I can't predict the future – if I could, I'd tell you when we'd get promoted(!) – so giving them a standard one-year extension seems the most sensible option.
Throughout this series, we have placed candidates (and members of their backroom staff from their last club where applicable) in the Rovers role, and seen how their season has unfolded, detailing the manager's transfers, results, whether they lasted the entire campaign and most importantly, where they finished in the league. The personnel that we have selected has been loosely based off SkyBet's odds, which have fluctuated heavily over the course of this series and past week, but we have tried to offer a realistic range of bosses, including our most controversial sixth entry who was showcased, this past Sunday.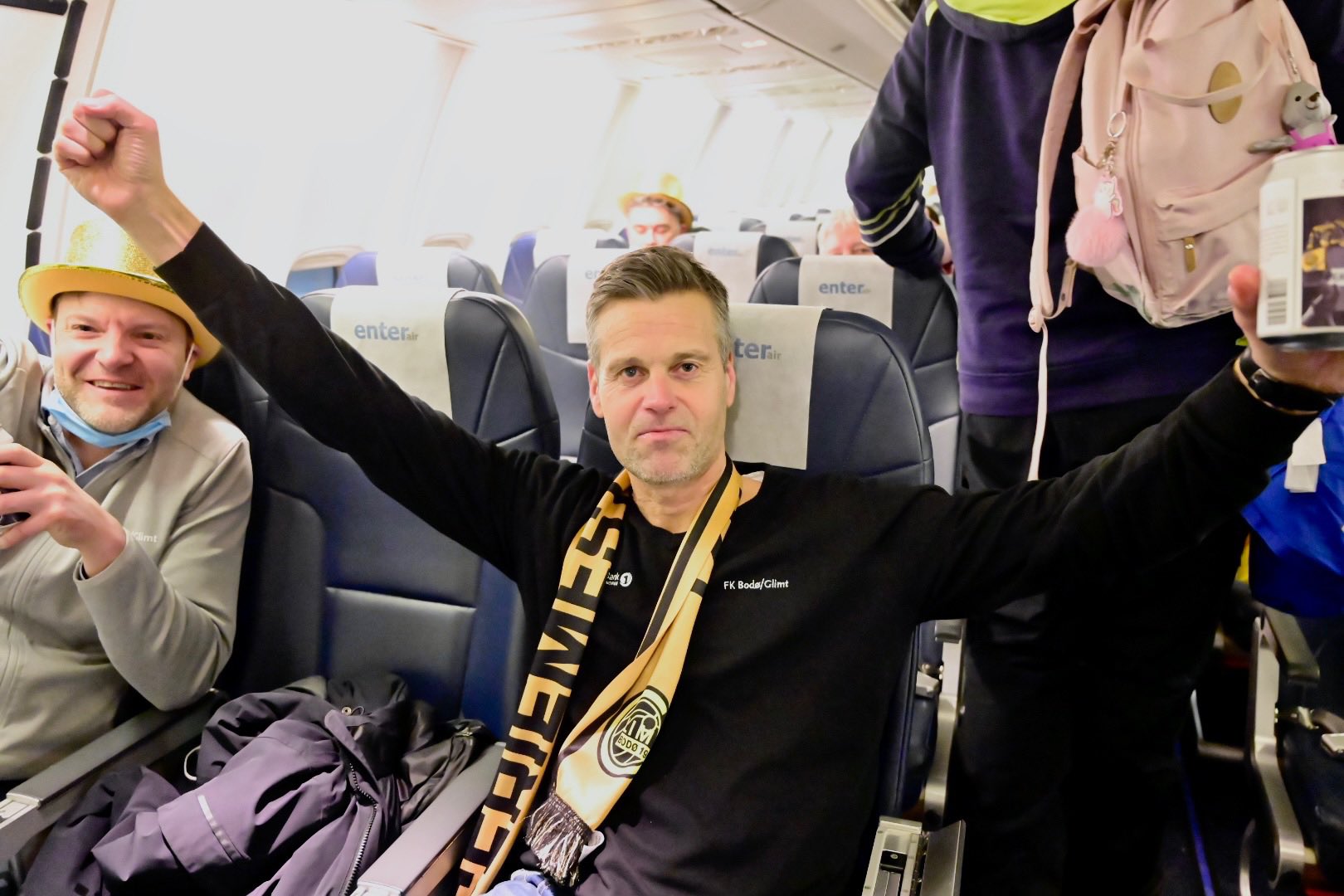 Kjetil Knutsen
Following the success of the initial six candidates, we decided to extend the shortlist due to popular demand, as we are now on our ninth and final manager, with Thursday's edition being FK Bodø/Glimt head coach, Kjetil Knutsen, who became heavily linked for the Ewood Park vacancy after former FK Bodø/Glimt Technical Director, Gregg Broughton was announced as Rovers' new Director of Football on Wednesday – and yes, he's in his job, today!

Brief Career So Far
Following an unsuccessful playing career, Knutsen embarked on getting into football through coaching and management and started his career in the fifth-tier of Norwegian football with TIL Hovding, where he stayed for nin years between 1995-2004, working his way up the ranks until he was appointed as the head coach, leading them to two promotions, before leaving to become Head of First-Team Development at SK Brann. Knutsen then had spells as the head coach at Fyllingsdalen and a two-year spell at Åsane prior to joining current side, Bodø/Glimt, initially as an assistant to Aasmund Bjørkan. After the former Bodø/Glimt winger became the club's Sporting Director, Knutsen was shuffled into the main hotseat where he led The Yellow Horde to great success.
In his first campaign at the helm, Knutsen guided the side, whose town holds a population of approximately 52,000 people, to 2nd in the Eliteserien – the top-flight of Norwegian football – the top-flight of Norwegian football – which saw him win the Eliteserien Manager of the Year Award. The 2020 season, which was interrupted due to the pandemic, saw Knutsen bring league title glory to the town of Bodø for the first-time in the club's entire 104-year history, becoming the first-ever team from Northern Norway to win the league, however their Europa League adventures weren't as successful as they failed to qualify for the group stages, after getting knocked out by AC Milan in the Third Qualifying Round, following a 3-2 defeat.
Knutsen's third season at the helm in Bodø, saw him retain the top-tier for the first-time in the club's history, as they stormed to the league, with only three defeats from 30 league games, but despite finishing runners-up in the Norwegian Cup to Viking, their real story of the campaign would come on the continental stage, where little Bodø would put itself on the map with some outstanding performances. After being knocked out of the UEFA Champions League in the First Qualifying Round, Bodø/Glimt would go into UEFA Europa Conference League qualifying, where they'd beat sides from Iceland, Kosovo and Lithuania, before finding themselves in a group stage with Bulgarian side, CSKA Sofia, Ukranian team Zorya Luhansk and José Mourinho's AS Roma. To many people's surprise, Bodø/Glimt finished runners-up in the group and ended it unbeaten, which included a mammoth 6-1 home win over Mourinho's Roma, which shocked the continent.
Bodø/Glimt would go onto smash Celtic in the First Knockout Round, 5-1 on aggregate, before edging past AZ Alkmaar, 4-3 to set up a Quarter-Final clash with their group-stage opponents, Roma, who were out looking for revenge. Revenge is what they got as they brushed the Norwegians aside by a 5-2 aggregate scoreline enroute to winning the inaugural competition.
With Bodø/Glimt top of the Eliteserien come December 2021, Knutsen would signed a new three-year-deal at the Lightening, to keep him in Northern Norway until December 2024; however they currently find themselves in 9th place in the 2022 Eliteserien, after nine games.

How does Football Manager think he'll do?
As noted, we're back for a final hurrah, as the Norwegian will be given the chance – along with Gregg Broughton – to show what they are capable of at Ewood Park. Can the highly-rated duo justify their praise under the pressure of the job at hand, in East Lancashire, despite them supposedly being at loggerheads?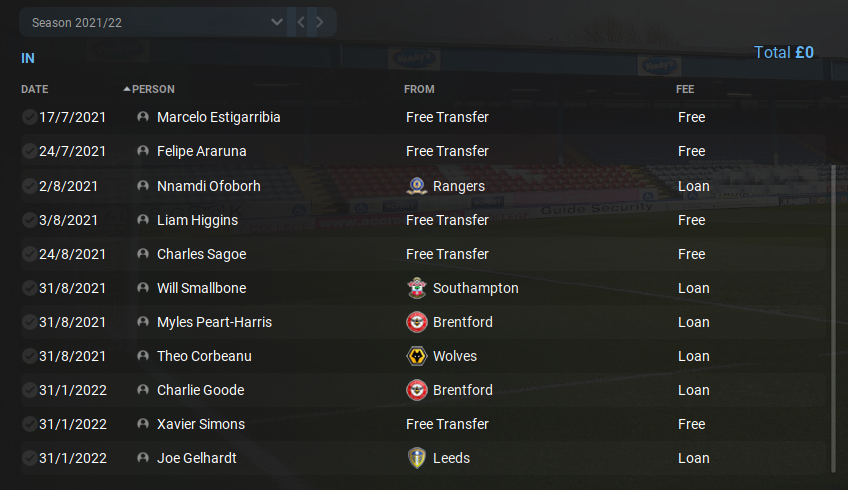 Knutsen made a plethora of signings for Rovers despite not spending a penny in transfer fees. The additions ranged from young exciting prospects, both permanent and loans, to veteran fringe players. Marcelo Estigarribia was the only veteran player to come in, as the Paraguayan 34-year-old came in to provide cover down the whole left-hand side. Felipe Araruna was an addition that Tony Mowbray signed in his simulation on Monday, whilst Knutsen also brought in a teenage trio of Liam Higgins, Charles Sagoe and Xavier Simons, all of whom came in to aid the under-23s. In terms of loans, Knutsen brought in a range of Premier League loans, including one from Scottish giants, Rangers. Holding midfielder, Nnamdi Ofoborh came down south of the border, whilst Myles Peart-Harris from Brentford and Will Smallbone from Southampton finalised Knutsen's central midfield additions. Theo Corbeanu arrived from Wolverhampton Wanderers to compete for a spot on the wing, whilst Charlie Goode from Brentford provided cover for Scott Wharton and Darragh Lenihan at the back, whilst Joe Gelhardt came in from Leeds United to supplement the attacking options.

The Norwegian's outgoings saw many loans depart for fees, whilst two permanent outgoings were also sanctioned. Felipe Araruna – like earlier on in the week – also departed soon after being brought in, as Knutsen made a profit on the midfielder. Knutsen also cashed in on the fact Dan Butterworth was in the final year of his contract, as the head coach managed to get up to £230k for the forward, as he became the first manager to bring in a substantial profit that wasn't solely based on loan fees.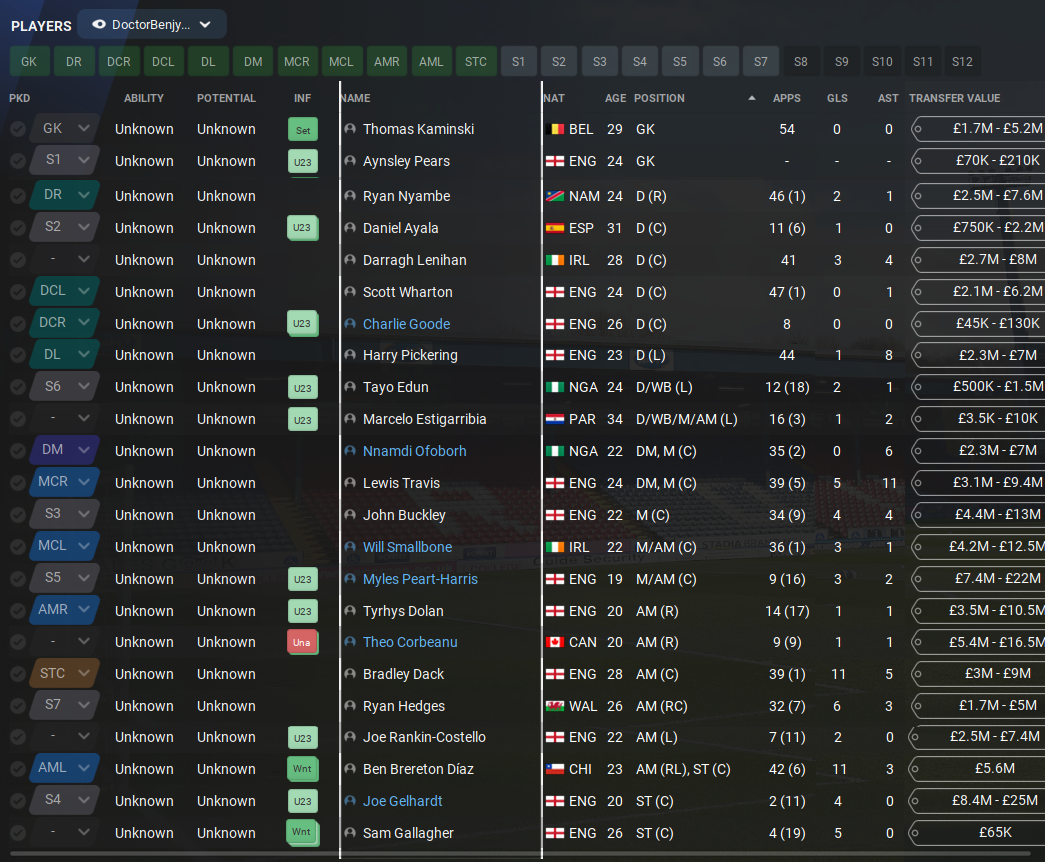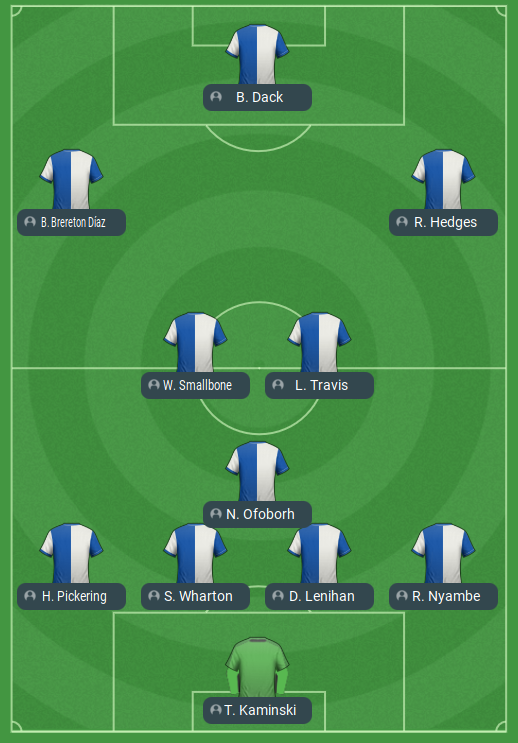 Knutsen's tactics weren't too unfamiliar with him holding a focus on controlling the midfield, given his 4-3-3 system focussed on having a holding midfielder. The huge surprise was the fact that Bradley Dack spent most of the season playing as a loan striker, whilst the likes of Sam Gallagher and Joe Gelhardt were restricted to appearances off the bench, with the striking duo only making a combined six starts between them over the course of the campaign. The squad did hold a depth about it which is particularly needed for this division, but the most important aspect to take from the squad was the fact that both, Sam Gallagher and Ben Brereton Díaz were transfer-listed come the season's end. The Chilean had failed to agree new terms with the club, despite Knutsen and Broughton's best effort. Gallagher had also never been a favourite of the Norwegian and quickly found himself sidelined. The other out-of-contract duo, Ryan Nyambe and Darragh Lenihan did sign new deals, however, as the pair committed their future to the Blue and White halves.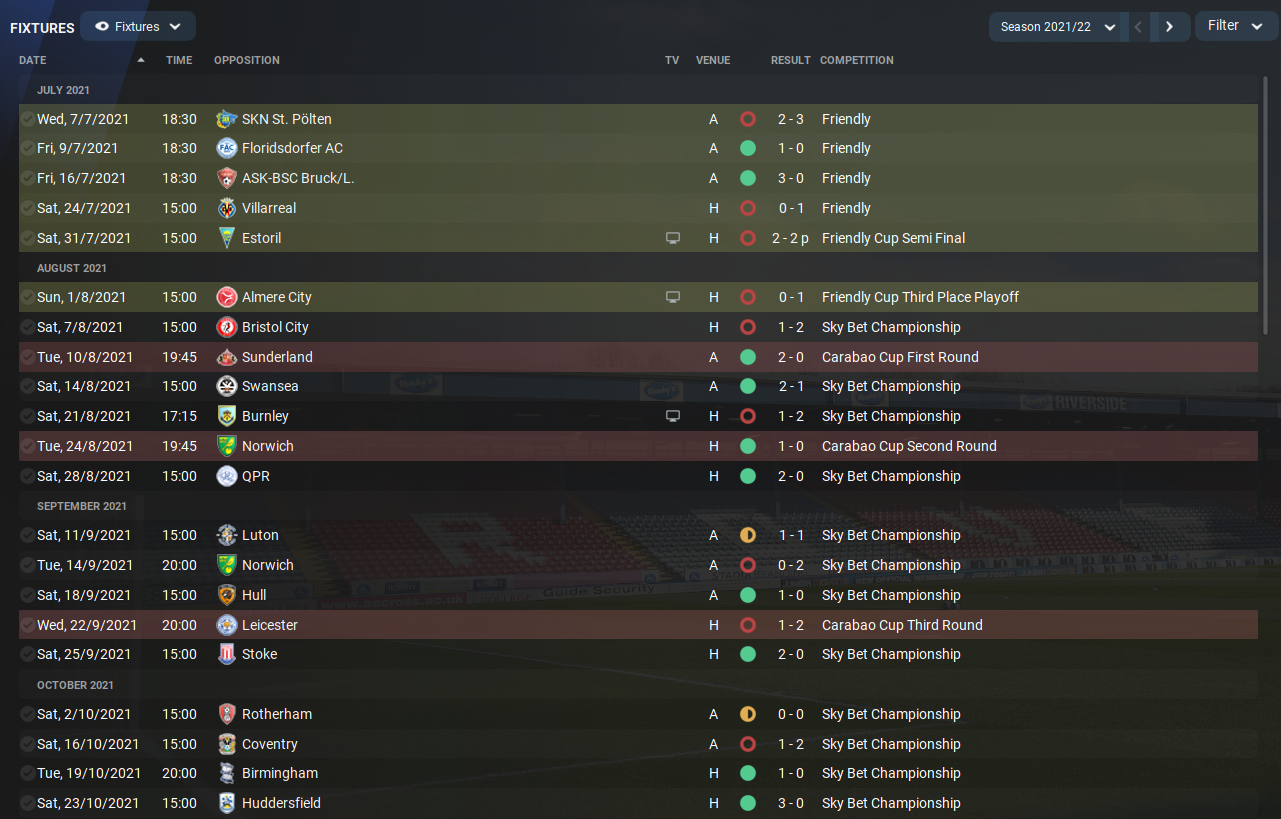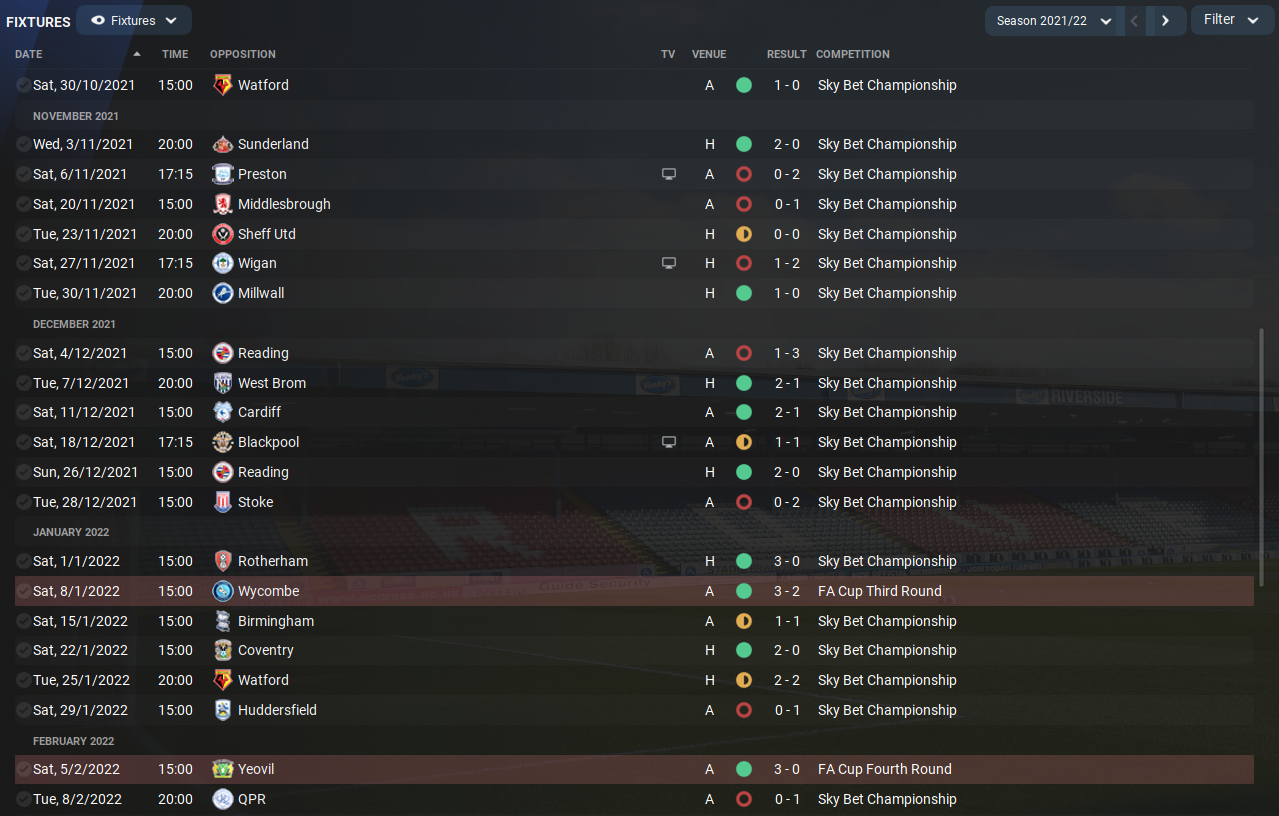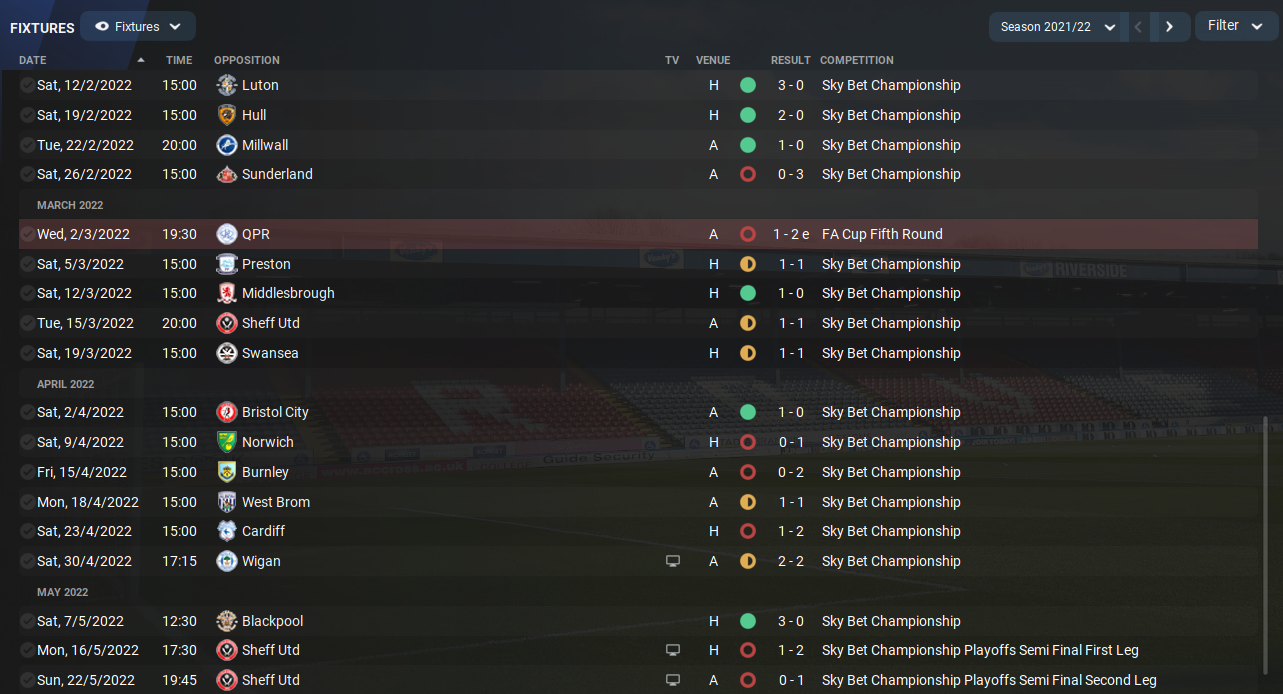 Knutsen had a mixed start as Rovers boss and never really managed to get a solid string of wins together that saw him lay down his mark as the new Blues boss, with his only unbeaten league month coming in March, which saw one win and three draws from the four league games the Norwegian was at the helm for. Alongside his stop-start campaign, Knutsen failed to get the better of East Lancashire rivals, Burnley, who did the double over Rovers in this simulation.
The domestic cups weren't that thrilling either, as Rovers managed to get through Sunderland and Norwich City, before Leicester City knocked them out of the Carabao Cup, following a 2-1 home defeat. Their progress in the FA Cup was equalled, as Rovers failed to play more than three games, as after beating Wycombe Wanderers in the Third Round and Yeovil Town in the Fourth Round, Queens Park Rangers got the better of Rovers via a 2-1 away defeat, after Extra-Time in the Fifth Round.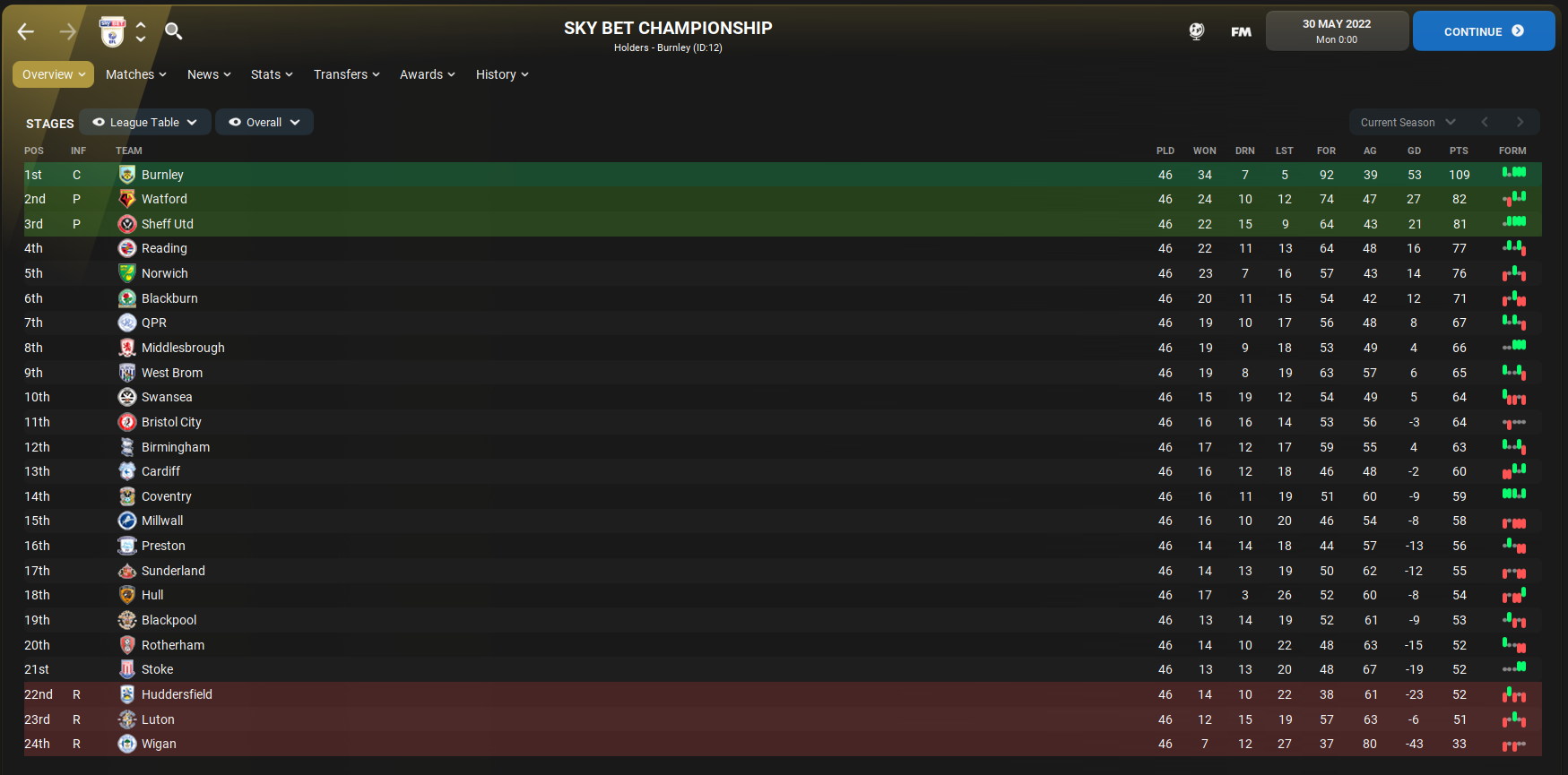 In surprising fashion, despite the inconsistent form in the league, Knutsen managed to guide Rovers into the playoffs, as despite finishing 6th and four points clear of Queens Park Rangers, Knutsen only picked up the second-least number of points in these simulations with 71; only one ahead of Duncan Ferguson. Despite getting into the coveted playoffs, Rovers fell at the semi-final stage to Sheffield United, after the Blades beat Rovers 3-1 over both legs to advance to the final, in which they beat Reading by the same scoreline at Wembley.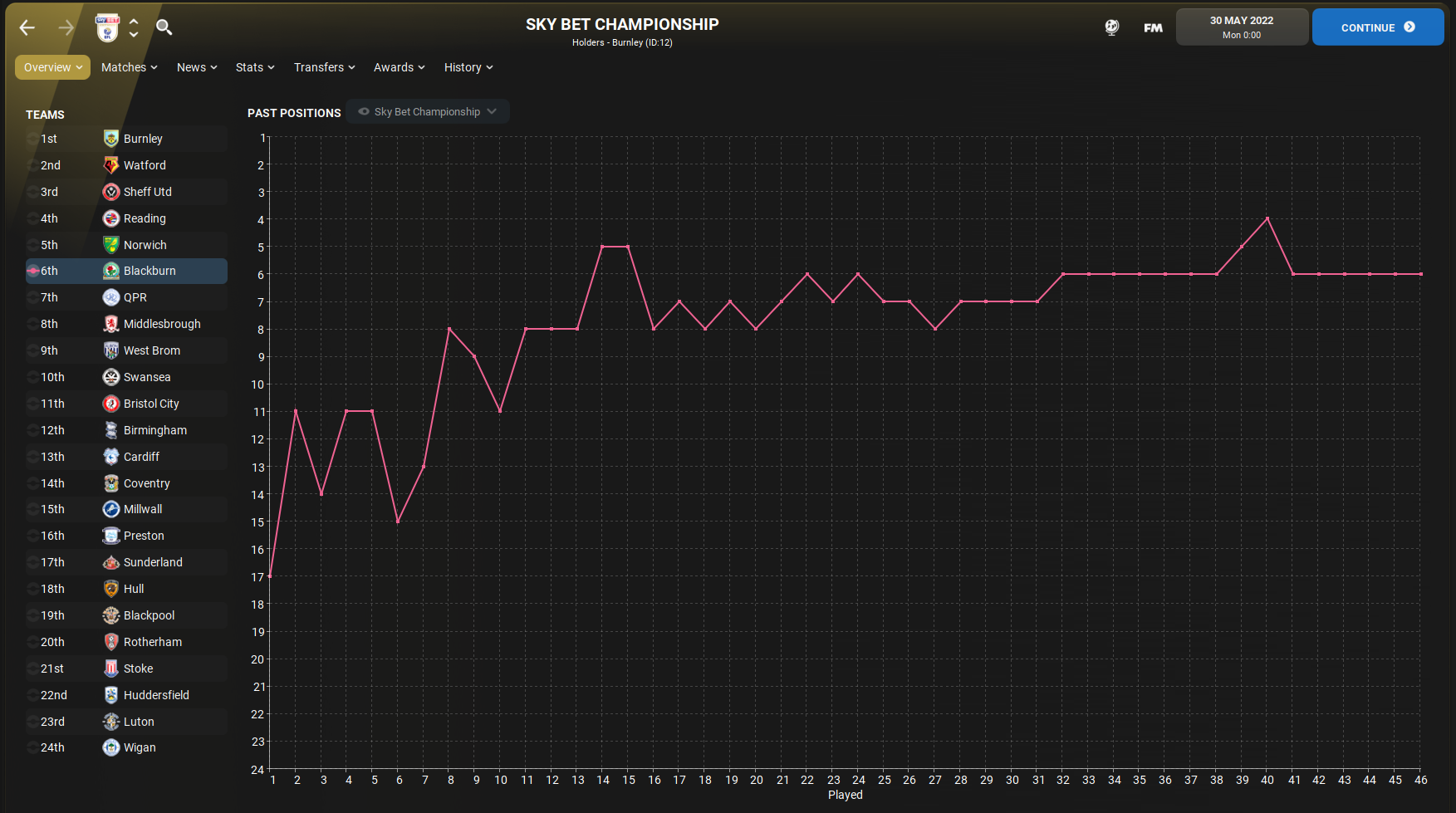 The inconsistency over the course of the campaign is evident in the past positions graph, with Rovers failing to really nail down a playoff place until the 32nd week of the campaign, as they constantly dipped in and out of the top six.
With Knutsen and Broughton seemingly not on speaking terms, following the pair's spell in Scandinavia, it would make a potential move for the Norwegian manager quite a tough sell. Further negotiations would also be halted due to the fact that Knutsen is currently under contract at the Norwegian side for at least two more years, which would mean Rovers would have to shell out some compensation if they were to prize the coach away from his homeland.
How does a tag-team sound? Would you take Knutsen, particularly after he and Broughton have had success working together in Norway?
Let me know below, or on Twitter: @readrovers
For the final time, until the new gaffer is appointed, I want to again thank you all for tuning in and making this series a huge success. I know we're all angling for a managerial appointment, but I hope that these simulations have filled the gap that Rovers are frustratingly leaving for all of us. I look forward to reading your reactions and hope you have a fantastic rest of your Thursday, Friday and weekend!
COYB 🔵⚪
Zeid