Speculation has been rife since Tony Mowbray's departure from Rovers was announced, about who would be his successor. The five-year spell that Mowbray had at the helm of Rovers is rather unprecedented in modern Championship football, but it's time to move on.
Names have been thrown around about who would slot into the managerial hotseat, from 'inexperienced first-time' managers looking to break through into the merry-go-round, to 'high-profile' journeymen looking to 'pursue new challenges'.
Over the next six days, we shall be teaming the current Rovers squad up with potential incoming gaffers to see how they would fair under the rigorous and demanding pressure of managing former Premier League Champions.
"But how are you going to do that?", I can hear you ask?
Well, Football Manager will be our tool for making fantasy, a reality, as we take 'the world's most accurate simulator' out for a spin to see who which gaffer will get closest to bringing the Premier League back to Ewood Park.

What is Football Manager?
For those of you unfamiliar with Football Manager – 'FM' as it is commonly known as – is seen by many as the 'crème de la crème' of football simulators. In fact, it's probably taken up half of my life!
Described by the game's production studio, Sports Interactive, as 'a living, breathing game world of unparalleled realism', the simulator has certainly received worthy plaudits as it has expanded to all corners of the globe and has developed pinpoint accuracy in scouting and tactical breakdowns, including the fact it is backed by over 1,300 real scouts who help determine the game's accuracy and 'football authenticity that other football games can only aspire to replicate.'
In fact, it's revered around the footballing world and has influenced both supporters and football clubs alike in how they think about the 'beautiful game'. In 2008, whilst still in the Everton dugout, David Moyes agreed a deal to use the Football Manager database for scouting players and opponents. It has also helped many young aspiring managers achieve their dreams, such as Lancastrian, Shadab Iftikhar whose exploits on Football Manager inspired him to work towards his UEFA Coaching Badges, eventually leading him to becoming a Scout for Belgium during UEFA Euro 2020, before becoming the first-team manager at Fort William in the fifth tier of Scottish Football.
Furthermore, it has become a cult outlet of technology among current active players and managers, with former Manchester United manager, Ole Gunnar Solskjaer, back in 2014, stating that he 'learnt a lot' from playing FM, whilst former Rangers and Scotland manager, Alex McLeish stated that: 'I'd imagine that any manager worth his salt would be using it (Football Manager) to scout players and opponents.'
French World Cup Winner, Antoine Griezmann has also been engrossed in the game, with the on-loan Atlético Madrid man detailing many of his successes online, including his spell as Newcastle United boss on the 2021 iteration of the game, where he became – in his words – 'an English football legend'.
Just like the sport we all know and love, it really is 'more than just a game'.
How are we going to break this down?
It's important to note that this series will be written following Sunday 29th May's Championship Playoff final, which saw Nottingham Forest beat Huddersfield Town, 1-0 at Wembley. From this point on, we will be implementing the 2022-23 campaign, from this date, meaning that any future transfers or managerial appointments that might happen in June or beyond will not be accounted for.
Furthermore, the game will determine everything that occurs during a campaign; it will fill current vacancies within the Championship and ones that may occur over the course of the simulation. The squads that we shall be using will be accurate as of 29th May 2022 and transfers that happen from 30th May onwards, will not be included, unless they have already been confirmed. This means that we are as close to current reality as possible.
Of course, you'll notice in the screenshots that the dates are from 2021-22 and exclude the upcoming World Cup in December 2022; that unfortunately can't be changed, but it's irrelevant to the conclusion we're making. Just imagine the dates are 2022-23 instead! For the sake of Darragh Lenihan and Ryan Nyambe; they will remain at the club with their deal expiring at the end of the experiment's season, given their future is unknown.
Sadly, I can't predict the future – if I could, I'd tell you when we'd get promoted(!) – so giving them a standard one-year extension seems the most sensible option.
Throughout this series, we shall place a candidate (and members of his backroom staff from his last club where applicable) in the Rovers role, and see how his season unfolds, detailing the manager's transfers, results, whether they lasted the entire campaign and most importantly, where they finished in the league. The personnel that we select will loosely be based off SkyBet's odds, which will undoubtedly fluctuate over the course of creating and publishing this series; we'll also be including a couple of our own picks, including one that might cause uproar.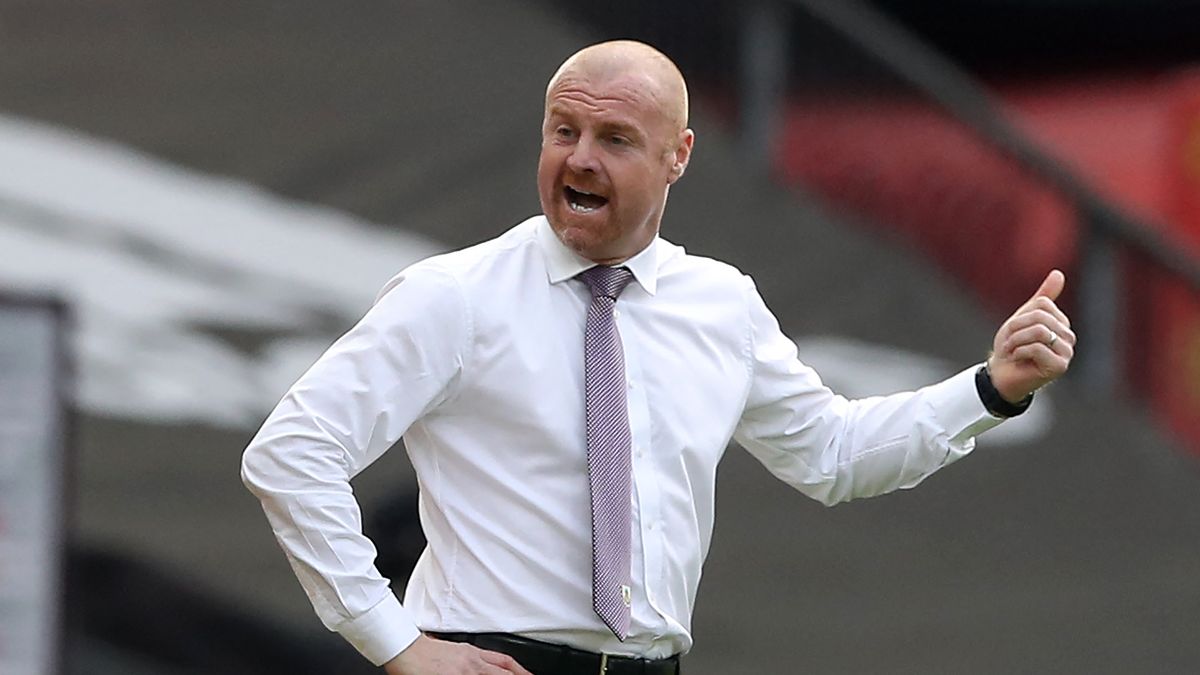 Sean Dyche
Rounding off the week is the most controversial figure of the lot, with Sunday's gaffer being former Burnley legend and current free agent, Sean Dyche. Without wanting to cause a jovial narrative, Dyche would personally be who I would choose to take over at Ewood – quickly followed by the previous entry, Slaven Bilić  – and since there's more chance of lightening striking twice, I thought I'd grant my own wish within this simulation! The Kettering-born boss, will be placed in the Blue and White dugout alongside three members of staff who departed Burnley in April 2022; assistant manager – and Dyche's flatmate – Ian Woan, first-team coach Steve Stone and goalkeeping coach, Billy Mercer. The latter duo will replace the incumbent coaches, David Lowe and Ben Benson.
Dyche, who got the Turf Moor side promoted twice into the Premier League, is now a free-agent looking for his next job after being dismissed from the East Lancashire side and could potentially become only the second manager ever – after Owen Coyle – to commit the ultimate sin and cross the divide to try and get Rovers out of the mire.
Brief Career So Far
After retiring from an 18-year playing career that saw him play in three of the four professional divisions in England – bar the top-flight – Sean Dyche retired from bullying centre-forwards in 2007 before re-joining former side Watford as an under-18s coach, as he looked to try and find his place in the world following his playing days. Dyche made his way up the Watford ranks before eventually being appointed Hornets boss in 2011, as he guided Watford to the club's highest finish in four seasons as they ended 2011-12 in 11th place in the Championship. Following the acquisition of Watford by the Italian incumbent, Gino Pozzo, Dyche was swiftly shown the door as the Italians opted for Chelsea legend Gianfranco Zola, instead.
With Dyche now part of the managerial circuit, he took some time coaching England's under-21s in 2012, before being offered the job at Burnley – a club that he would be synonymous with. Dyche would end up staying at Rovers' most bitter rivals for just over nine years, before his dismissal in April 2022, however the Kettering-born boss left Turf Moor as one of Burnley's most successful managers. Throughout his spell in East Lancashire, Dyche got Burnley back into the Premier League at the end of 2013-14, before spending two years 'yo-yoing' between the top two divisions. A 7th placed finish in 2017-18 saw Burnley qualify for the Europa League for the first-time, which ended a 51-year wait for continental football at Turf Moor, and also cemented Dyche's legacy and success at the club.
Although Burnley failed to even get into the group stages of the competition, the manager was heralded as a hero and given a pub named after him, however after many near-misses, the Clarets eventually tiptoed closer towards the Premier League trap door, which led to new owner Alan Pace pulling the trigger and dismissing Dyche in April 2022, with his interim replacement, first-team coach Michael Jackson, unable to keep them up.
How does Football Manager think he'll do?
We have brought Dyche and his extended staff to Rovers in order to see whether the former Watford boss can do the unthinkable and get earn the rather unique achievement of getting both East Lancashire sides promoted.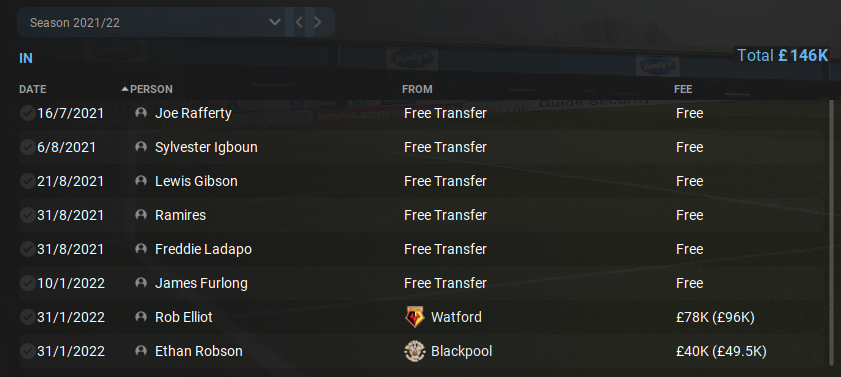 A wide range of incomings were acquired by the sixth boss to take the Rovers reigns, as he brought in both ends of the age bracket, with teenagers and 30+-year-olds on the list. Joe Rafferty is a full-back we have covered a few times, which highlighted Rovers' need for a back-up full-back and the shortage of quality in that position. Sylvester Igboun was a 31-year-old left-winger that Dyche identified, yet despite making a fair impact, with two assists from seven games, he was quickly moved on. Lewis Gibson was a signing that Slaven Bilić made on Saturday, but Dyche managed to get even more out of the defender, as he played 13 games and collected two assists in the league. James Furlong was a teenage addition who came in to mainly play with the under-23s, after joining from Brighton and Hove Albion.
Ethan Robson was a signing made from Lancashire neighbours Blackpool, for actual cash, which has been a rarity during this simulation. The 25-year-old English midfielder swapped West Lancashire for East and featured consistently during the second-half of the campaign after joining during the late hours of January's deadline day. Rob Elliot was the second money buy that Dyche made, which came with great importance, as we shall see when we cover the outgoings, however the former Newcastle United shot-stopper came in at 36, which increased the average age of the squad significantly, as Dyche relied on the 'tried and tested' veterans' method.
Another 'golden oldie' who arrived at Ewood Park, was Ramires. Yes, THAT Ramires. The Champions League Semi-Final Camp Nou scoring Ramires. At the tender age of 35, the Brazilian made a prolonged – and frankly absurd – return to English football in an attempt to rekindle his midfield marshalling days that he enjoyed at Stamford Bridge…but he only started nine games, making TWENTY-NINE substitute appearances. Not the most romantic of swansongs…
The final addition the manager acquired was your typical 'Dychian' striker, in Romford-born, Nigerian Freddie Ladapo, who was recently released from Rotherham United, in real life. Although Ladapo was brought in for cover, he did contribute to the goals, more so than we would have expected, with 7 in 11 starts and 15 substitute appearances.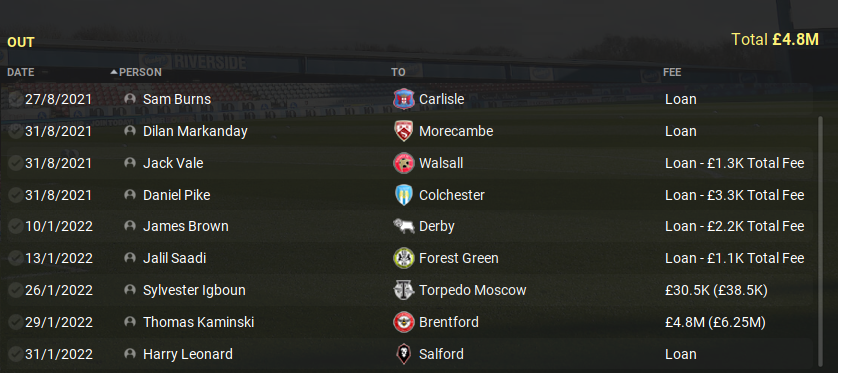 'Look at all that money, Spongebob!', is what Mr. Krabs would say if he set eyes on the bounty that Rovers had received in January. Fancy a frantic January deadline day? Well, you're in the right place.
The summer transfer window was mostly consistent with the other five managers that we've looked at this week with loans the priority, however saw an influx of cash the likes that Rovers haven't seen for a few years. Whilst youngsters James Brown and Jalil Saadi left temporarily midway through the first month of the year, as February approach, Sean Dyche decided to change the makeup of his squad as summer signing Sylvester Igboun was shown the door for just under £40k – albeit a profit – and Harry Leonard was sent out to gain gametime and experience at the Class of 92's Salford City.
Thomas Kaminski's surprise departure proved the eye-opener that Rovers arguably didn't need, as Dyche got rid of Rovers' first ever Belgian for a reasonably healthy total price of £6.25m, which started a knock-on effect; hence why Rob Elliott was signed in rather drastic fashion. In a rather confusing move, former Rovers shot-stopper David Raya didn't leave Brentford, as the Bees suffered relegation back to the Championship. So, from 29th January onwards, Thomas Frank, who remained in the job despite the relegation, spent the second-half of the season rotating between both former Rovers 'keepers…a great way for your back-four to find consistency amidst a fight for survival!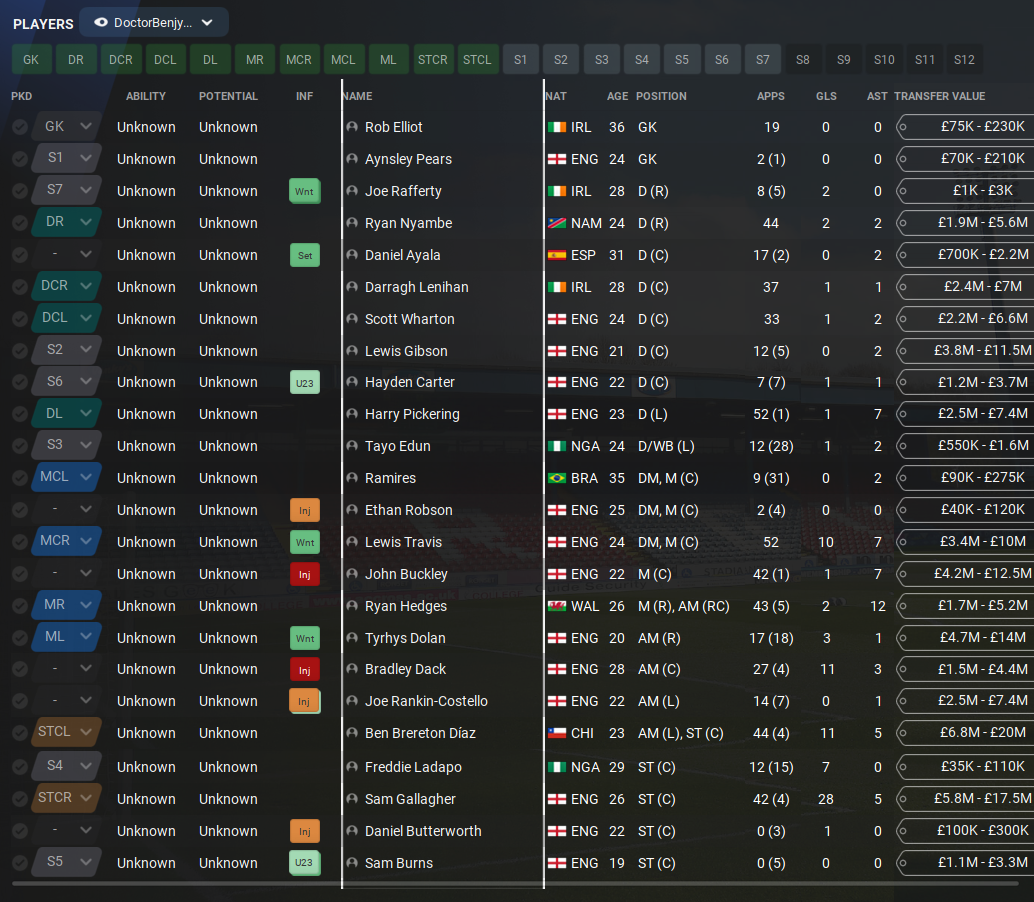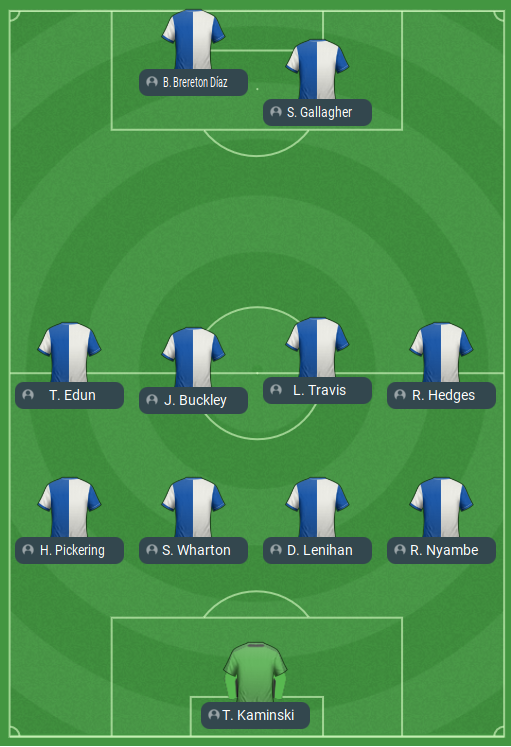 I don't forgive you for laughing when you see the formation that Dyche played; classic 'Brexit-ball'! But without going down that political avenue, Dyche is the second manager to utilise the classic system, after David Wagner on Friday. Most of the team seemed settled, barring that left-midfield spot, which saw people come and go, with Tayo Edun only nailing the spot down in this selection, due to the total number of games he played, with 28 of them being off the bench. The out-of-contract situations were solved rather quickly, as Dyche didn't mess about with the demands of the modern-day footballer, with all three out-of-contract first-teamers, Ryan Nyambe, Darragh Lenihan and Ben Brereton Díaz all putting pen-to-paper on new deals, but the good news stopped there, as Bradley Dack's season was curtailed early in January after he suffered a THIRD Anterior Cruciate Ligament injury, despite finishing the first-half of the season with 11 goals and three assists from 31 games.
As with the last two candidates that we've covered, Sam Gallagher finished with more than double figures for goals, when operating as a central striker – turns out we as a fanbase, were right all along! As seems to have been the case over the past few days, Lewis Travis has also made a significant impact from the centre of midfield, as he has pitched in with a plethora of goals and assists and has filled the void that was left by Joe Rothwell's real-life departure.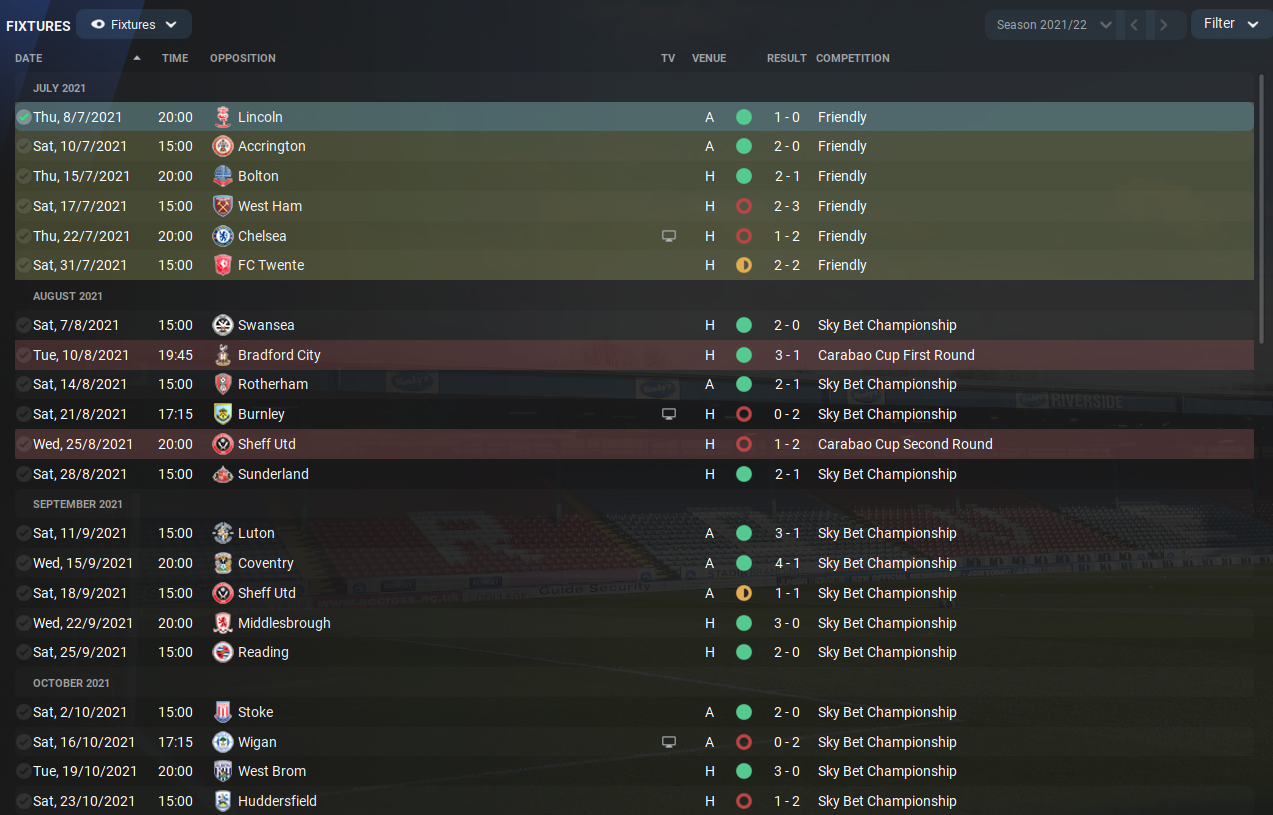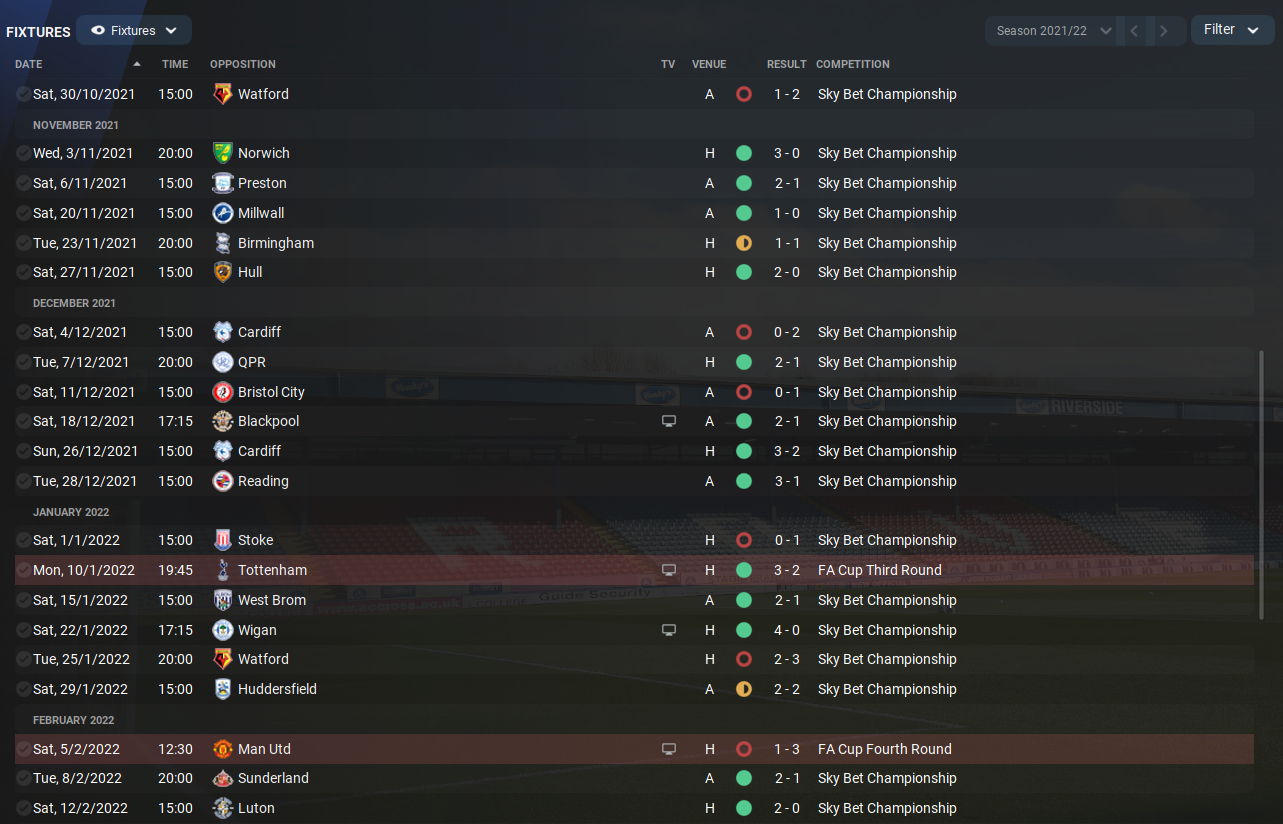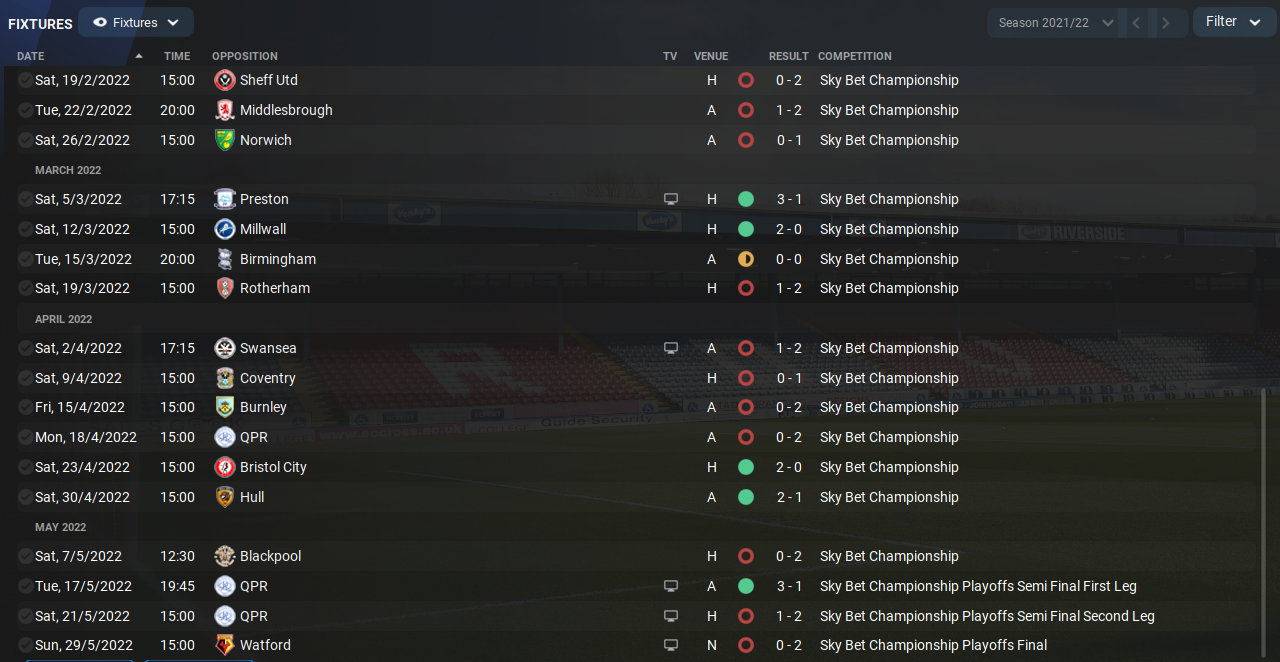 Dyche started off very well in the league, with only one defeat – to his former club in the East Lancashire Derby – not tasting defeat until the middle of October, scoring 20 goals in ten games, which is rather surprising for a Dychian side, with the lack of clean-sheets, four, being even more surprising given what the manager is known for. Despite a patch October, November and December also proved successful, as an unbeaten November was followed by just two defeats in December as Rovers finished the first calendar year in 3rd place on the coattails of the top-two, however despite six games in January, including one in the FA Cup, Rovers' season began to unravel as the January movements happened in the background. February, as has so often been the case, proved to be quite a killer of a month, as despite two wins, Rovers went on to lose three league games in a row and despite one defeat in March, April dented any aspirations of clinching a top-two finish as four defeats on the bounce with one goal scored saw Rovers stumble into the playoffs.
It's not been something that the managers have focussed on, but Dyche again failed to inspire in the domestic cups, falling in the Second Round of the Carabao Cup to fellow Championship side, Sheffield United, after beating Mark Hughes' Bradford City in the First Round. The FA Cup, however, saw the glory days return to Ewood Park, as the ground was packed to the full capacity twice in two rounds as the home support witnessed Dyche's team beat Tottenham Hotspur 3-2, in the Third Round, before a Cristiano Ronaldo brace brought Rovers down in the Fourth Round, with United winning 2-1 in Lancashire.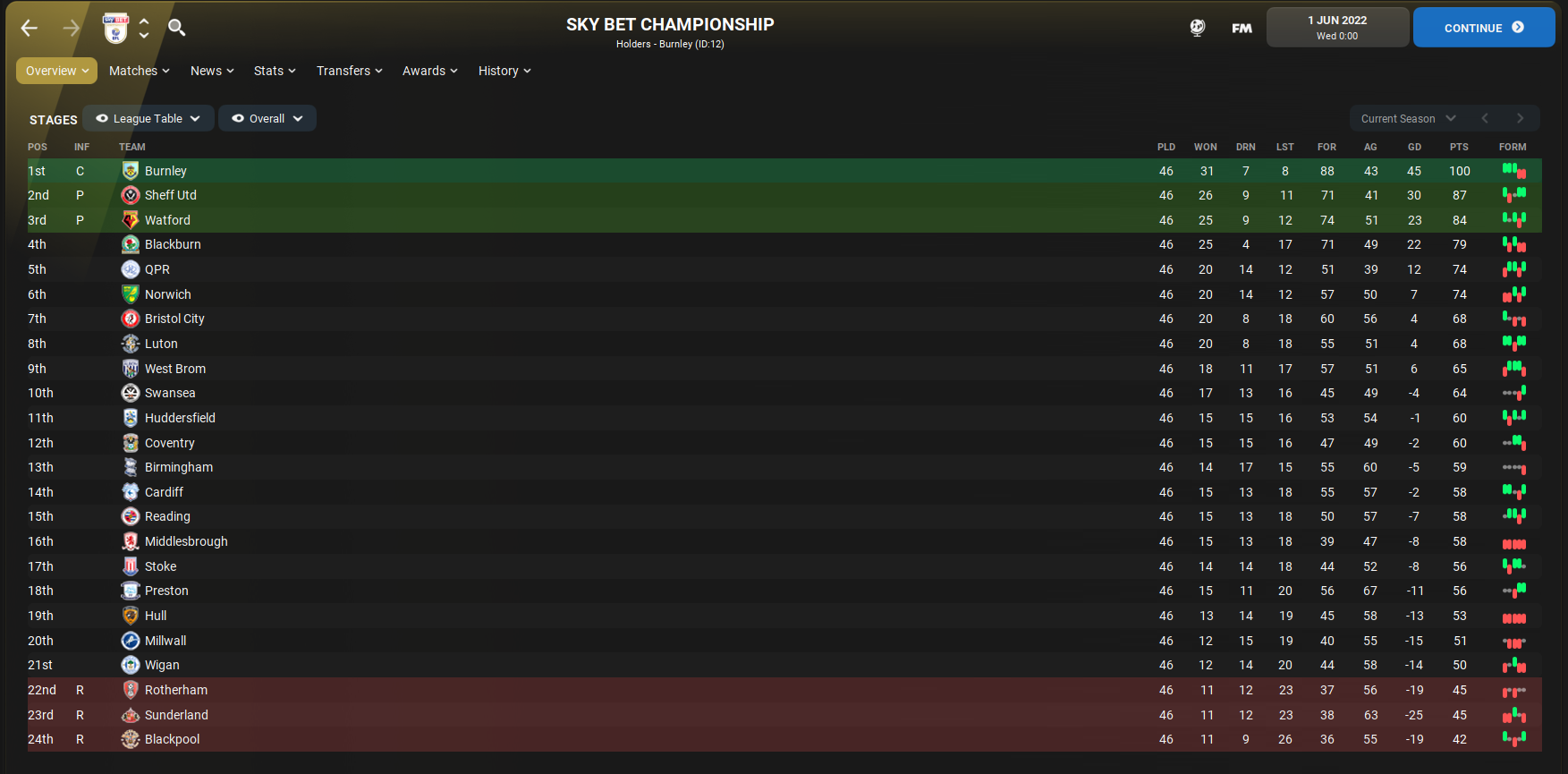 Yes, for the third successive day, Rovers made it into the playoff final, but unlike the last two days, they were unable to get over the line under Dyche in a very underwhelming final performance against his old club. After Rovers' dismal end to the season saw them somehow secure a playoff spot, QPR were their semi-final opponents and they managed to scrap past them 4-3 over both legs despite a poor home performance in the second tie. However, the season ended in an agonising defeat at Wembley in the £200m fixture to Watford, who brushed Rovers aside, 2-0, after making the final following a penalty win against Norwich City, following a thrilling 3-3 tie.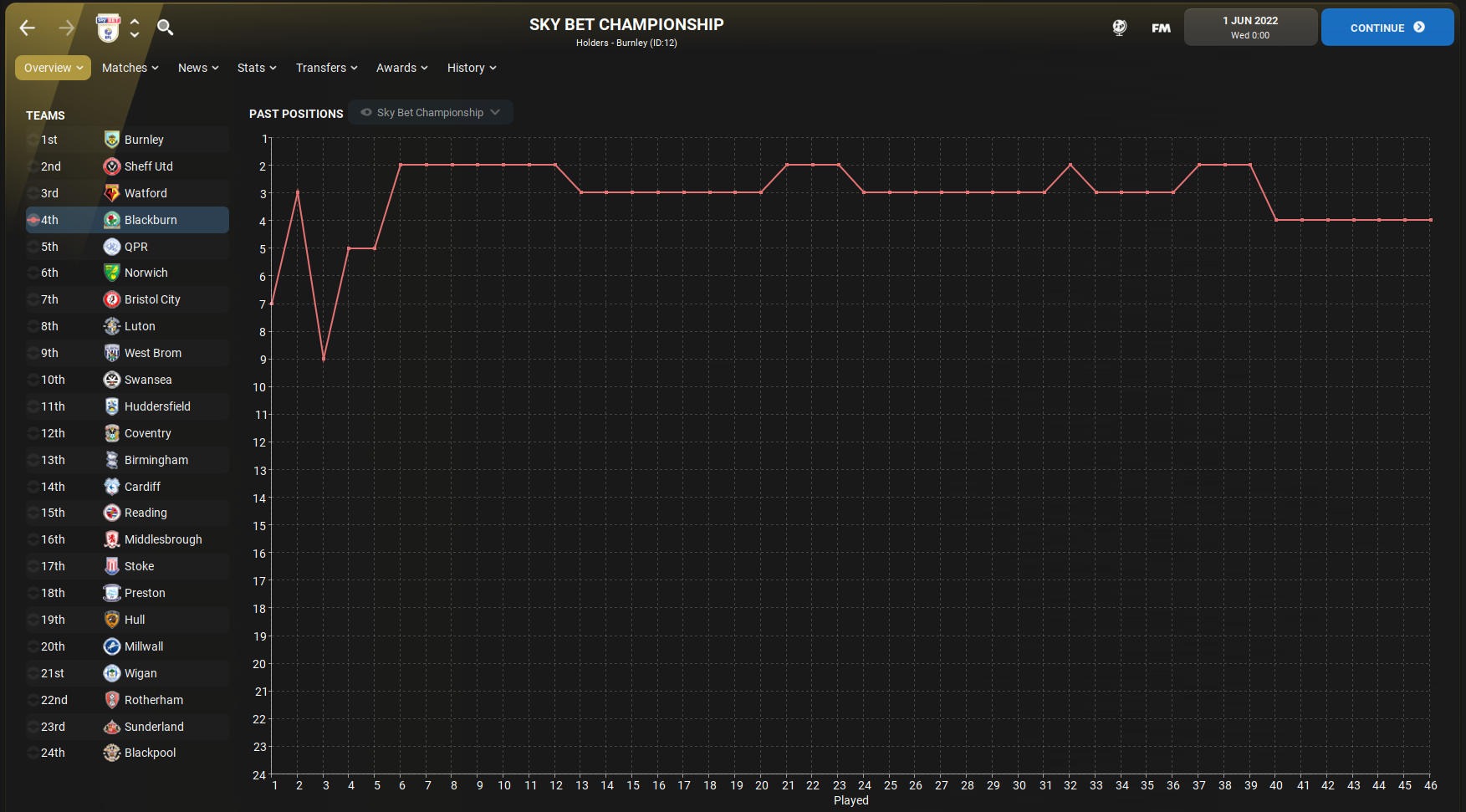 Although Rovers managed to stay inside the top two for 14 weeks of the season, their poor second-half of the campaign ultimately saw them slip into the playoffs with a gap of 12 points between them and Sheffield United, who eventually finished behind Burnley. Rovers didn't particularly inspire under Dyche, as despite finishing in the playoffs, they finished level on 'Goals Against' with bottom-half sides Middlesbrough – 16th – and Coventry City – 12th – which is strange given we think of Dyche as a defence-minded coach. The goals were plentiful, though, as thanks to Sam Gallagher's inspired form, Rovers finished joint-third in the goalscoring with 71 overall league goals, as well as second in the average possession with 52%, behind their rivals, Burnley.
This simulation with the former Burnley manager, although takes up a huge amount of fantasy, offers an interesting idea into how different managers operate with the same system and the same basic starting squad – particularly when you compare Dyche to Wagner. Dyche continued his trend of putting the finances of the club first and placing the club ahead of the individual, although selling Thomas Kaminski will no doubt raise eyebrows and fury if it was to happen in real-life; particularly after I place him as my number one Tony Mowbray signing, last week!
If offered Sean Dyche, would you back him as Rovers boss? – Maybe I should retract my earlier statement of wanting Dyche to be my first choice after these results!
Let me know below, or on Twitter: @readrovers
Many thanks for stopping by! That's the end of our 'Simulation Series', but we might have an extra candidate in the queue on Monday to round it all off.
Stay tuned!
COYB 🔵⚪
Zeid