Speculation has been rife since Tony Mowbray's departure from Rovers was announced, about who would be his successor. The five-year spell that Mowbray had at the helm of Rovers is rather unprecedented in modern Championship football, but it's time to move on.
Names have been thrown around about who would slot into the managerial hotseat, from 'inexperienced first-time' managers looking to break through into the merry-go-round, to 'high-profile' journeymen looking to 'pursue new challenges'.
Over the next six days, we shall be teaming the current Rovers squad up with potential incoming gaffers to see how they would fair under the rigorous and demanding pressure of managing former Premier League Champions.
"But how are you going to do that?", I can hear you ask?
Well, Football Manager will be our tool for making fantasy, a reality, as we take 'the world's most accurate simulator' out for a spin to see who which gaffer will get closest to bringing the Premier League back to Ewood Park.

What is Football Manager?
For those of you unfamiliar with Football Manager – 'FM' as it is commonly known as – is seen by many as the 'crème de la crème' of football simulators. In fact, it's probably taken up half of my life!
Described by the game's production studio, Sports Interactive, as 'a living, breathing game world of unparalleled realism', the simulator has certainly received worthy plaudits as it has expanded to all corners of the globe and has developed pinpoint accuracy in scouting and tactical breakdowns, including the fact it is backed by over 1,300 real scouts who help determine the game's accuracy and 'football authenticity that other football games can only aspire to replicate.'
In fact, it's revered around the footballing world and has influenced both supporters and football clubs alike in how they think about the 'beautiful game'. In 2008, whilst still in the Everton dugout, David Moyes agreed a deal to use the Football Manager database for scouting players and opponents. It has also helped many young aspiring managers achieve their dreams, such as Lancastrian, Shadab Iftikhar whose exploits on Football Manager inspired him to work towards his UEFA Coaching Badges, eventually leading him to becoming a Scout for Belgium during UEFA Euro 2020, before becoming the first-team manager at Fort William in the fifth tier of Scottish Football.
Furthermore, it has become a cult outlet of technology among current active players and managers, with former Manchester United manager, Ole Gunnar Solskjaer, back in 2014, stating that he 'learnt a lot' from playing FM, whilst former Rangers and Scotland manager, Alex McLeish stated that: 'I'd imagine that any manager worth his salt would be using it (Football Manager) to scout players and opponents.'
French World Cup Winner, Antoine Griezmann has also been engrossed in the game, with the on-loan Atlético Madrid man detailing many of his successes online, including his spell as Newcastle United boss on the 2021 iteration of the game, where he became – in his words – 'an English football legend'.
Just like the sport we all know and love, it really is 'more than just a game'.
How are we going to break this down?
It's important to note that this series will be written following Sunday 29th May's Championship Playoff final, which saw Nottingham Forest beat Huddersfield Town, 1-0 at Wembley. From this point on, we will be implementing the 2022-23 campaign, from this date, meaning that any future transfers or managerial appointments that might happen in June or beyond will not be accounted for.
Furthermore, the game will determine everything that occurs during a campaign; it will fill current vacancies within the Championship and ones that may occur over the course of the simulation. The squads that we shall be using will be accurate as of 29th May 2022 and transfers that happen from 30th May onwards, will not be included, unless they have already been confirmed. This means that we are as close to current reality as possible.
Of course, you'll notice in the screenshots that the dates are from 2021-22 and exclude the upcoming World Cup in December 2022; that unfortunately can't be changed, but it's irrelevant to the conclusion we're making. Just imagine the dates are 2022-23 instead! For the sake of Darragh Lenihan and Ryan Nyambe; they will remain at the club with their deal expiring at the end of the experiment's season, given their future is unknown.
Sadly, I can't predict the future – if I could, I'd tell you when we'd get promoted(!) – so giving them a standard one-year extension seems the most sensible option.
Throughout this series, we shall place a candidate (and members of his backroom staff from his last club where applicable) in the Rovers role, and see how his season unfolds, detailing the manager's transfers, results, whether they lasted the entire campaign and most importantly, where they finished in the league. The personnel that we select will loosely be based off SkyBet's odds, which will undoubtedly fluctuate over the course of creating and publishing this series; we'll also be including a couple of our own picks, including one that might cause uproar.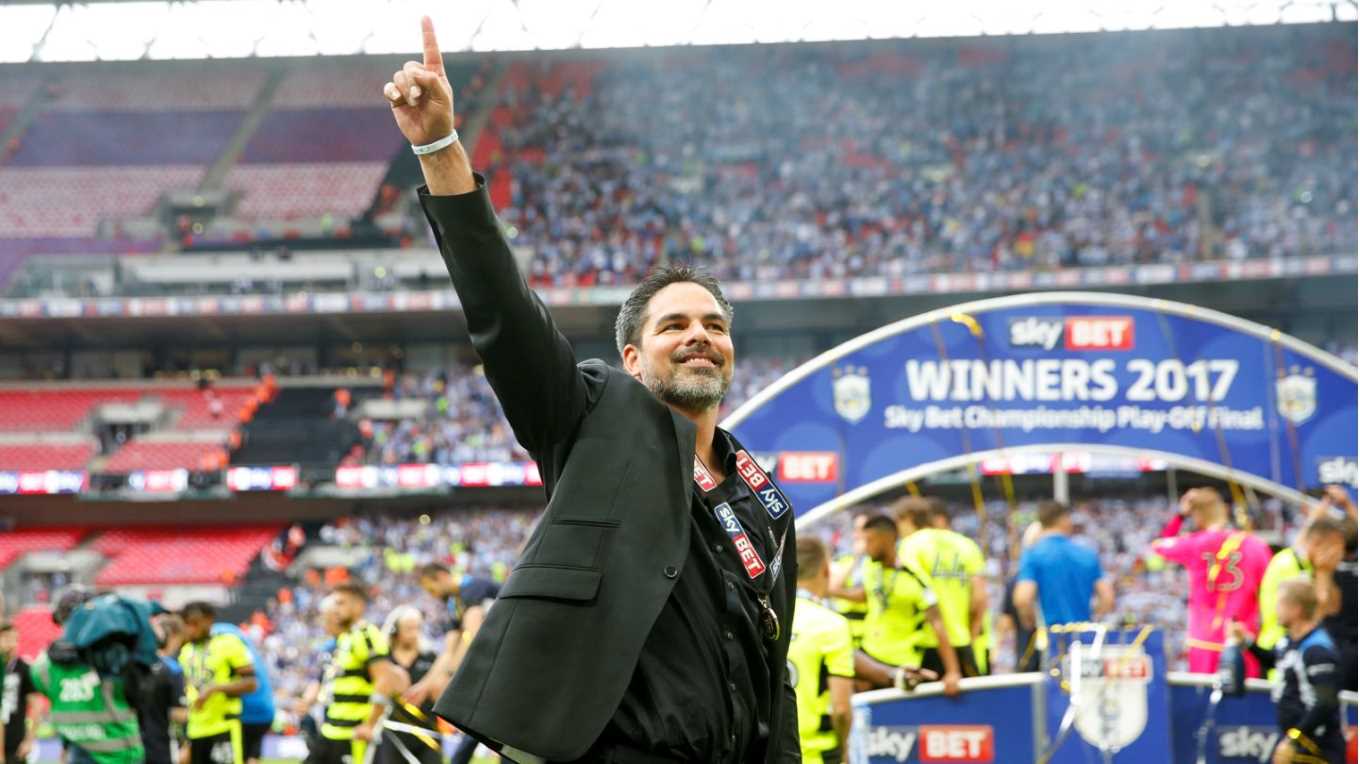 David Wagner
Friday's incomer will be former Huddersfield Town, Schalke 04 and BSC Young Boys manager David Wagner, who will be joined by his trusty coaches; assistant manager, Christoph Bühler, who was with the American in Yorkshire and first-team coach, Frank Fröhling, who joined up with Bühler and Wagner in Gelsenkirchen and Bern.
The playoff winning manager has been a free agent since leaving the Swiss side in March 2022 and was linked with a return to Championship with West Bromwich Albion during the summer of 2021, before taking the job in Switzerland.
Brief Career So Far
A former forward, David Wagner amassed over 50 goals during his 16-year playing career that spanned over four of the top-five tiers in German football – (Wagner did not play int the Third Tier) – and managed to pick up a UEFA Cup medal in 1996-97, during his time at Schalke 04, in addition to six caps for the USA national team, which he qualified for through citizenship.
After emerging out of the Eintracht Frankfurt academy, Wagner would only play one game for the Bundesliga side before embarking on a five-year spell at Mainz 05, where he would line-up alongside future managerial adversary, Jürgen Klopp. After netting 20 goals on the banks of the River Rhine, Wagner would move into the Bundesliga in 1995 with Schalke where he would help the 'Royal Blues' to European success. After a two-year stint in Western Germany, Wagner would go onto play the rest of his career in lower reaches of the German pyramid, before retiring in 2005.
Following his retirement, Wagner would move into coaching, waiting six-years before picking up his first gig in the spotlight as he joined Klopp as Borussia Dortmund reserve team manager, before leaving on Halloween 2015. Less than a week after departing Dortmund, Wagner signed for Huddersfield Town in the Championship and soon led them to promotion via the Championship playoffs in his first full season at the Terriers. After getting into the Premier League for the first-time, Huddersfield ended the first two matchdays top of the league after beating Crystal Palace at Selhurst Park, 3-0 and Newcastle United 1-0, at home. Their maiden season in the top tier brough eye-catching results such as a 2-1 win over Manchester United as well as draws against Manchester City and Chelsea as Wagner guided his side to 16th in the table. Wagner's second season managing in the top-tier didn't end as well as anyone would have liked, as the manager was sacked in January, with the Terriers rooted to the bottom of the table, before they eventually dropped back to the Championship.
A few months after his departure from Yorkshire, the manager picked up the job at former club, Schalke 04 two games prior to the end of the 2018-19 Bundesliga season, with 'The Miners' already safe from relegations. 2019-20 was Wagner's first full season in-charge and despite it being interrupted by the pandemic, Wagner guided the club to 12th. However, his second season at the helm didn't end as well as he was dismissed in late September, as they were relegated after five different managers had tried to turn their fortunes around.
As mentioned earlier, Wagner had talks with West Bromwich Albion break down before taking on the challenge in Switzerland at BSC Young Boys in 2021. Although Wagner had guided the Bern-based outfit through the UEFA Champions League Qualifying Rounds and into the group stages, which included picking up three points against Ole Gunnar Solskjaer's Manchester United, Wagner was sacked in March 2022, after a rather poor where the Swiss side finished 3rd, despite starting the season with hopes of clinching a fourth successive league title.
How does Football Manager think he'll do?
We brought the German-born American to East Lancashire and documented his spell at Ewood Park to see whether he could lead Rovers back to the top-tier.
With Wagner assisted by two of his right-hand men, the trio were able to make their mark in East Lancashire by bringing their own brand of football and their own tactics to try and replicate the heroics that they had done with an unfancied Huddersfield Town, in 2017. It's important to make note, before we look into the simulation in-depth, that Frank Fröhling was poached by fellow Championship side, Watford in early February, but Christoph Bühler remained alongside Wagner.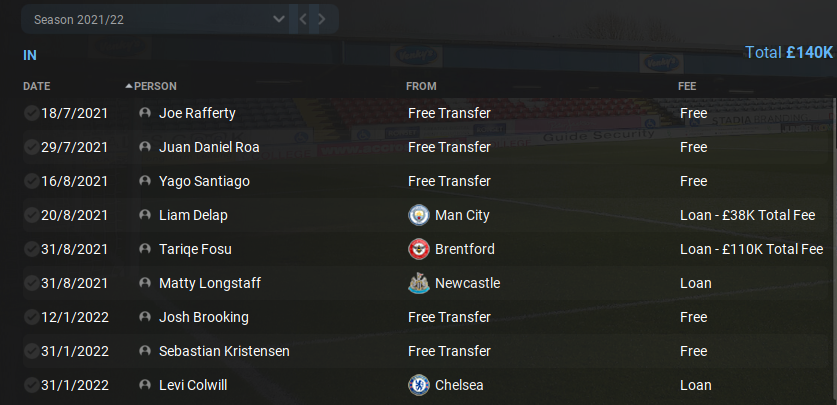 The moves that Wagner, were quite similar to the previous managers who we've simulated, in that they all focussed on the loan market, but Wagner's additions were rather wider than his predecessors. Alongside replicating the signing of Joe Rafferty that Gareth Ainsworth made on Wednesday – showing that Rovers are in need of an experienced right-back – Wagner also made a couple of signings to supplement the under-23s team in Josh Brooking – who Duncan Ferguson signed on Thursday – Yago Santiago from Tottenham Hotspur, and Sebastian Kristensen from Everton, with all three arriving on a free transfer.
Among the signings for the first-team, were 30-year-old Juan Daniel Roa, who came in from the Colombian top tier, showing that Wagner was capable of attracting experienced foreign talent. Furthermore, the exciting coups of highly-rated Levi Colwill and Liam Delap also showed the American's intent as he poached two of the top-six's most talented teenagers and bled them into the squad. Additionally, Matty Longstaff came in from Newcastle United, which – alongside Roa – further strengthened Rovers' midfield, in a department that was severely lacking after the real-life releases of Bradley Johnson and Jacob Davenport.
The most surprising signing was that of Tariqe Fosu from Brentford, who found himself out of favour in London and made the trip up north to join Wagner's outfit. The 26-year-old Ghanaian went on to have a crucial impact within the Rovers side, as he played 37 league games in total, notching four goals and three assists in the process.

The immediate outgoings were fairly consistent with the gaffers that had gone before him, with loans being the order of the day, however, much like Ainsworth, Wagner decided to cash in on Tyler Magloire, if only for a minimal fee, as the rapid defender's contract was set to expire at the end of the campaign. As with Ferguson, David Wagner took a strong stance with contract rebel, Ben Brereton Díaz, with the American making the forward available for transfer in December as they refused to agree terms on a new deal, despite the Chilean going on to play 49 games and netting 17 goals in all competitions for the Blues.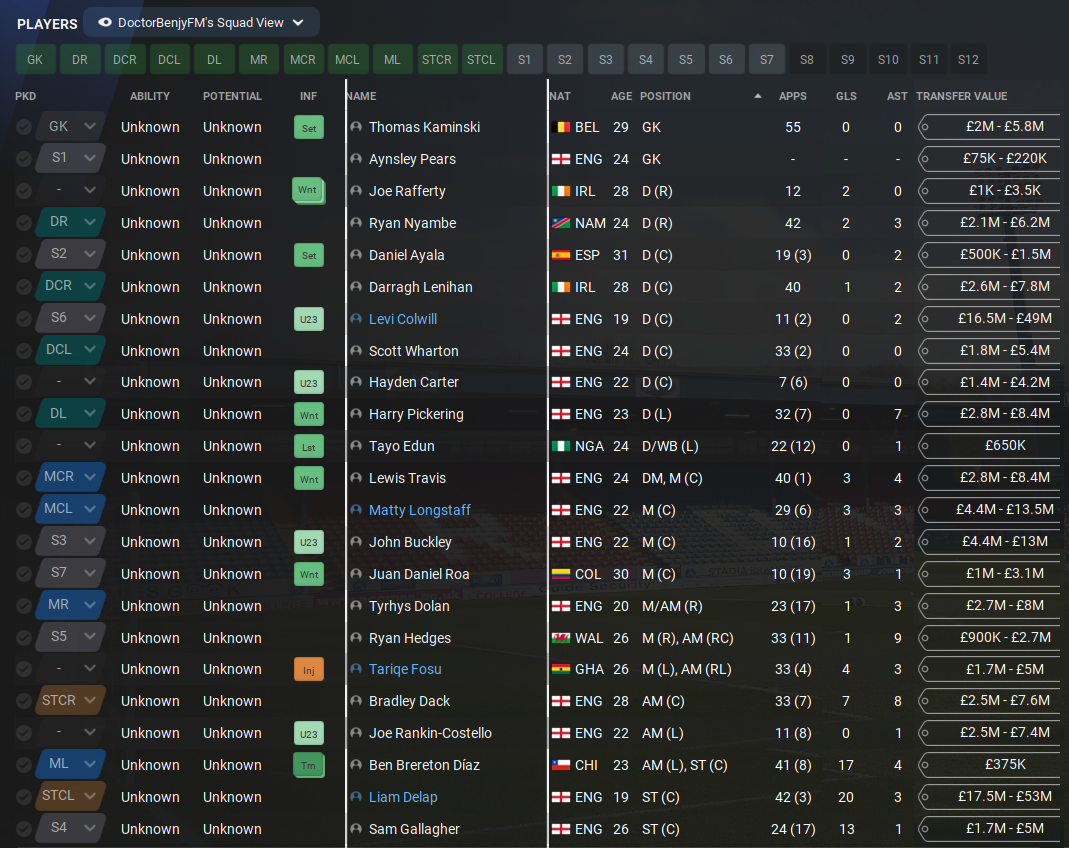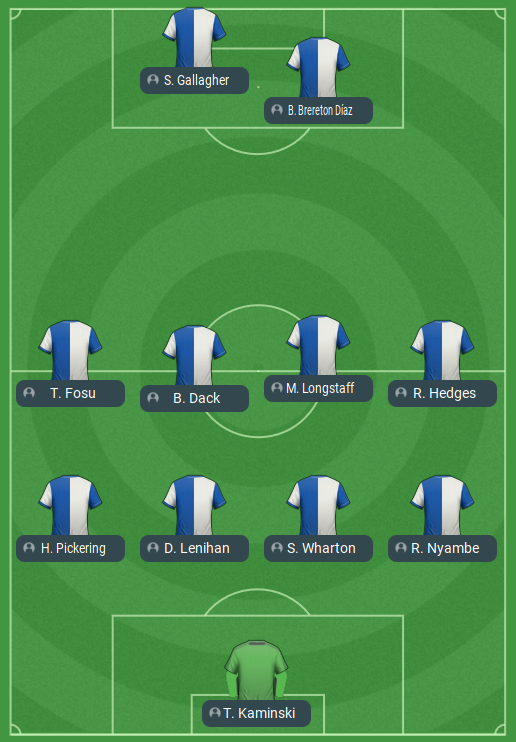 In a first during this simulation, Rovers operated in a more traditional 4-4-2, a system which Wagner adopted towards the end of his time in Switzerland. During his successful stint at Huddersfield, the manager opted for a combination of a few systems before settling on the 4-2-3-1, particularly during his promotion-winning and first Premier League campaigns. Rather intriguingly, Ben Brereton Díaz, Sam Gallagher and Liam Delap finished the campaign with 17, 13 and 20 goals in all competitions, respectively, however, Delap is omitted from this screen due to a lower in-game average rating, despite Gallagher being the bit-part player, having racked up the most substitute appearances from the three forwards.
Matty Longstaff's inclusion alongside Bradley Dack is also due to a high average rating, but Wagner preferred a midfield duo of Dack and Lewis Travis for the most part, with John Buckley being the unlucky man to miss out of consistent game-time. What this tactic screen does show us, is that Wagner will adapt his squad to fit his desired system, as he did via the addition of Fosu. Despite the contractual disappointment Wagner suffered with Ben Brereton Díaz, the gaffer did have success with defensive duo, Darragh Lenihan and Ryan Nyambe who both signed new long-term deals in January.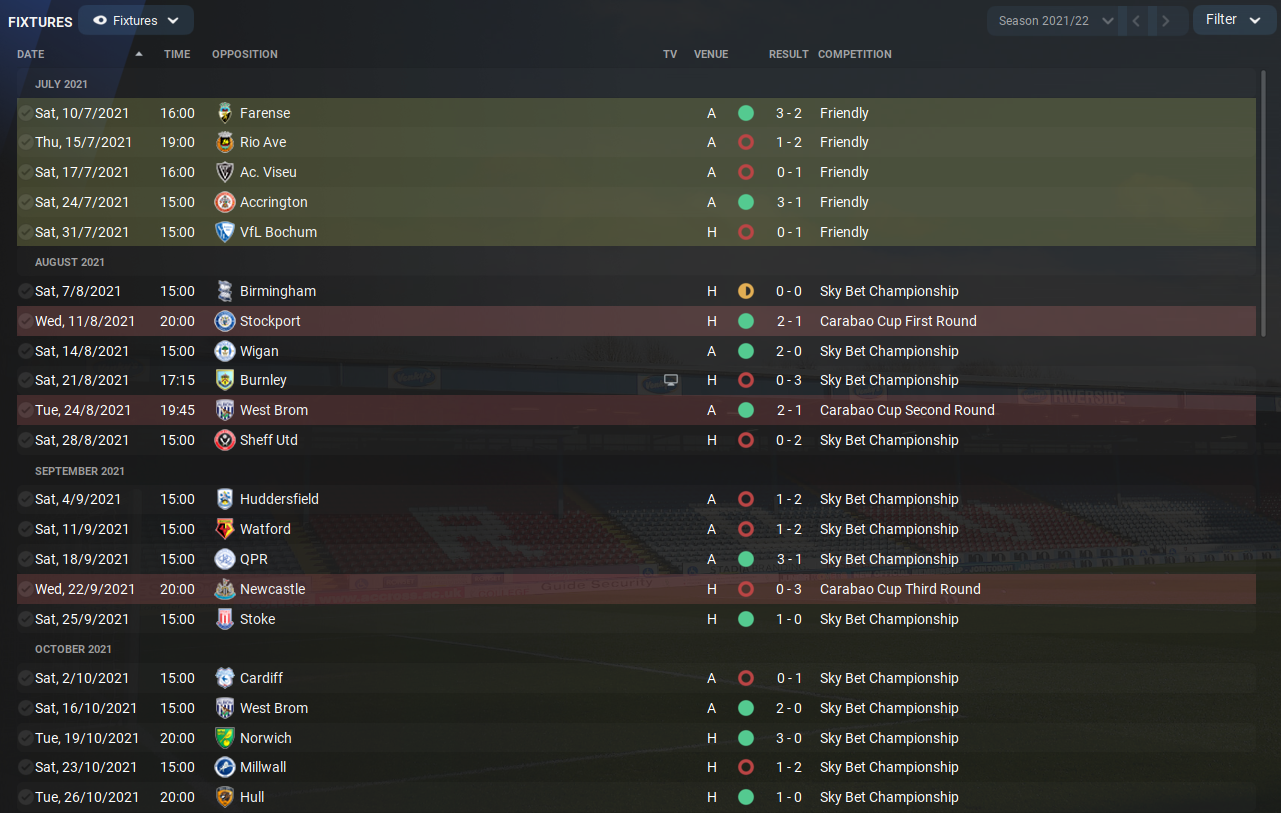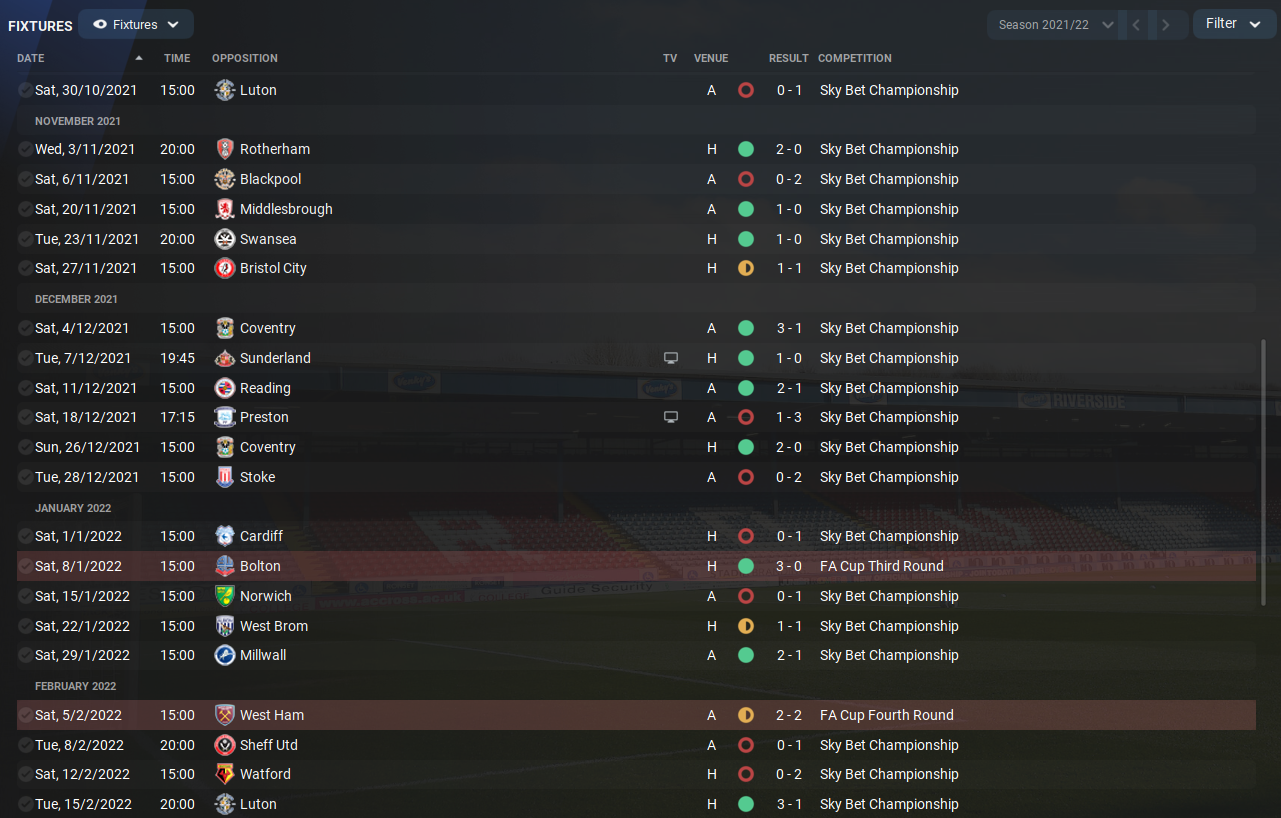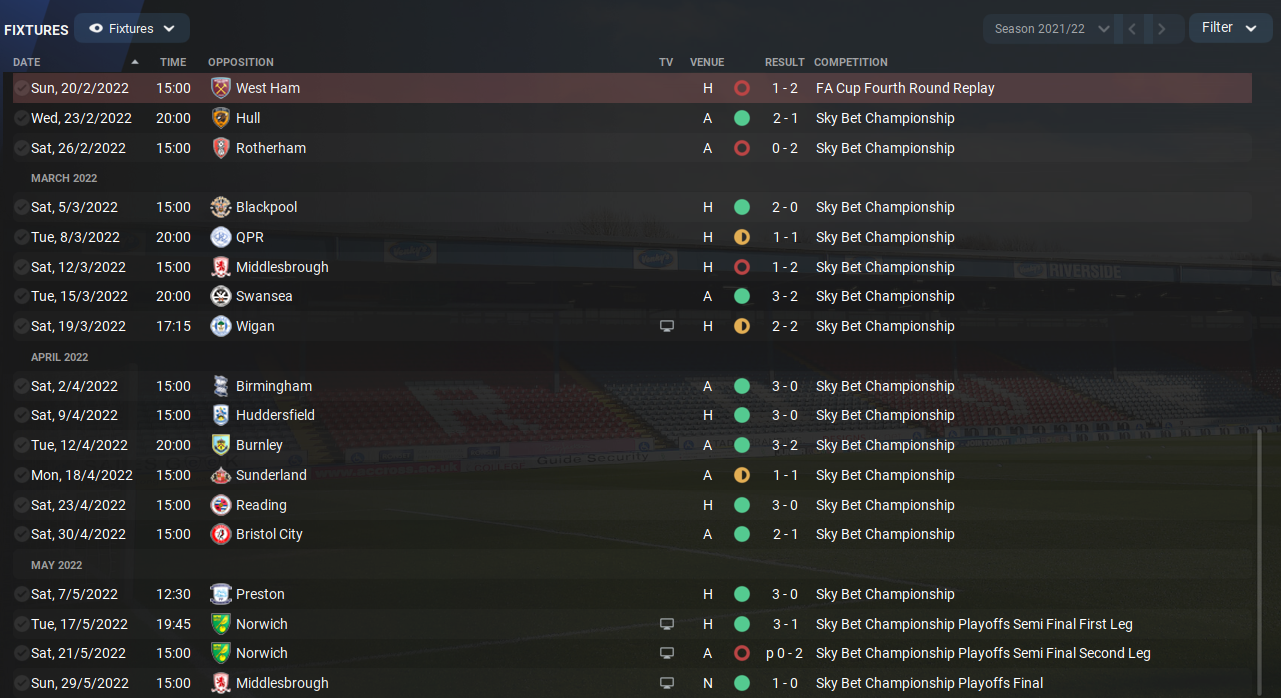 As has been the case over this week, managers have struggled to start well when in the Rovers hotseat, but have grown into their jobs as they have adapted to the players they found at the club. David Wagner was no different as after only picking up 10 points from his first eight league games, October and November offered Rovers a platform of consistency in which to build on. As Duncan Ferguson did yesterday, Wagner was able to nab points off East Lancashire rivals Burnley as he led Rovers to an unbeaten April. There were more highs than lows in Wagner's reign as he managed to pick up the greatest number of wins thus far, in the simulations, with 24 during the normal season – one more than Ainsworth's 23.
The cup runs under Wagner took a backseat as despite getting to the Carabao Cup Third Round after wins against Stockport County and West Bromwich Albion, Newcastle United dumped Rovers out the League Cup – Newcastle have a huge say in these saves, don't they? The FA Cup was equally unambitious as despite getting through Lancashire rivals, Bolton Wanderers in the Third Round, a replay against West Ham United after an initial 2-2 draw at the London Stadium, led to Rovers' run being curtailed in the Fourth Round as the Hammers won 2-1, at Ewood Park.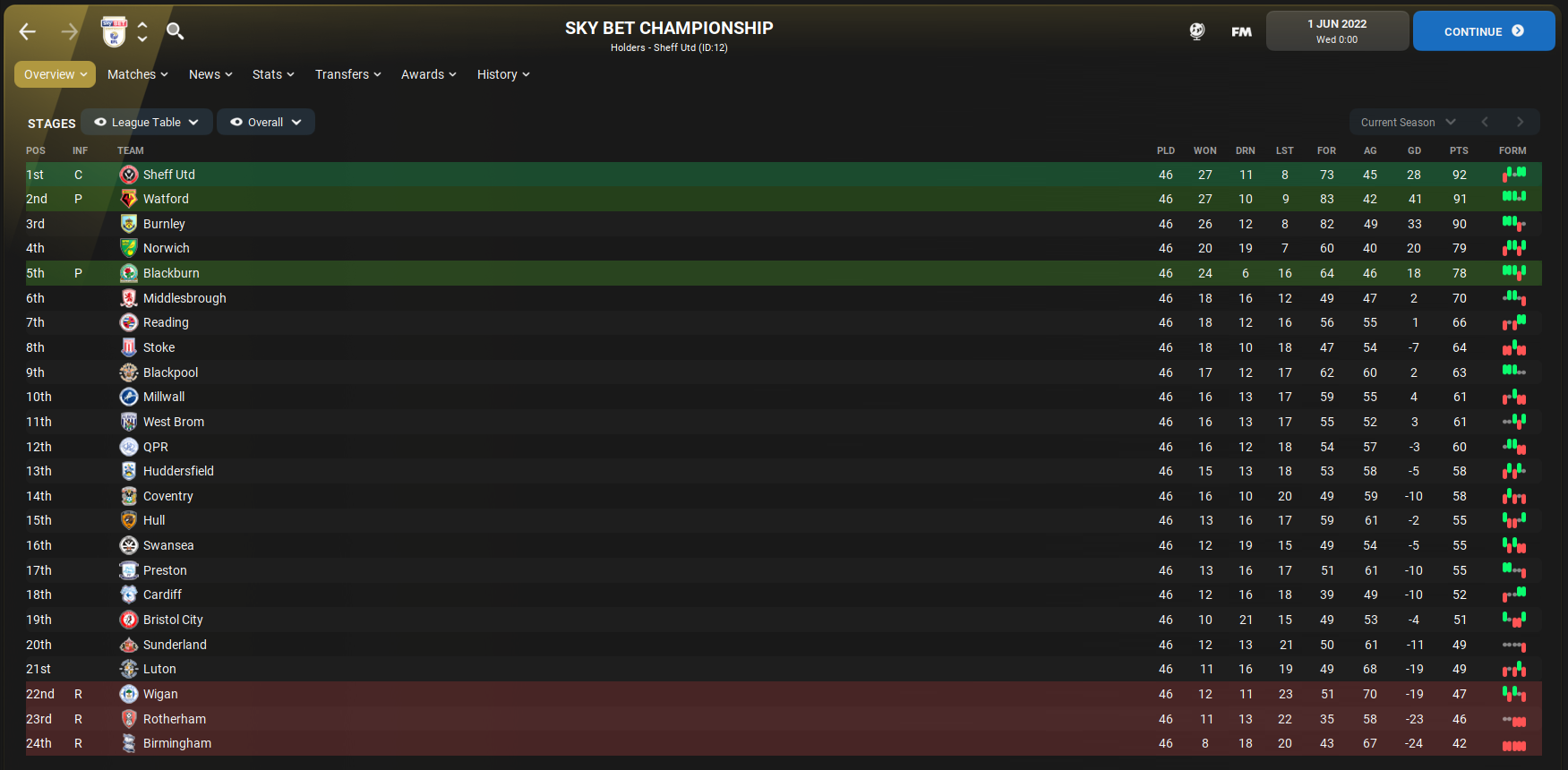 The aforementioned successful April period became crucial for Rovers to make a late dash for the playoffs. With Rovers sat in 7th place come the final fixture in March – a 2-2 home draw to newly-promoted Wigan Athletic – David Wagner rallied his troops effectively, as nine goals and two clean sheets in three games saw Rovers overcome Birmingham City, Wagner's former side Huddersfield Town and rivals Burnley to move ahead of Middlesbrough into the playoffs.
The end of season battle of nerves was extremely tough for Rovers to contend with as they faced serial promotion-winners, Norwich City over two legs, but managed to overcome Dean Smith's side on penalties after an enthralling 3-1 victory in the first-leg was followed by an away from home collapse which heightened the tensions and the stakes. As Wagner managed to guide his side to Wembley, they were met by Chris Wilder's Middlesbrough again, who were the last side to beat them, prior to their unbeaten end of season run. Although Middlesbrough spent more than 60 minutes down to ten men, after Anfernee Dijksteel saw red in the 27th minute, Rovers had the last laugh as a Bradley Dack goal inside the opening 60 seconds proved to be enough for Wagner's side, as he again guided a side to the Premier League via the £200m route of the playoffs.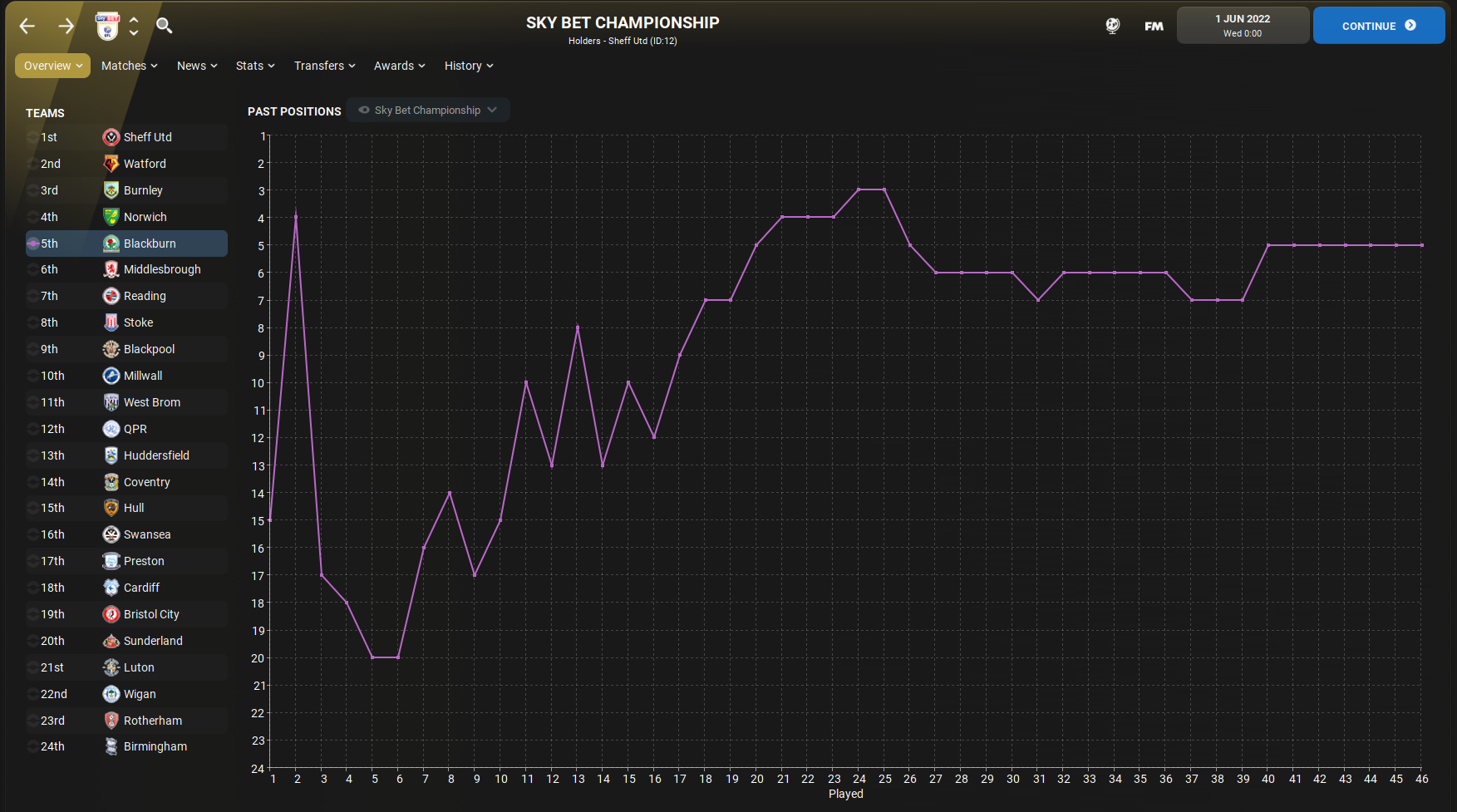 After spending 24 of the 46 gameweeks inside the top-six, Wagner managed to find a way to galvanise his side towards the end of the campaign in order to burst in and secure a playoff berth, which they'd go onto win. The American's start to the campaign was slow as his players took time to adapt to the traditional 4-4-2 system that he adopted, however the former Schalke 04 manager proved that there was still 'life in the old system' with it proving to be a problem for most of the sides in the division. The system ended up offering the perfect balance it was supposed to achieve as Rovers not only led the division with 17 clean-sheets achieved by Thomas Kaminski, but they also conceded the fourth fewest amount of goals with 46, whilst also netting the fourth most with 64, which offered the perfect equilibrium between attack and defence that every manager desires.
It seems David Wagner is something of a Championship playoff specialist. The experienced manager offers not only knowledge of this division and the Premier League, as well as European and foreign competitions, but also understands many different player bases from his varying spells across Europe managing, both at youth and senior level.
With Rovers crying out for an experienced manager who's not afraid to give youth a chance and use his good connections within the game to utilise a low budget, David Wagner could end up proving to be a masterstroke of an appointment if the hierarchy at Ewood and India make the right calls. There is also the added bonus of Wagner being a free agent, which would, of course, rule out any added payments to clubs in order to acquire the 50-year-old's services.
Would you be open to having David Wagner as the club's first non-European manager?
Let me know below, or on Twitter: @readrovers
Thank you for reading! Come round tomorrow at 6pm to see whether the fifth candidate can raise a few eyebrows.
COYB 🔵⚪
Zeid