Speculation has been rife since Tony Mowbray's departure from Rovers was announced, about who would be his successor. The five-year spell that Mowbray had at the helm of Rovers is rather unprecedented in modern Championship football, but it's time to move on.
Names have been thrown around about who would slot into the managerial hotseat, from 'inexperienced first-time' managers looking to break through into the merry-go-round, to 'high-profile' journeymen looking to 'pursue new challenges'.
Over the next six days, we shall be teaming the current Rovers squad up with potential incoming gaffers to see how they would fair under the rigorous and demanding pressure of managing former Premier League Champions.
"But how are you going to do that?", I can hear you ask?
Well, Football Manager will be our tool for making fantasy, a reality, as we take 'the world's most accurate simulator' out for a spin to see who which gaffer will get closest to bringing the Premier League back to Ewood Park.

What is Football Manager?
For those of you unfamiliar with Football Manager – 'FM' as it is commonly known as – is seen by many as the 'crème de la crème' of football simulators. In fact, it's probably taken up half of my life!
Described by the game's production studio, Sports Interactive, as 'a living, breathing game world of unparalleled realism', the simulator has certainly received worthy plaudits as it has expanded to all corners of the globe and has developed pinpoint accuracy in scouting and tactical breakdowns, including the fact it is backed by over 1,300 real scouts who help determine the game's accuracy and 'football authenticity that other football games can only aspire to replicate.'
In fact, it's revered around the footballing world and has influenced both supporters and football clubs alike in how they think about the 'beautiful game'. In 2008, whilst still in the Everton dugout, David Moyes agreed a deal to use the Football Manager database for scouting players and opponents. It has also helped many young aspiring managers achieve their dreams, such as Lancastrian, Shadab Iftikhar whose exploits on Football Manager inspired him to work towards his UEFA Coaching Badges, eventually leading him to becoming a Scout for Belgium during UEFA Euro 2020, before becoming the first-team manager at Fort William in the fifth tier of Scottish Football.
Furthermore, it has become a cult outlet of technology among current active players and managers, with former Manchester United manager, Ole Gunnar Solskjaer, back in 2014, stating that he 'learnt a lot' from playing FM, whilst former Rangers and Scotland manager, Alex McLeish stated that: 'I'd imagine that any manager worth his salt would be using it (Football Manager) to scout players and opponents.'
French World Cup Winner, Antoine Griezmann has also been engrossed in the game, with the on-loan Atlético Madrid man detailing many of his successes online, including his spell as Newcastle United boss on the 2021 iteration of the game, where he became – in his words – 'an English football legend'.
Just like the sport we all know and love, it really is 'more than just a game'.
How are we going to break this down?
It's important to note that this series will be written following Sunday 29th May's Championship Playoff final, which saw Nottingham Forest beat Huddersfield Town, 1-0 at Wembley. From this point on, we will be implementing the 2022-23 campaign, from this date, meaning that any future transfers or managerial appointments that might happen in June or beyond will not be accounted for.
Furthermore, the game will determine everything that occurs during a campaign; it will fill current vacancies within the Championship and ones that may occur over the course of the simulation. The squads that we shall be using will be accurate as of 29th May 2022 and transfers that happen from 30th May onwards, will not be included, unless they have already been confirmed. This means that we are as close to current reality as possible.
Of course, you'll notice in the screenshots that the dates are from 2021-22 and exclude the upcoming World Cup in December 2022; that unfortunately can't be changed, but it's irrelevant to the conclusion we're making. Just imagine the dates are 2022-23 instead! For the sake of Darragh Lenihan and Ryan Nyambe; they will remain at the club with their deal expiring at the end of the experiment's season, given their future is unknown.
Sadly, I can't predict the future – if I could, I'd tell you when we'd get promoted(!) – so giving them a standard one-year extension seems the most sensible option.
Throughout this series, we shall place a candidate (and members of his backroom staff from his last club where applicable) in the Rovers role, and see how his season unfolds, detailing the manager's transfers, results, whether they lasted the entire campaign and most importantly, where they finished in the league. The personnel that we select will loosely be based off SkyBet's odds, which will undoubtedly fluctuate over the course of creating and publishing this series; we'll also be including a couple of our own picks, including one that might cause uproar.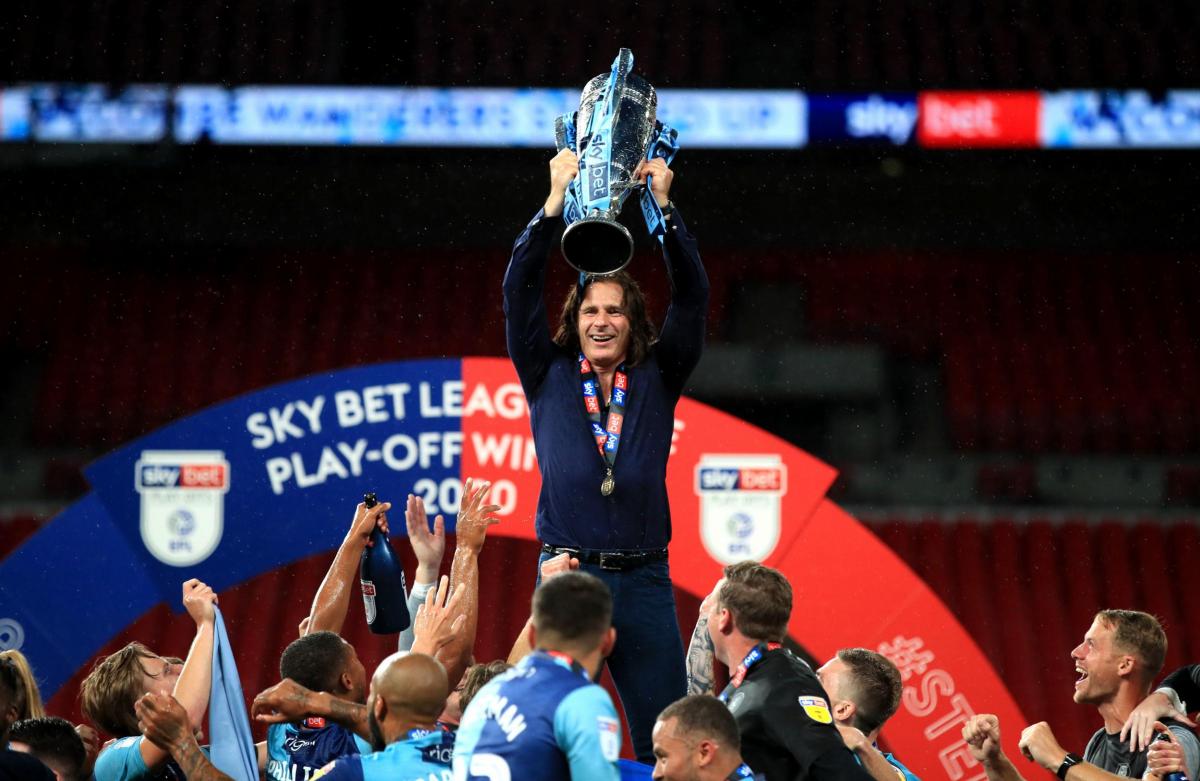 Gareth Ainsworth
Wednesday's selection will see current Wycombe Wanderers boss and Blackburn Rovers fan, Gareth Ainsworth in the Ewood Park hotseat.
Ainsworth has made no secret about his ambitions of one day, wanting to manage Blackburn Rovers and many supporters over the course of the past few weeks have backed the 49-year-old to be Tony Mowbray's Ewood Park successor. The Wycombe boss has had a lot of speculation surrounding him since both of his former clubs, Rovers and Queens Park Rangers announced that Tony Mowbray and Mark Warburton would be departing their respective clubs, however the former Ewood Park season ticket holder has kept his cards close to his chest. The speculation intensified following Wycombe's 2-0 League One playoff final defeat to Sunderland a few weeks ago, but word has yet to emerge from the gaffer's camp.
Brief Career So Far
Following a stellar playing career, which saw the ex-midfielder play in all four divisions of English football, Ainsworth had tasted success at the Chairboys before retiring in April 2013, as they bounced back from relegation in Ainsworth's first season, to win promotion back to League One in 2010-11. After another two seasons of 'yo-yoing' between Leagues One and Two, Ainsworth took a step back from his playing career at the start of the 2012-13 season, to take over as the manager of the League Two side, but remained registered and made the odd-appearance as a player-manager. By April 2013, Ainsworth hung up his boots to fully focus on his coaching career and has been at the helm of the Chairboys ever since.
Known for his astuteness in the transfer market, the manager has gained a reputation in England for getting the best out of players, both young and old, whilst relying on an attacking mentality in games. Ever since he took control of the reigns at Wycombe, the Blues' seasons have mostly been prosperous as the manager has been given the time to build the club to his liking. After Wycombe had only picked up four points from their first eight games, Ainsworth took control of the side and managed to turn their fortunes around to finish 15th in the division. His first full campaign in charge in 2013-14 wasn't as successful, but he did manage to halt the Blues' fall into the Conference, by surviving on goal-difference.
Since those dark days, Wycombe have faired well under Ainsworth, as despite losing in the 2014-15 playoffs, 2017-18 saw Ainsworth guide Wycombe to League One after five attempts. After one year to acclimatise to the third division, 2019-20 led to the unthinkable as Ainsworth guided Wycombe into the Second Tier for the first-time in their history, amid the pandemic, however he wasn't able to keep them there as he narrowly missed out on survival by one point.
Ainsworth and his squad did let relegation faze them, as after another high turnover of players, the manager recruited well again, including the addition of former Burnley and Stoke City forward, Sam Vokes and ex-Middlesbrough midfielder Lewis Wing to try and get back into the Championship. They managed to again defy expectations by reaching the final of the playoffs as mentioned, but fell to Sunderland at Wembley.
How does Football Manager think he'll do?
We have drafted in Gareth Ainsworth along with his current assistant manager Richard Dobson, to scope out how they would get on at Rovers over a season; here's what went down!
As with Farke in yesterday's segment, Ainsworth and Dobson entered Brockhall just as the calendar ticked over into July, which offered them a full pre-season, to not only get to know the players at their disposal and implement their players with the required tactical familiarity, but to also dip into the transfer market, allowing Ainsworth to build on the reputation he built for himself over nine years at Wycombe Wanderers, where he became renowned for getting the best out of his players on a miniscule budget.
The prophecy that was preached regarding Ainsworth certainly came to fruition during this simulation, as the local lad once again 'wheeled and dealed' his way in the transfer market to pick up some freebies who would go onto play a crucial role in Rovers' season under the boss and his assistant.

Ainsworth's knowledge of the lower leagues and the loan system was utilised to full effect as he capitalised on the releases from the previous season – those who were just released post-2021-21, in real life – and managed to bleed them into the already existing structure left by his predecessor, Tony Mowbray. Most of the signings that Ainsworth acquired came in to supplement the already strong existing squad that was left over from the previous campaign, but most of those additions proved key as Rovers fought 'tooth and nail' more than 50 fixtures.
Of the five signings made, three of them were under 21-years of age at the start of the campaign, which showed that Ainsworth continued his theme of blending youth with experience. Joe Rafferty came in from Preston North End, on a free transfer and went on to supplement first-choice right-back, Ryan Nyambe, as well as provide cover at left-back. Lewis Dobbin came in from Everton and proved to be a key rotational role for the attackers. James Olayinka arrived from Arsenal with a similar brief, except the midfielder covered for John Buckley's passing range. Bradley Cross did not feature for the first-team after coming in from Newcastle United, but soon signed a deal to head back to his native South Africa on a free.
Kô Itakura, on loan from Manchester City, was arguably the most important player brought in, as the Japanese holding midfielder – who was picking up a modest £9,000 per week – provided a vital screen ahead of the defence, and behind John Buckley and Lewis Travis, during the 44 games he played during his spell at Ewood Park.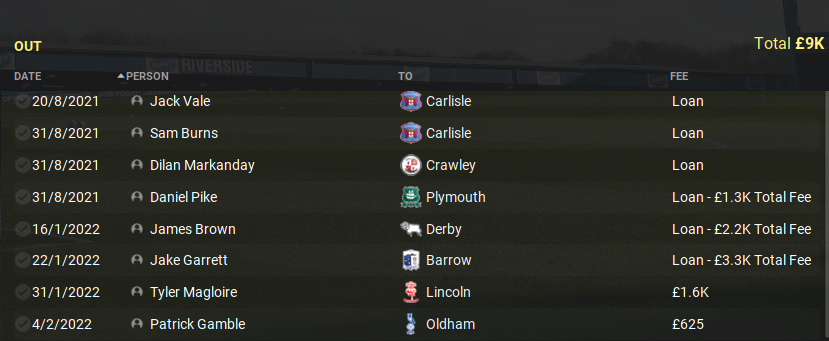 The outgoings during Ainsworth's reigns were quite to the ones that Farke sanctioned, yesterday. The current Wycombe boss focussed more on player development, rather than aiming to make profit. The only sales were defensive pair, Tyler Magloire and youngster Patrick Gamble, both of whom moved into the final year of their respective contracts. The loans that were confirmed did bring in a small fee, but it showed the ideas and philosophies of Ainsworth as a manager, as he aimed to improve players, rather than worrying about finances, which is something he has done at Wycombe.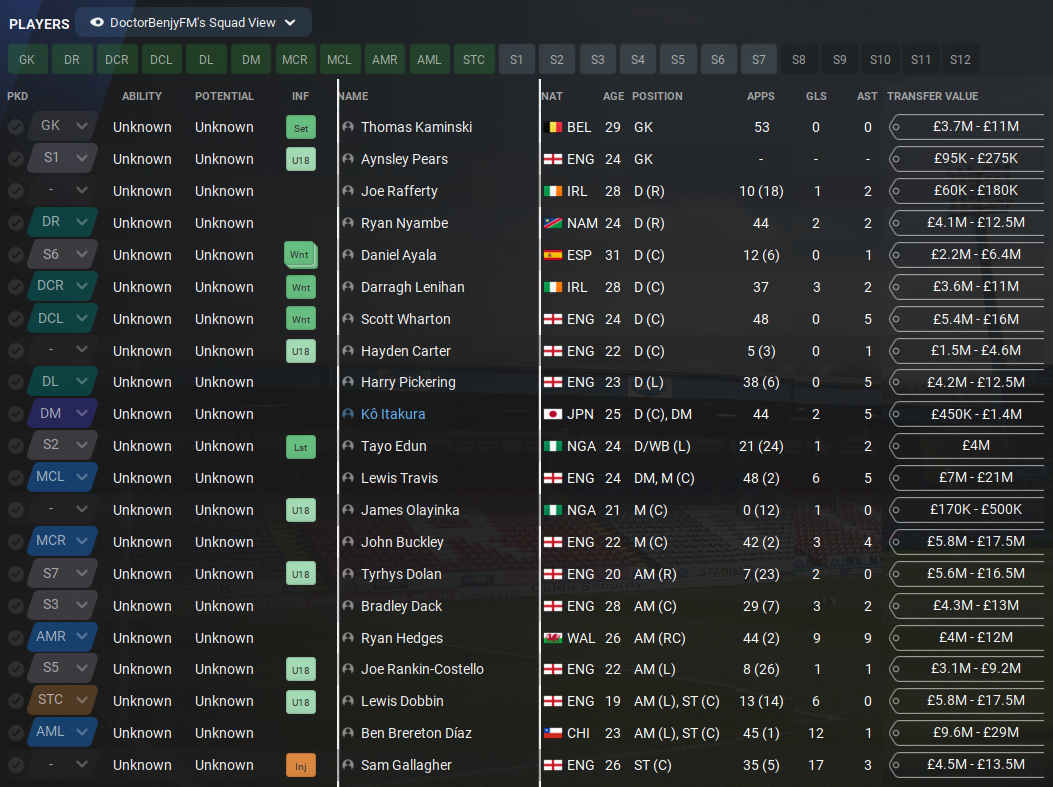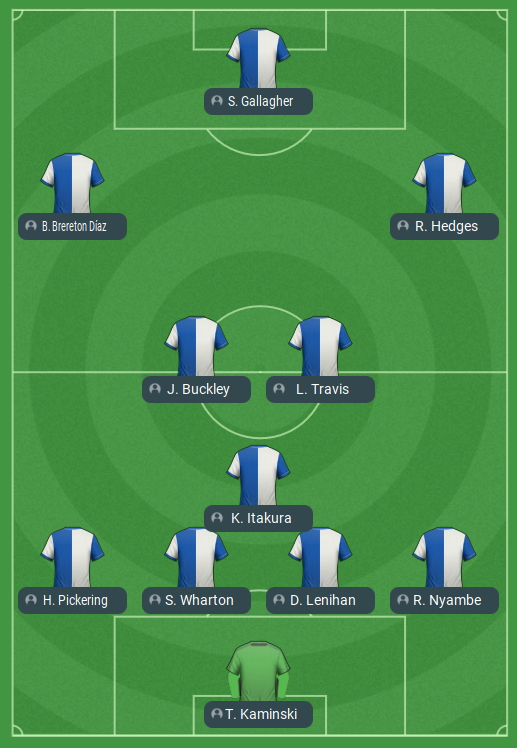 As expected by the transfers made, the overall squad looked near-identical to the one that Tony Mowbray left behind upon his departure, but the system that Ainsworth chose differed to both the one used by the former Middlesbrough boss in his final season, and in Farke's run as manager in the previous simulation. Ainsworth has used a wide range of systems over the course of his near-decade at the helm in High Wycombe, however in their playoff final defeat to Sunderland, he used a 4-2-3-1, as he did for the last 12 games of the league campaign and the two legs of the playoff semi-finals vs MK Dons.
With Rovers, however, Ainsworth operated with a 4-3-3, utilising the fit-again Bradley Dack all across the frontline and even as part of the midfield pairing. The use of this system allowed Ainsworth to make the most out of his loan signing, Kô Itakura, who marshalled Rovers' midfield over the course of the season.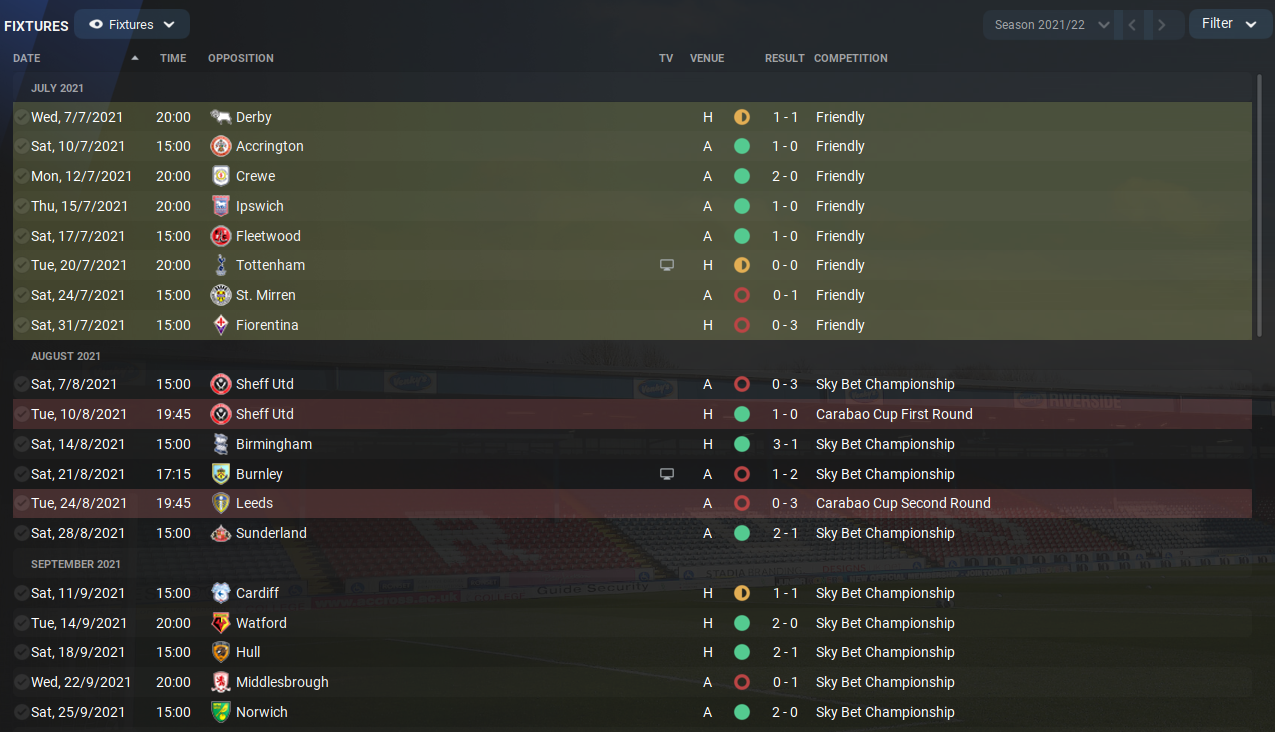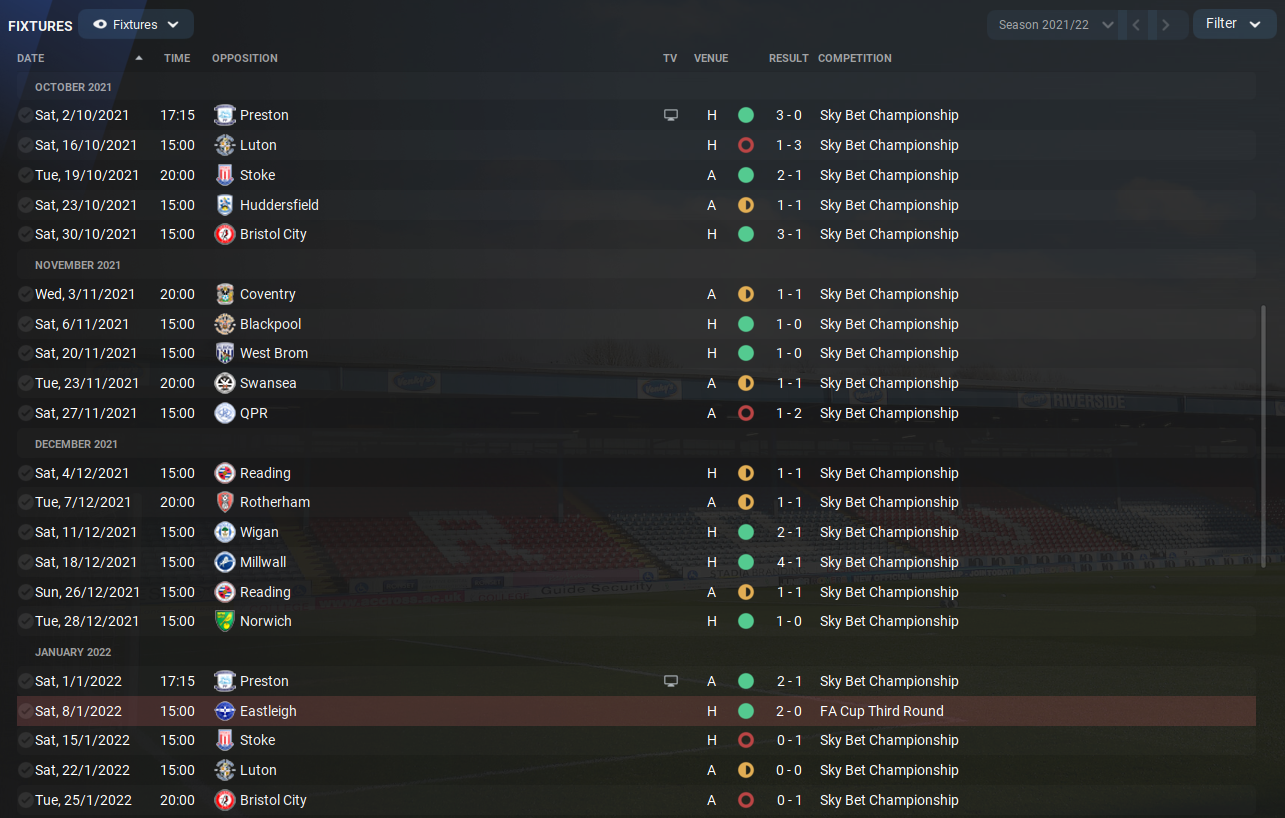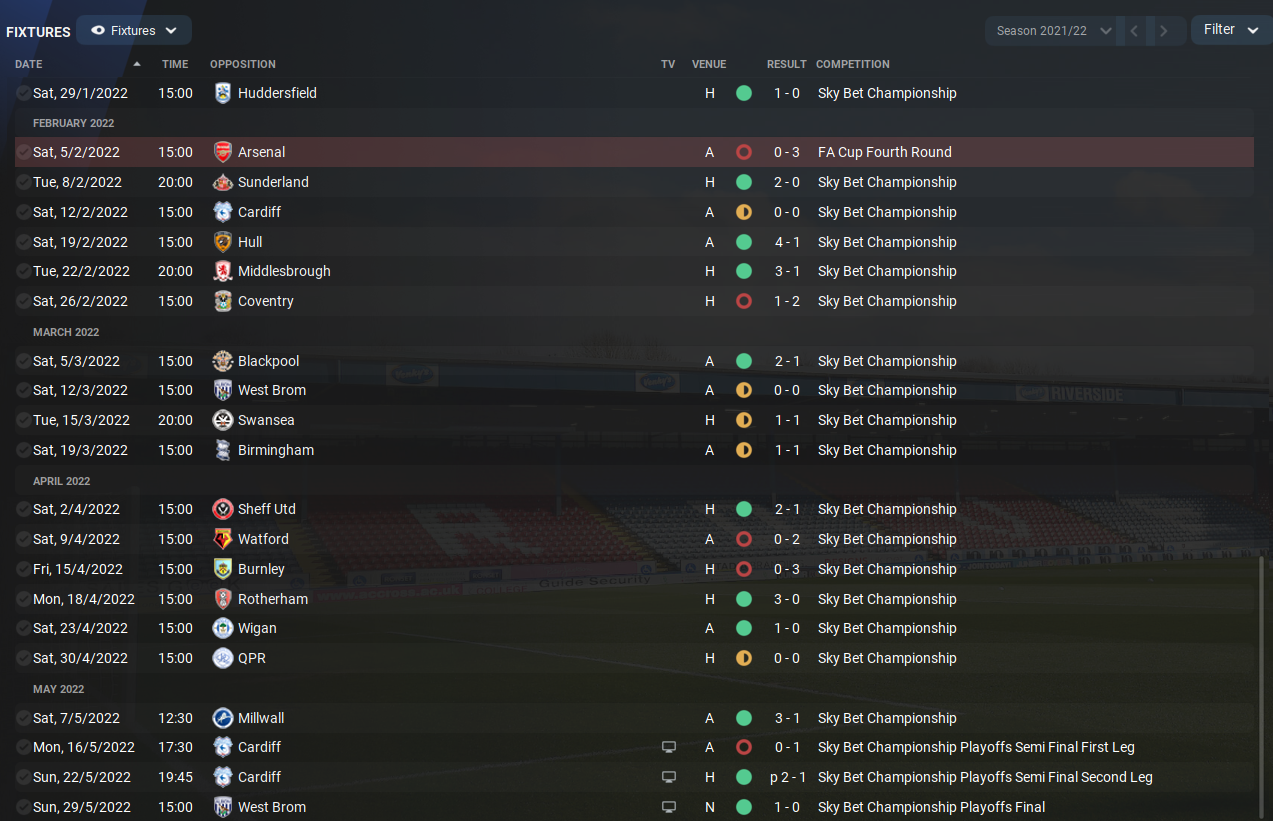 Much to my surprise, and probably yours as well, Ainsworth performed rather well as Rovers manager and put to bed any doubts that he wasn't capable of stepping up and proving his tactical nous against sides and managers who had dropped out of the Premier League. Whilst the manager failed to get the better of East Lancashire rivals, Burnley, losing 5-1 over the course of both league games, Ainsworth more than made up for that blip by whipping up some consistency within Rovers' results, a curse that the Blues have dealt with for most of their years in the Championship. He was also able to notch up two unbeaten months, in December and March which showed progress from how Rovers had operated in those months over recent seasons.
Rovers' run in the cups were rather flat, falling at the second hurdle they crossed in both domestic cups, with Leeds United knocking them out of the Carabao Cup in the Second Round, after Rovers had beaten another Yorkshire outfit, in Sheffield United, in the First Round. The FA Cup was equally uninspiring, as after getting the better of non-league Eastleigh who had valiantly battled their way into the FA Cup Third Round for third time in their history, Mikel Arteta's Arsenal soon gave Rovers the boot in Round Four.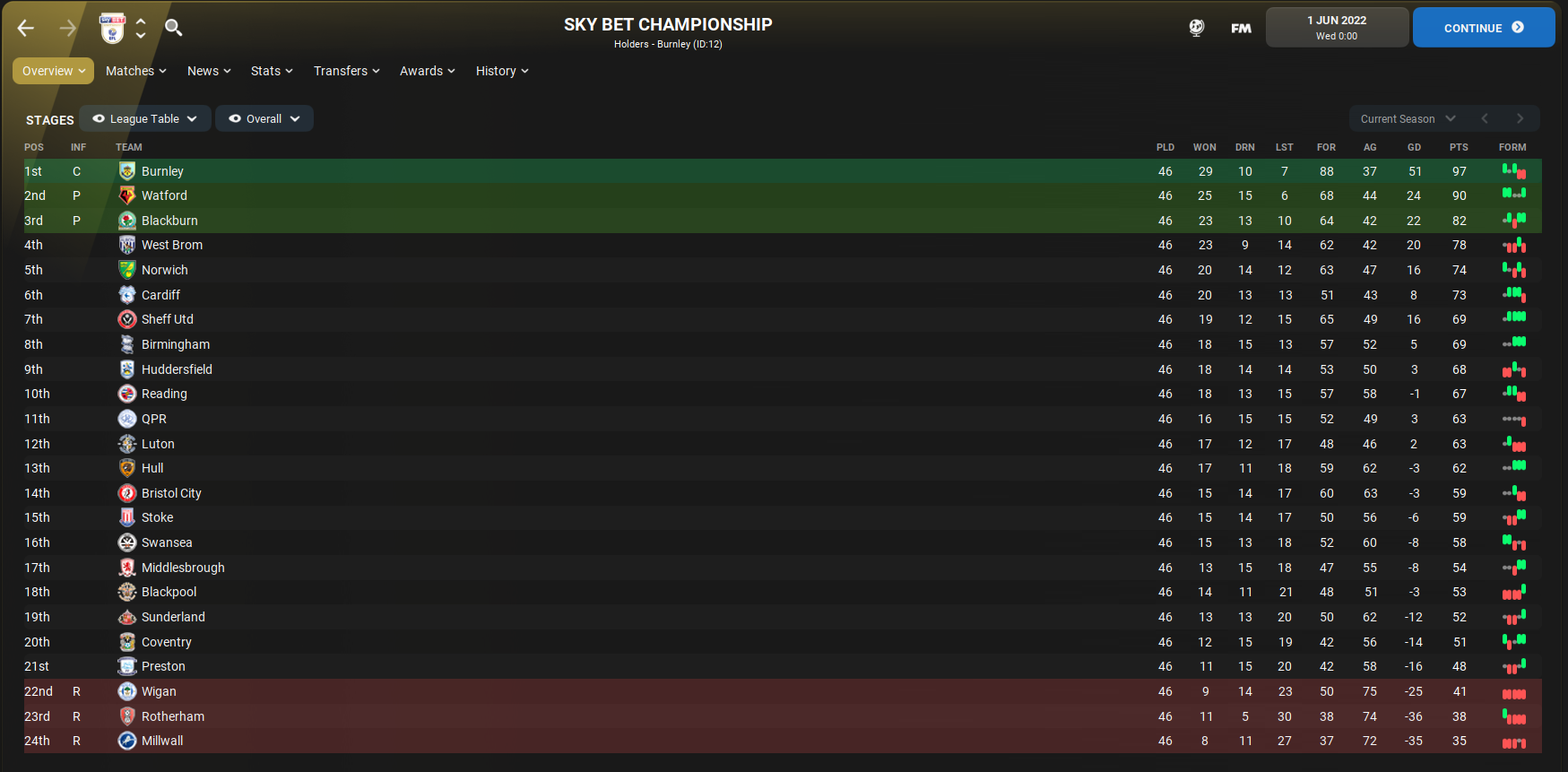 I've skirted around it long enough, but yes, feel free to have a party because the Blues are going up! After securing a 3rd place finish in the league, finishing only eight points behind runners-up Watford, Rovers went up the hardest of ways; via the playoffs. After finishing their season with only two defeats – which came against the top two – from their last 11 games, Rovers headed into the playoffs on a high as they were drawn against Cardiff City at the Cardiff City Stadium, however they lost the first-leg by a goal. With a lot of work to do, the turnaround to the second-leg came very quickly as Ainsworth's men completed the comeback in the most nerve-wracking of fashions. After going 2-0 down on aggregated, courtesy of a Josh Murphy 19th minute strike, the Ewood Park faithful played their part as two goals in as many minutes from Ben Brereton Díaz and Lewis Dobbin completed the turnaround within 90 minutes as the game went to extra-time and then spot-kicks, with Rovers coming out on top after Rovers scored all four of their penalties to win 4-2.
Ainsworth soon lined up for his third Wembley playoff final of his career and came out on top for the second-time, as Rovers faced Steve Bruce's Baggies – who overcame Norwich City on penalties, after a 1-1 draw. Rovers completed the dream by beating West Bromwich Albion, 1-0, courtesy of Lewis Dobbin's 16th minute strike, as Rovers managed to continue the outstanding defensive efforts they showed over the course of the normal campaign – where they had the joint-second-best defensive record in the division alongside the Baggies – to return to the Premier League.
The boss' success of course showed in the enthusiasm of the squad, as all three out-of-contract players – Skipper Darragh Lenihan, Ryan Nyambe and Ben Brereton Díaz – all extended their contacts at Rovers to try and have shot at the 'big-time.'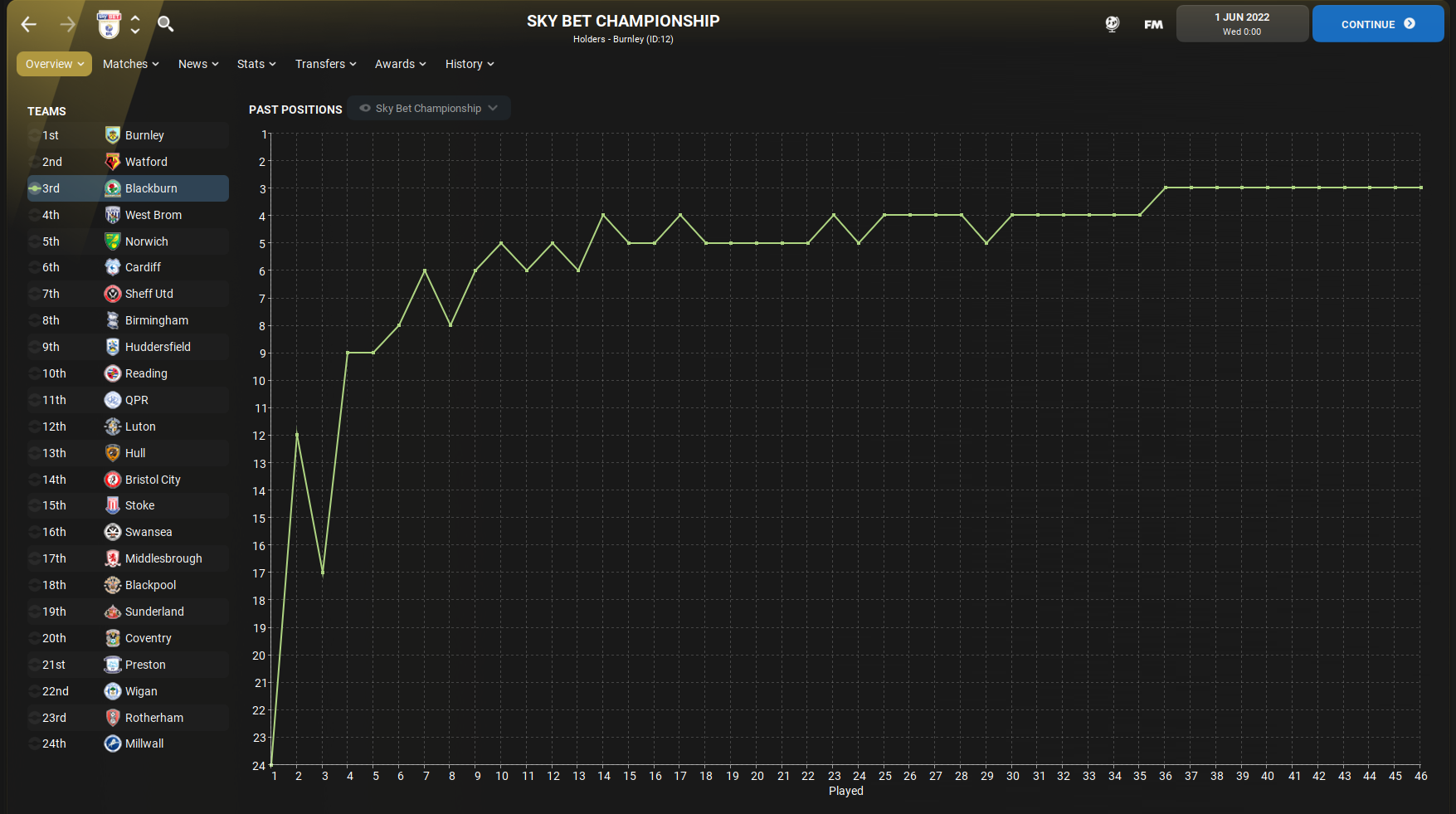 The consistency that Rovers showed under Ainsworth was previously highlighted, but the positional graph further emphasises how good Rovers were, as they were aided by their ability to keep clean sheets, with 13 from the 46 games played. Ainsworth's attacking philosophy as a gaffer was also shown with Rovers finishing fourth-highest scorers in the division, behind the top-two and Sheffield United, who pipped Rovers by a goal in the normal campaign.
Although Ainsworth once led the bookies odds to be the next Rovers manager, the recent silence from his camp, particularly after Wycombe's failure to get promoted has seen him overtaken. But who takes the bookies seriously? Ainsworth has proved, both in real life and in-game, that he is capable and probably overdue a chance to manage in the Second Tier for a prolong period, and the connections he already has with the club, coupled with his smarts in the market and his man-management skills, in addition to his tactical style could see him fit Rovers like a glove. Whilst some have been sceptical of the gaffer's style of play, it's clear to see from this article that he adapts to his surroundings, rather than forcing a style on players who aren't capable of deploying it, with the gap of quality between League One and the Championship being vast.
Would you take Gareth Ainsworth at Rovers?
Let me know below, or on Twitter: @readrovers
Thanks for stopping by! Come back tomorrow at 6pm to check out how the third candidate placed in the Rovers job gets on!
COYB!  🔵⚪
Zeid