Speculation has been rife since Tony Mowbray's departure from Rovers was announced, about who would be his successor. The five-year spell that Mowbray had at the helm of Rovers is rather unprecedented in modern Championship football, but it's time to move on.
Names have been thrown around about who would slot into the managerial hotseat, from 'inexperienced first-time' managers looking to break through into the merry-go-round, to 'high-profile' journeymen looking to 'pursue new challenges'.
Over the past week, we have been teaming the current Rovers squad up with potential incoming gaffers to see how they would fair under the rigorous and demanding pressure of managing former Premier League Champions. But this time, we'll be turning back time…
"But how are you going to do that?", I can hear you ask?
Well, Football Manager will be our tool for making fantasy, a reality, as we take 'the world's most accurate simulator' out for a spin to see who which gaffer will get closest to bringing the Premier League back to Ewood Park.

What is Football Manager?
For those of you unfamiliar with Football Manager – 'FM' as it is commonly known as – is seen by many as the 'crème de la crème' of football simulators. In fact, it's probably taken up half of my life!
Described by the game's production studio, Sports Interactive, as 'a living, breathing game world of unparalleled realism', the simulator has certainly received worthy plaudits as it has expanded to all corners of the globe and has developed pinpoint accuracy in scouting and tactical breakdowns, including the fact it is backed by over 1,300 real scouts who help determine the game's accuracy and 'football authenticity that other football games can only aspire to replicate.'
In fact, it's revered around the footballing world and has influenced both supporters and football clubs alike in how they think about the 'beautiful game'. In 2008, whilst still in the Everton dugout, David Moyes agreed a deal to use the Football Manager database for scouting players and opponents. It has also helped many young aspiring managers achieve their dreams, such as Lancastrian, Shadab Iftikhar whose exploits on Football Manager inspired him to work towards his UEFA Coaching Badges, eventually leading him to becoming a Scout for Belgium during UEFA Euro 2020, before becoming the first-team manager at Fort William in the fifth tier of Scottish Football.
Furthermore, it has become a cult outlet of technology among current active players and managers, with former Manchester United manager, Ole Gunnar Solskjaer, back in 2014, stating that he 'learnt a lot' from playing FM, whilst former Rangers and Scotland manager, Alex McLeish stated that: 'I'd imagine that any manager worth his salt would be using it (Football Manager) to scout players and opponents.'
French World Cup Winner, Antoine Griezmann has also been engrossed in the game, with the on-loan Atlético Madrid man detailing many of his successes online, including his spell as Newcastle United boss on the 2021 iteration of the game, where he became – in his words – 'an English football legend'.
Just like the sport we all know and love, it really is 'more than just a game'.
How are we going to break this down?
It's important to note that this series will be written following Sunday 29th May's Championship Playoff final, which saw Nottingham Forest beat Huddersfield Town, 1-0 at Wembley. From this point on, we will be implementing the 2022-23 campaign, from this date, meaning that any future transfers or managerial appointments that might happen in June or beyond will not be accounted for.
Furthermore, the game will determine everything that occurs during a campaign; it will fill current vacancies within the Championship and ones that may occur over the course of the simulation. The squads that we shall be using will be accurate as of 29th May 2022 and transfers that happen from 30th May onwards, will not be included, unless they have already been confirmed. This means that we are as close to current reality as possible.
Of course, you'll notice in the screenshots that the dates are from 2021-22 and exclude the upcoming World Cup in December 2022; that unfortunately can't be changed, but it's irrelevant to the conclusion we're making. Just imagine the dates are 2022-23 instead! For the sake of Darragh Lenihan and Ryan Nyambe; they will remain at the club with their deal expiring at the end of the experiment's season, given their future is unknown.
Sadly, I can't predict the future – if I could, I'd tell you when we'd get promoted(!) – so giving them a standard one-year extension seems the most sensible option.
Throughout this series, we have placed candidates (and members of their backroom staff from their last club where applicable) in the Rovers role, and seen how their season has unfolded, detailing the manager's transfers, results, whether they lasted the entire campaign and most importantly, where they finished in the league. The personnel that we have selected has been loosely based off SkyBet's odds, which have fluctuated heavily over the course of this series and past week, but we have tried to offer a realistic range of bosses, including our most controversial sixth entry on Sunday.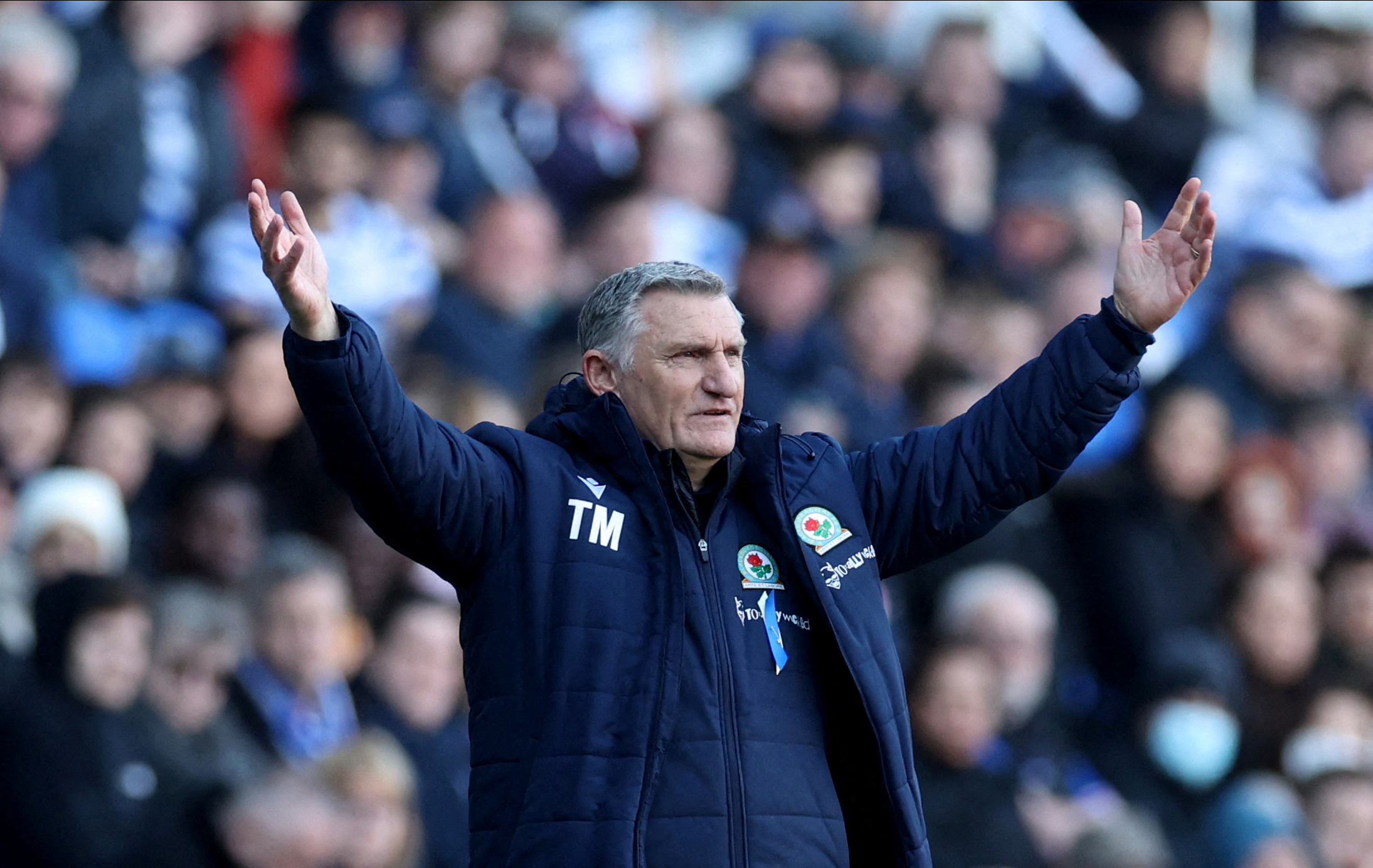 Tony Mowbray
Well, this is a bit awkward, isn't it? I know I said I'd only do six but thought it would be quite intriguing to see how Tony Mowbray and Mark Venus – back in his dual role of assistant and Director of Football – would have handled 2022-23, had they been offered a new contract by Venkys and how he'd compare against the six other candidates we've looked at, over this Jubilee week; will Mowbray cap it off with a 'lovely jubilee' promotion? – that was a terrible Del Boy pun, apologies.
Brief Career So Far
Well, if you're unaware of the now-ex-Rovers manager's career, after he'd been here for five years, then, where have you been? But as my teachers used to tell me, 'it doesn't hurt to revise', so we'll do so very briefly.
After an 18-year career that saw the Saltburn-by-the-Sea-born centre-back play for his local side, Middlesbrough, as well as Celtic and Ipswich Town, Mowbray hung up his boots in the year 2000 after bowing out in the finest of fashions after scoring the equalising goal in the playoff final, on his Wembley debut, that helped secure Ipswich Town a return to the Premier League, after they beat Barnsley 4-2 in the Division One final.
After retiring, Mowbray's first job as a manager saw him join Scottish Premier League side, Hibernian in May 2004. Following his stint in Scotland, Mowbray came down to manage West Bromwich Albion, where he managed to get the Baggies promoted to the Premier League in his second season, as they stormed to the Championship title in 2007-08. Following a year in the Premier League, where the Baggies finished rooted to the bottom of the league, despite missing out on survival by three points and six goals, Mowbray was soon headhunted by former team, Celtic. He didn't even last the full season at Celtic, as after being knocked out of both domestic competitions, the UEFA Champions League and Europa League and finished behind eventual league winners, Glaswegian rivals Rangers, Mowbray was dismissed in March 2010.
That first sacking of his career didn't phase Mowbray, however, as he was soon back in a job before the end of the year, with his boyhood club, Middlesbrough. Despite helping the club survive relegation in his first season, his second season – which was also his first full campaign – saw him lead Boro to the top three positions, where they stayed until January, before a second-half of the season collapse saw them finish outside of the playoffs, in 8th…sounds familiar, right? His third campaign at the Riverside ended even more disappointingly, as again, after a fantastic first-half of the campaign, where Boro were towards the top of the table, three wins and three draws from January onwards, saw them finish 16th in the table. The end spelled near for Mowbray, as he was soon dismissed in September of 2013-14.
Following another brief managerial hiatus, Mowbray returned to a Midlands dugout in March 2015, but this time at relegation-threatened League One Coventry City. After keeping the Sky Blues in the league towards the end of 2014-15, Mowbray's shrewd signings nearly secured playoff football for Coventry in 2015-16, as the likes of Adam Armstrong, James Maddison, Joe Cole, Jacob Murphy, Ryan Kent and Jacob Murphy all came into the club, but another dismal second-half of the campaign saw the Sky Blues drop from top of the league in November, to 8th come the seasons' end and by late September at the start of the following 2016-17 season, Mowbray resigned from his role.
Following promotion, Mowbray finished 15th, 11th and 15th again, respectively as supporter angst grew at the pace at which Rovers were – or weren't – improving, with the second-half of campaigns being a particular concern for the fanbase, as they had been throughout Mowbray's managerial career in England. His final year at Ewood Park was when he shone through, as he led Rovers to the dizzy heights of second-place in 2021-22, but again, 'old habits died hard', as another second-half of the season collapse saw Rovers end the season, and Mowbray's reign, in 8th. Despite that rather metaphorical ending, Mowbray's overall job at Ewood Park was mostly praised, as he turned a sinking ship into a beacon of hope…and now we wait for the new manager.
How does Football Manager think he'll do?
But we're not here for new managers! Thusly, We have made Tony Mowbray and Mark Venus do a u-turn on their way up to the North East and given them one more year to try and build on the work they did in 2021-22; can they finally get Rovers over the line into their sixth year?
Some of you might revel in this, but Mowbray and Venus during this simulation, were in-fact sacked in late October, with Rovers sat 20th in the table. The duo were subsequently replaced a month later, by Phillip Cocu and his assistant, Chris van der Weerden, who were – once upon a time – one of the original candidates for this simulation.
As this is the first sacking we've had in this series – I was expecting more before I started, to be honest – we'll deal with what Tony Mowbray did, before detailing how the Dutchman got on.

Tony Mowbray's transfer dealings were quite similar to some of the previous managers, with many of the same players brought in, which we won't go over again, bar naming them, as they've been previously mentioned. Callum O'Dowda came in on a free, with young midfielder Max Haygarth from Brentford, whilst Lewis Bate from Leeds United, James Garner from Manchester United, Kô Itakura from Manchester City and Fábio Silva from Wolverhampton Wanderers all came in on loan. Brazilian midfielder, Felipe Araruna also joined on a free from Reading, as Mowbray looked to bolster the department that lacked the most bodies.

The four outgoings were mainly 'loan heavy', with not much action going on in the summer, however Mowbray didn't remain to see out the impact that the loans would have.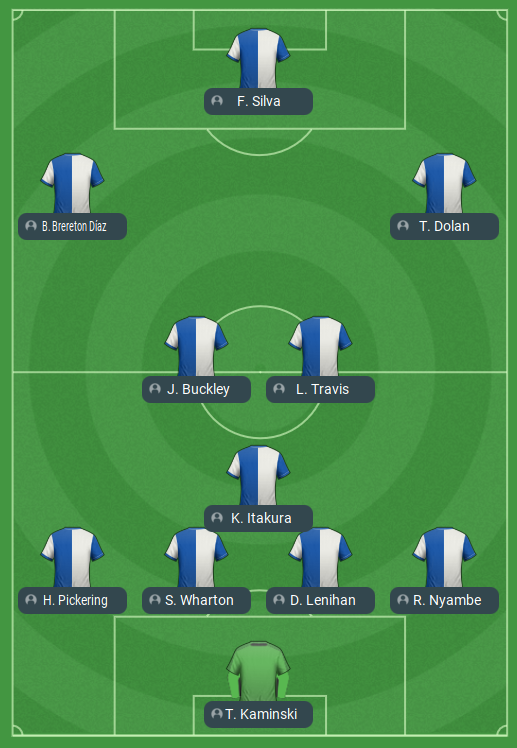 Whilst it's difficult to go back and pull up an exact photo of the side that Tony Mowbray used during the early months of the campaign, I've put together an 'average' system, with a rough idea of who the players who played the most under the gaffer. The system that he used wasn't too dissimilar to the 4-3-3 that Rovers used during the first few years back in the Championship, as he surprisingly ditched the five-back system that we saw Rovers use in his final season in reality.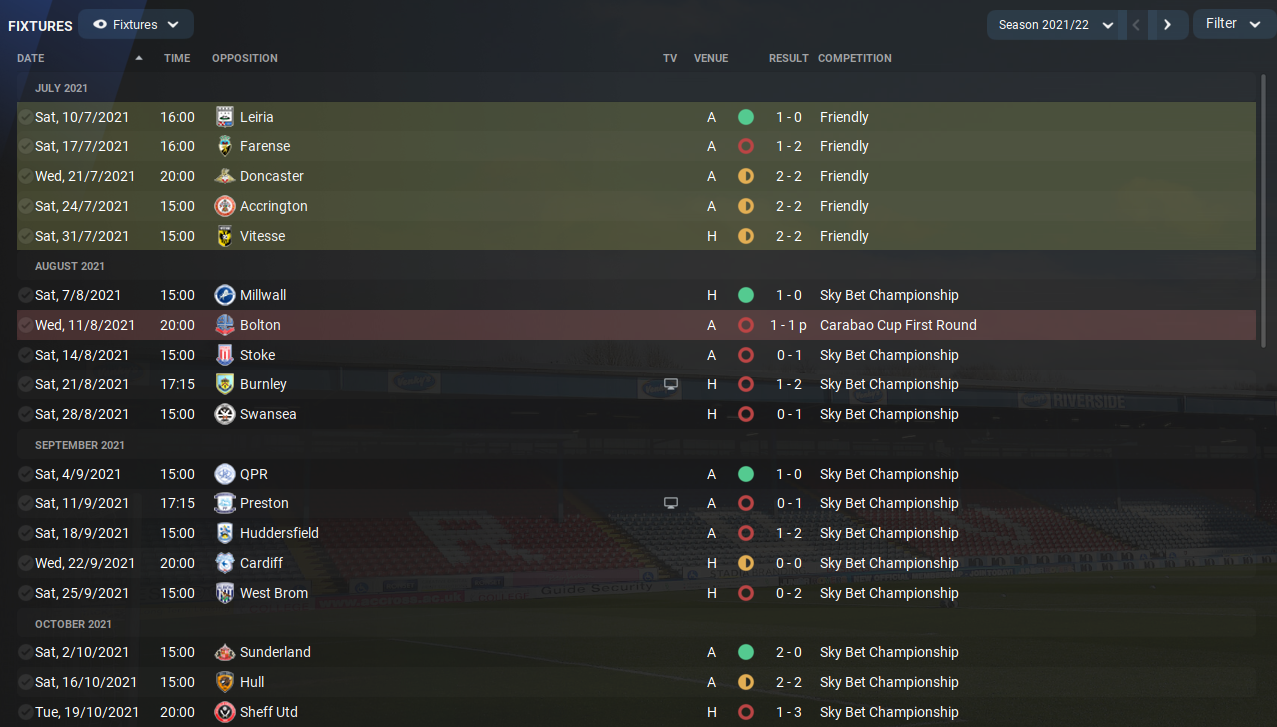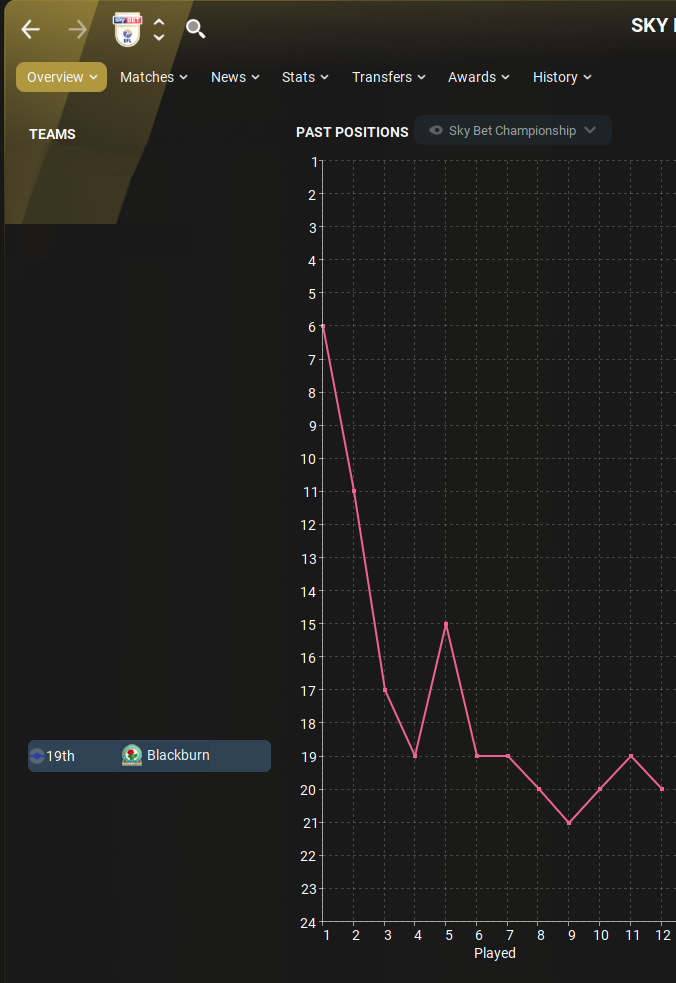 The fixtures show a dismal start to the season, with only ten points from a possible 36, including a Carabao Cup exit, but the results did improve when under-23s manager Mike Sheron took interim charge between the bosses, with the youth boss acquiring seven points from a possible 12, in his games against Rotherham United, Blackpool, Reading and Luton Town. The fall and edging up the table are shown by the past positions graph.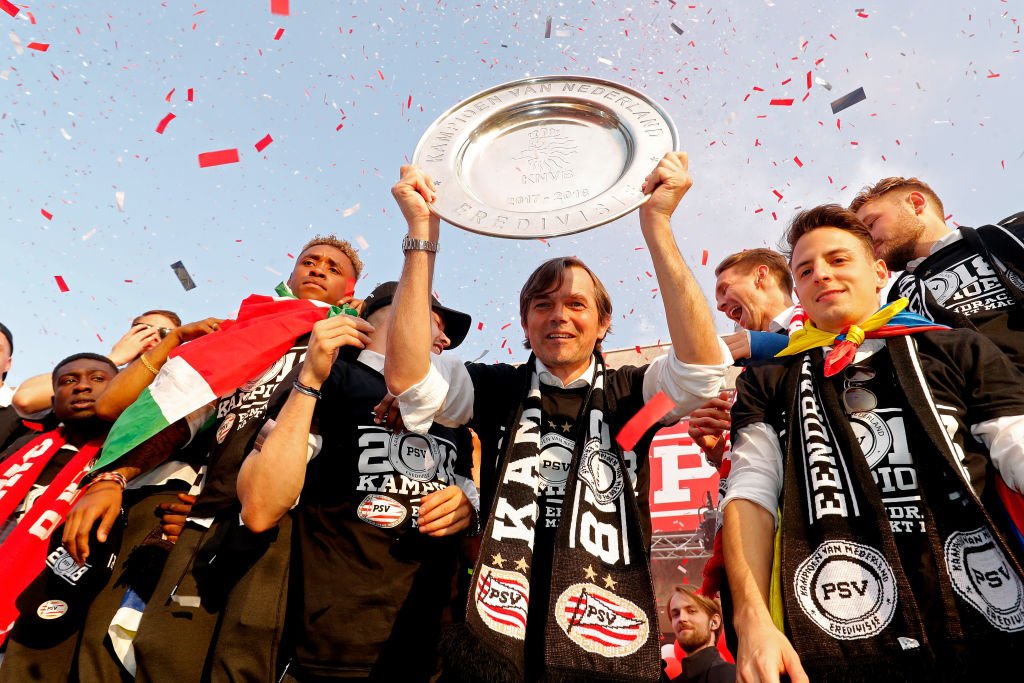 Phillip Cocu
After retiring from a very successful career that saw him collect four Eredivisie titles with PSV and a La Liga title with Barcelona, the Dutch midfielder had a spell as the Netherlands' assistant manager, which included an appearance at the 2010 World Cup final, where Holland finished runners-up to Spain, before Cocu moved into club management. His first role was at PSV Eindhoven, where after a brief caretaker period, a year later, Cocu found himself as the main man, and he remained at the helm at the Philips Stadion for five years, winning three league titles, a Dutch cup and two Community Shield-equivalent trophies – (the Johan Cruyff Shield) – before moving onto Fenerbahçe in 2018, but he only lasted four months in Turkey. In July 2019, Cocu came to Derby County, where he guided them to 10th in his first season, bringing with him a philosophy of youth and 'total football', however despite bringing England's top scorer, Wayne Rooney to the club, by November 2020, Cocu was dismissed with the attacker replacing him.
With Cocu now at the helm, we shall look into his reign, just as we've done over this week.


The incomings were scare for the Dutchman, in January as he only brought in two players for the under-23s side, with no additions to his first-team. There was a future transfer to come in, with 32-year-old left-back, François Moubandje set to join in July, from Croatian side, Dinamo Zagreb.

The outgoings, as we have seen over all the simulations, were focussed on loan deals, but Tyler Magloire was sold for £1.3k, given his deal was set to expire at the end of the simulation's season. Cocu did well in gaining a higher cash amount than usual for the loan players, with them usually departing temporarily for no fee, whereas a total of £12.75k was accumulated, including Magloire's fee.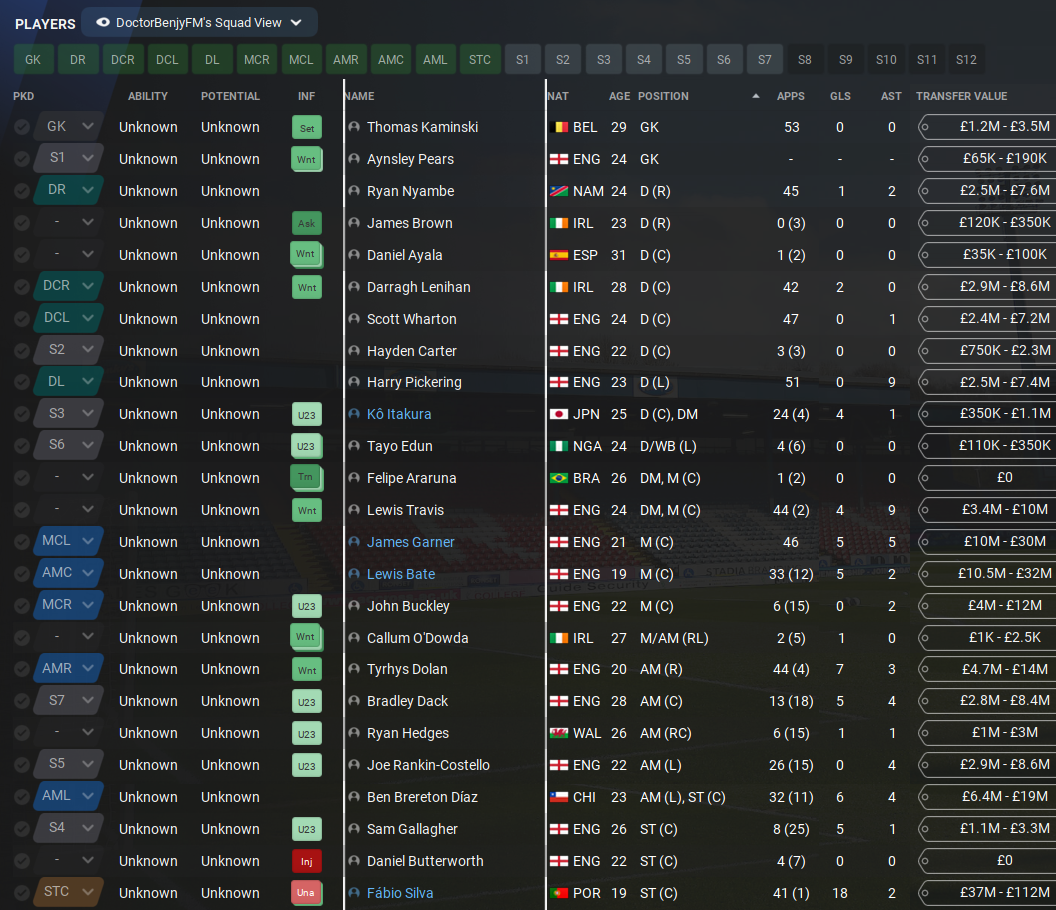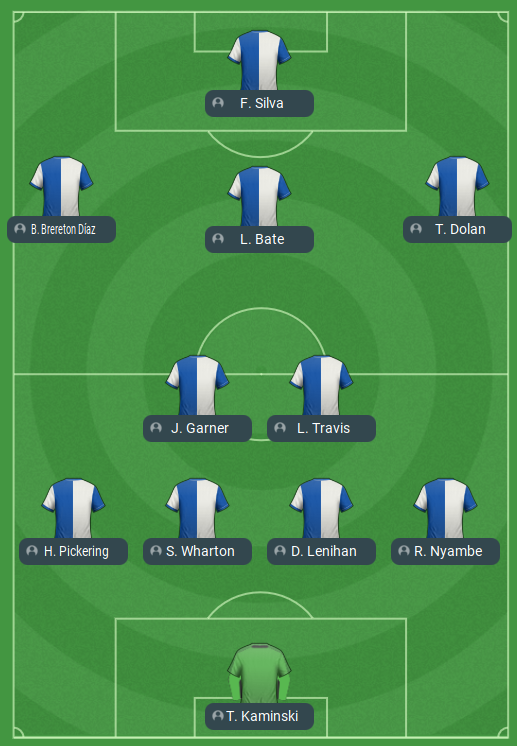 Cocu's tactics varied from his predecessor as he became only the second manager in this series to utilise a 4-2-3-1 system. As he implemented his 'Total Football' philosophy, the Dutch manager managed to turn Rovers' form around, with the same squad that Tony Mowbray started the season with – once the summer window had closed. Cocu's focus on ball retention brought the best out of Wolverhampton Wanderers loanee, Fábio Silva, who managed to finish as the club's top scorer with 19 goals in all competitions. Cocu also pulled off a masterstroke in getting all three out of contract senior players to extend their deals at Ewood Park, with Ryan Nyambe, Darragh Lenihan and Chilean, Ben Brereton Díaz all agreeing new deals.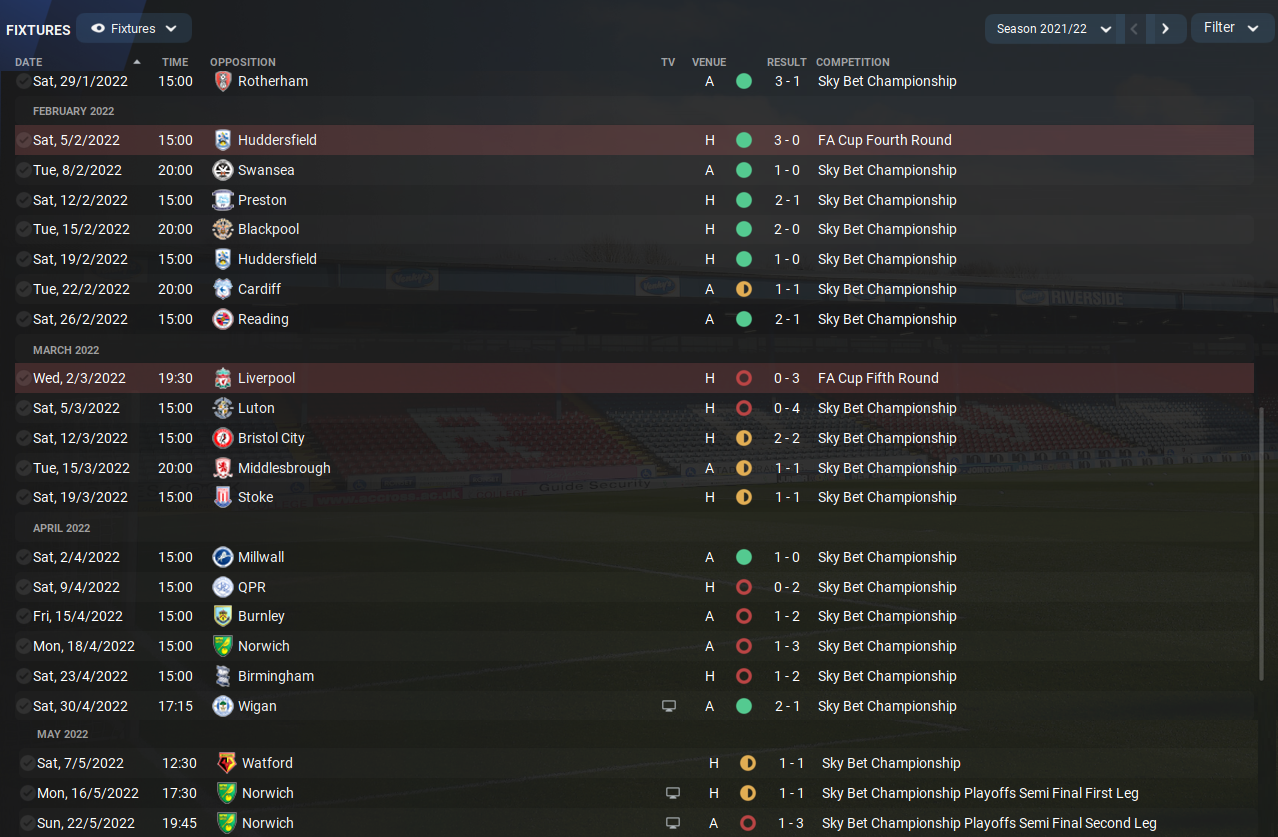 As we saw above, Tony Mowbray's final game was the 3-1 home defeat to Sheffield United, and under-23s manager, Mike Sheron took charge of the next four, with Phillip Cocu's first game being the 0-0 draw versus Bristol City. From that game, Rovers shifted into a different gear as they adapted quickly to the new coach's methods, losing only two of their 23 games under Cocu – including his first, with their third defeat coming in the FA Cup Fifth Round to Liverpool, three-and-a-half months after his appointment. The good times didn't last, however, as Rovers would have a winless March, before only two wins between the start of March, until the end of the season. I mentioned the FA Cup, so let's see how Rovers did in the domestic competitions. After Rovers were dumped out of the Carabao Cup in the First Round, on penalties, following a 1-1 draw to neighbours, Bolton Wanderers, during Mowbray's tenure, Cocu also faced Lancashire opponents in the FA Cup, with his Blackpool drawn as his Third-Round opponents, but was forced into a replay after a 2-2 draw at Ewood Park, but Rovers did the business with a 2-1 win at Bloomfield Road. The Fourth-Round, saw Rovers face off against Huddersfield Town and beat them convincingly, 3-0, to set up a Fifth Round clash at home to Liverpool, which Jürgen Klopp's side won, 3-0.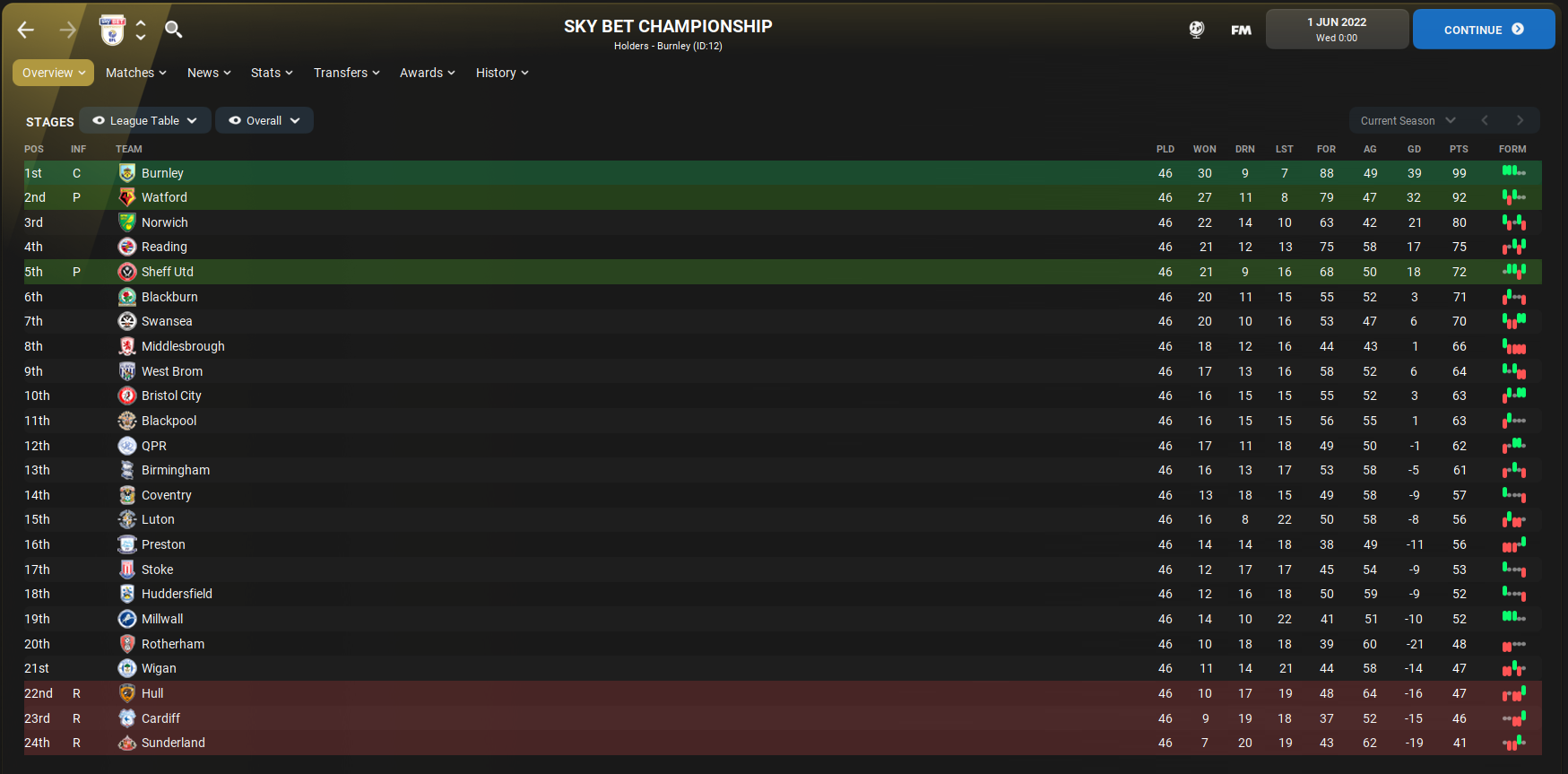 After Mike Sheron's mixed spell at the helm, Cocu came in and instantly gave Rovers a shot in the arm, however, as seen by the fixtures, Cocu did manage to get Rovers into the playoffs, despite a rather disappointing end to the campaign. Unfortunately, the poor form extended into the playoffs, as Rovers failed to get past Dean Smith's Canaries, as a 4-2 defeat over both legs consigned Rovers to another year of Second-Tier football.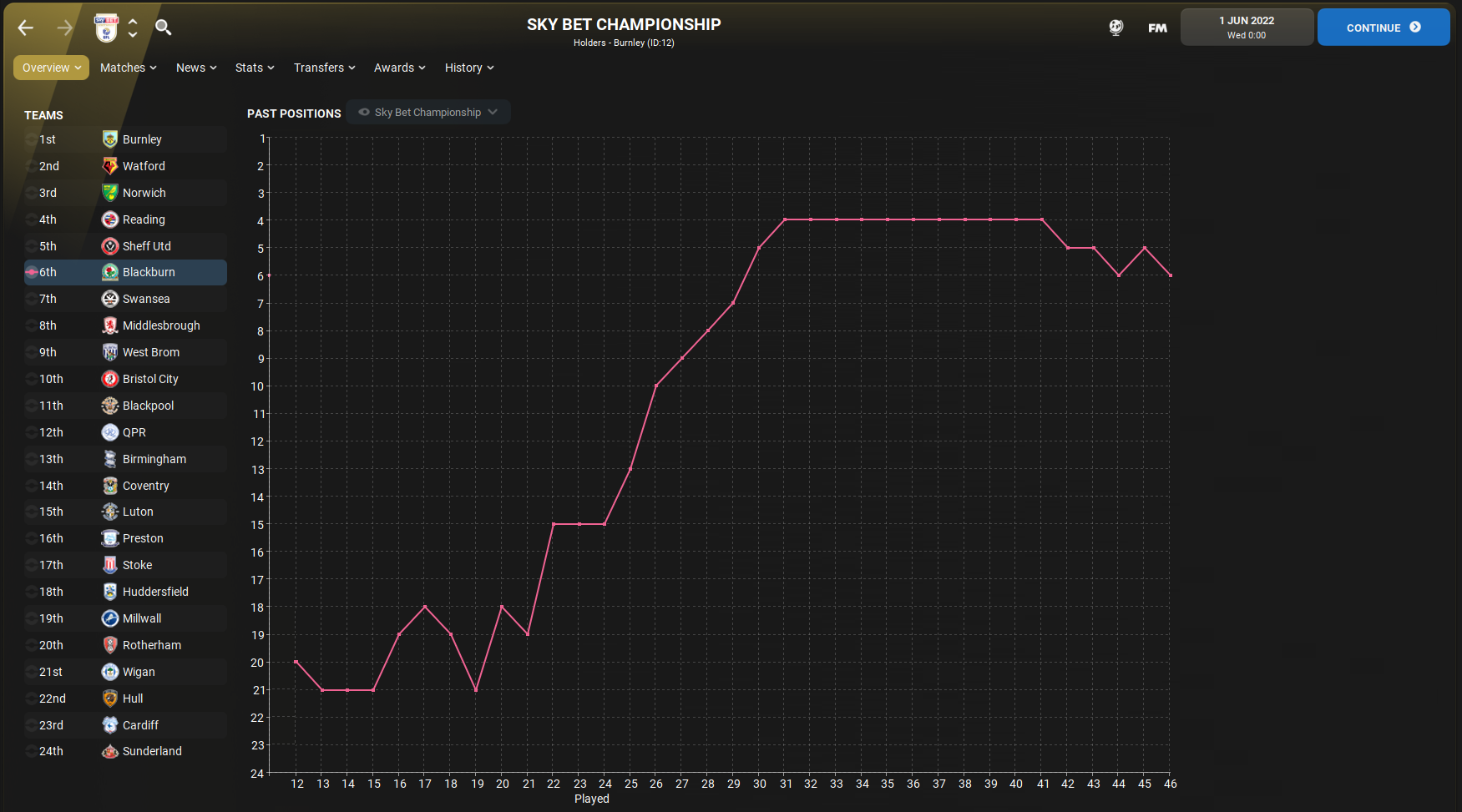 The difference in positions between Cocu and Mowbray were rather eye-opening and it's a shame we'll never know if Mowbray was to bow out of Ewood Park in disgrace, as Football Manager has predicted, but after Cocu was linked with the job in early May, this simulation would suggest that the Dutchman would have been a rather optimistic appointment. Despite a rocky initial patch of fixtures, Rovers remained on an upward curve under Cocu for a majority of his spell, yet despite a nosedive in form, towards the end of the season, the Blues managed to scrape into the final playoff place by a point, ahead of Sheffield United.
I never would have expected that Mowbray would have been the manager to be sacked out of the seven we've looked at over the past week. Saying that, credit must be given to Phillip Cocu for turning around, the same basic squad, and ending the season in the playoffs.
Would you have wanted Tony Mowbray to extend his deal, regardless of this simulation? Or would you like Phillip Cocu in at Ewood Park instead?
Let me know below, or on Twitter: @readrovers
Thank you to everyone who made this mini-series such a great success! I've had a lot of fun seeing the different trials and tribulations that these managers get up to, but I've taken a great interest in seeing the reaction from yourselves to each manager.
As Sir Alex Ferguson said, in his Old Trafford farewell speech; 'Your job now, as fans, is to stand by your new manager.'
It's just a crying shame we have no idea who the gaffer will be!
Hope you've all had a great Monday and I wish you a fantastic rest of the week!
COYB 🔵⚪
Zeid